When it comes to grooming, it's clear what the modern man wants: a results-driven regime. Our new Homme Collection is a range of highly effective grooming, body care and lifestyle essentials that deliver head-to-toe skincare solutions. The natural-origin formulas have been created to invigorate body, mind and soul, and the tailor-made products will help you take on the day.
At Rituals, we believe skin and body care should be simple, convenient and effective. Bringing together the finest hardworking ingredient complexes powered by result-driven formulas, our new and improved dermatologically-tested Homme Collection offers an expert approach to men's skincare. Developed in collaboration with an all-male panel, this is a range of products that are tough on sweat, gentle on shaving rashes and uniquely formulated for men's skin. The Homme Collection will cleanse, nourish and protect and it's the best of grooming and wellbeing—powered by nature.
With 30+ new products, the range has everything the modern man needs, but here we are zeroing in on the 3 grooming products from the new Homme Collection that every man should use.
Homme Collection 24h Hydrating Face Cream
The ultimate hydrator, this 96% natural origin daily face cream addresses specific skin needs. Formulated with a special Vitamin C + Peptide Complex for smoother skin, this multi-effect cream goes deep into the epidermis to hydrate for 24 hours, refresh and re-invigorate.
The 24h Hydrating Face Cream is lightweight, has a non-greasy formula that leaves a flattering matte finish and is dermatologically tested making it suitable for all skin types even sensitive.
How to use:
Apply liberally on face and neck avoiding the eye area. Use in the morning and evening.
What's great about this face cream is that you can buy sustainable refills that require less packaging than buying a whole new product (and the refill is cheaper, too). Simply unscrew the ring underneath the pump and replace your empty cream container and screw the ring back on to secure your new container. The empty container can easily be recycled making it good for your skin and the planet.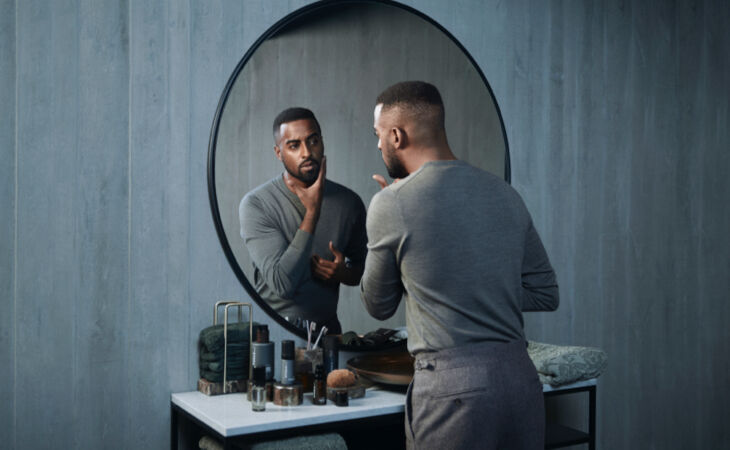 Homme Strengthening Caffeine Shampoo
You could argue that a shampoo isn't skincare, but this one doesn't just treat your strands it nourishes and revitalises the scalp too. Our Strengthening Caffeine Shampoo is made from 90% natural origin ingredients, is suitable for all hair types and even the most sensitive skin. The combination of caffeine and red ginseng doesn't just rebalance your scalp, it works to create thicker hair by prolonging the hair's growth cycle and stimulating growth. Vitamin E protects against free radicals and UV damage.
How to use:
Start your cleansing routine by massaging a small amount into wet hair, focusing on roots. Rinse and repeat.
Homme Beard Hydrator
With the hair on your head, it's easy to forget the skin that lies beneath – the same goes for your beard. Our specially developed 94% natural origin Beard Hydrator is suitable for those prone to sensitivity, think irritated, dry or flaky skin. Basil oil moisturises the underlying skin, while argan oil softens and conditions the beard hair at the same time.
How to use:
Dispense two pumps of the soothing hydrator into the palm of your hand and massage onto the skin underneath your beard. Leave in and let the hydrator get to work.
For those who prefer a clean shave, there is our 97% natural origin Homme Shave Cream. Prevent irritation or cuts when shaving with this non-lathering shave cream that creates a barrier of protection between your skin and the razor, thanks to our Ginseng + Hydra Complex. Your skin will be left moisturised, soft and re-invigorated. Added bisabolol helps the razor glide easily over the face for a seriously smooth shave.
How to use:
Apply onto damp skin with your fingers (no brush needed), shave and rinse with warm water.