I'm sure most of you can attest to the fact that the contents of your make-up bag seem to grow and multiply like magic. Maybe some of you can't resist the latest product from your favourite brand – I must have this – or simply forget you already had something similar. Whether or not that exponential growth is down to forgetfulness or just excitement for new products, sometimes it can truly pay off to whittle down those contents to only the bare essentials. Well, we've rounded up those must-have essentials for you — nothing more, nothing less. Plus, we'll take you through an easy 7-step routine to create the perfect finish for your holiday festivities.
Start your daily make-up routine with a moisturising cream, preferably one that contains an SPF, this is both a treat for the skin and the perfect base for your make-up look. The Ritual of Cleopatra Miracle Beautifying day cream takes it a step further. This moisturizer is tinted to adapt to your natural complexion and gives a flawless, perfected finish without being at all heavy. Perhaps you need to only add a smidge underneath your under-eye area to hide those bags – oops, late night yesterday? – or maybe you need full coverage. You do your thing!
When it comes to the eyes, there are multiple ways to go about it. Leave your eyelids bare for a nude look, use the day-time colours on our Miracle Day to Night palette for a slightly more pronounced and elegant touch, or go full glamour-mode with darker eyeshadow colours and your favourite eyeliner. Make your eyes pop with a touch of mascara and a dash of eyebrow shading. Don't forget, lightly groomed, filled-in brows will create a fresh and polished look.
A gorgeous, glowy day-time look is hard to achieve without a subtle – or bolder, that's up to you – highlighter and blush on the apple of your cheeks. And boy, do we know how hard it is to find a good one. Hands up if you've ever perfected the ultimate clown look by mistake! Luckily, our Sunglow Pink Brown highlighter and blush is the only thing you need. It can be applied for a more natural look or layered on for sharper-looking cheekbones.
The final touch in your everyday make-up routine is most likely a moisturising lip balm or pop of coloured lipstick or lip gloss. Whatever your choice, be it transparent nourishment or your ideal shade, this will truly complete the look you've got going.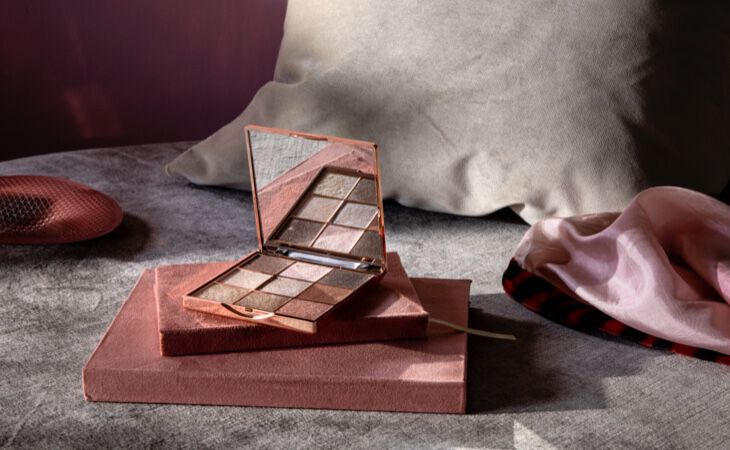 7 STEPS TO THE PERFECT, FINISHED LOOK
Here's a step by step guide for a gorgeous daily look, one that can quickly be elevated to suit your evening plans!
Step 1.
Apply your tinted moisturiser all over the face or on any blemishes or grey areas you want to cover up.
Step 2.
Go bare or use the shades from the top row of the Day to Night Palette on your eyelids. Work your way from the inside corner of your eye to the outside, going from light to darker shades.
Step 3.
Intensify your eyes with your eyeliner, highlighting either the entire upper lid line or just the outside corners to create a slight shade.
Step 4.
Apply 1-2 coats of the Miracle 3-in-1 Mascara to really show off the sparkle in your eyes. This beauty will lengthen, curl and provide volume for your lashes.
Step 5.
Carefully style, shape and fill up your eyebrows with the Miracle 2-in-1 Eyebrow Pencil.
Step 6.
Accentuate your cheekbones and enhance your natural rosy glow with our Sunglow Pink Brown highlighter and blush.
Step 7.
Finish your look with your favourite lipstick or gloss, like the Pink Chestnut lipstick or the Vintage Rose lip gloss.
For tonight's fancy dinner, tomorrow's Christmas office party, or Sunday's holiday brunchwith the family; easily top up your look to switch from day to night. Add a bolder colour onto your lips, apply a matching shade of nail polish and use the darker row of eyeshadows from your Day to Night palette. Et voilá! –you're ready to shine!