Did you know that grilled veggies are better for you than fried or baked? When a vegetable is cooked, it tends to lose its nutritional value but with grilling, less nutrients are lost and the heating process can even make some nutrients easier to absorb. Health benefits aside, veggies on the grill gain a delicious, smoky, caramelised flavour. Win-win!
This side dish is delightfully simple to make, super colourful and will complement whatever else you choose to throw on the BBQ. Feel free to double or triple the servings according to the size of your party.
Recipe serves: 6
Preparation time: 5 minutes
Ingredients:
3 little gems
Olive oil
Soy sauce

For the filling:
Half a white cabbage

2 red onions

2 carrots*
* Any colour e.g. orange, purple, or yellow.
Salad dressing: (serves around 10 - 15)
150 ml olive oil

30 ml red wine vinegar

1 tsp mustard

1 tsp maple syrup

Half a lemon (juice and zest)

Pinch of salt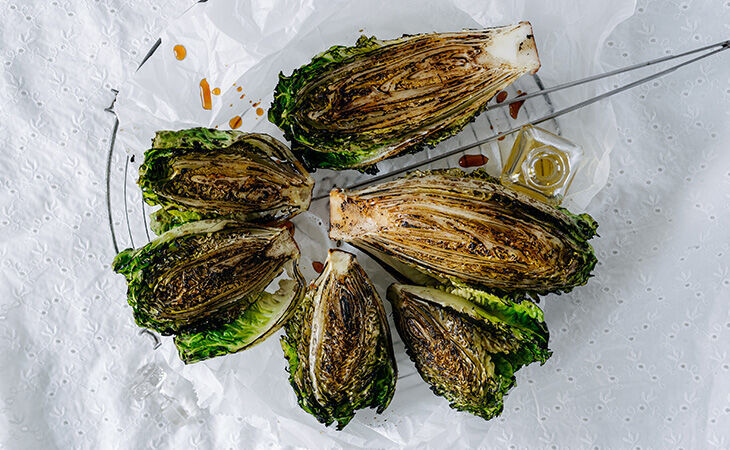 Instructions:
Half the little gems and lightly dress them with olive oil and soy sauce.

Separate the leaves and take out the cores.*

Place them on the BBQ and take care to not over-grill them. You don't want them to burn or lose their texture.

To make your dressing, mix all the ingredients together with a fork or whisk.

To make the filling, finely slice the white cabbage, red onion and carrots and mix these together with your dressing.

Now it's time for the fun part. Take 1 leaf of the little gem and add a tablespoon of your filling. They can be eaten like a taco or rolled up like a wrap.
*If you can control the temperature of the fire and prevent it from getting too hot, you can smoke the cores as well. These can then be sliced and added to the filling.