East meets West with this refreshing twist on the classic soup that has roots in Spain. This is a super easy recipe to make and is ideal if you don't have a lot of time but want something that's a little more exciting to the tastebuds than a basic salad or sandwich. You can also make the soup a day in advance and keep it chilled in the fridge if you're feeling organised. In this recipe we use beetroot for earthiness to balance the freshness of the Granny Smith apple, while the Eastern twist comes in the form of Wasabi that adds a hint of spice and the addition of coconut milk for a touch of creaminess.
Perfect for a hot summer's day, you can make this for lunch or enjoy it as a light dinner after a long day of work.
REFRESHING BEETROOT, WASABI & COCONUT GAZPACHO
Recipe for 4 people
Preparation time: 30 minutes + 60 minutes chilling
UTENSILS
INGREDIENTS
500 gr (cooked) beetroot.
1 red pepper
1. red onion
40 gr fresh ginger
400 ml beetroot juice
300 ml coconut milk
200 ml olive oil
4 cloves garlic
2 tbsp wasabi paste
200 ml sushi seasoning
100 ml red wine vinegar
1 tbsp coriander seeds
¼ bunch dill
3 green apple (Granny Smith)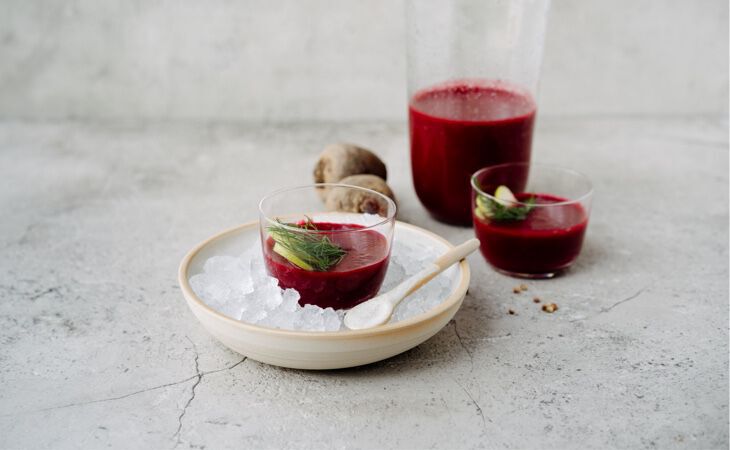 PREPARATIONS
Slice the cooked and peeled beetroot in big chunks
Slice the pepper in half (length wise) and scrape out the seeds, making use of the back of a spoon
Peel the red onions and slice them in chucky pieces
Peel the ginger and cut it in big chunks too
Peel the garlic
Pluck the dill using the stems for the gazpacho and the rest for the garnish
Take out the core of the green apples and save one of the apples for the garnish
Put all the ingredients together in a blender and blitz it until nice and smooth.
Chill the soup in the fridge for a minimum of 1 hour, so that it is nice and cold when you serve it
GARNISH
Cut the leftover apple in pieces. Add the soup to a nice bowl. Drizzle some good olive oil on top and finish it off with the apple and dill
Bon appetit!