Nothing beats delicious ice cream on a hot summer's day, but why not add an extra crunch to this timeless treat by creating your own ice cream cookie sandwich? Use your favourite ice cream flavour as a base (we recommend vanilla) and follow our quick and easy steps to this indulgent treat.
The beauty of this recipe is that you don't need an ice cream maker; instead, you can make gooey, freshly baked cookies at home that will sandwich your go-to ice cream. To give the cookie sandwiches extra depth, a drizzling of our Rouhi Signature 'Miso Caramel' with umami adds a unique twist. This recipe has been developed and served at our restaurant, Rouhi, in Amsterdam, making this a special treat for yourself and others.
Whilst enjoying this ice cream delight, you can also reap the health benefits of our miso caramel. Miso is packed with 18 types of amino acids, encouraging collagen production. Collagen is one of the most abundant proteins in the skin, making up 75-80%, giving the skin fullness and plumpness. So, upgrade your ice cream this summer with these sweet and savoury cookie sandwiches packed with exciting flavours and the secret benefits of glowing skin from the miso sauce.
Recipe serves: 10 to 12 cookies => 5 to 6 sandwiches
Preparation time:
10 minutes for cookies
5 minutes for miso caramel
Cooking time:
10 to 15 minutes in the oven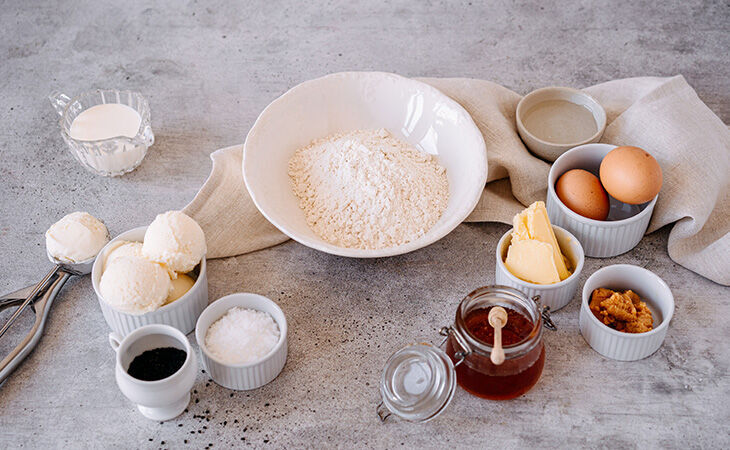 Ingredients:
Ice cream sandwich:
225 g butter

100 g caster sugar

50 g honey

300 g flour

3 g salt

2,5 g baking powder

2 eggs (whole)

40 g sesame seeds
Miso Caramel:
150 g sugar

1 tsp glucose

125 g cream (40%)

100 g butter

35 g miso paste (light)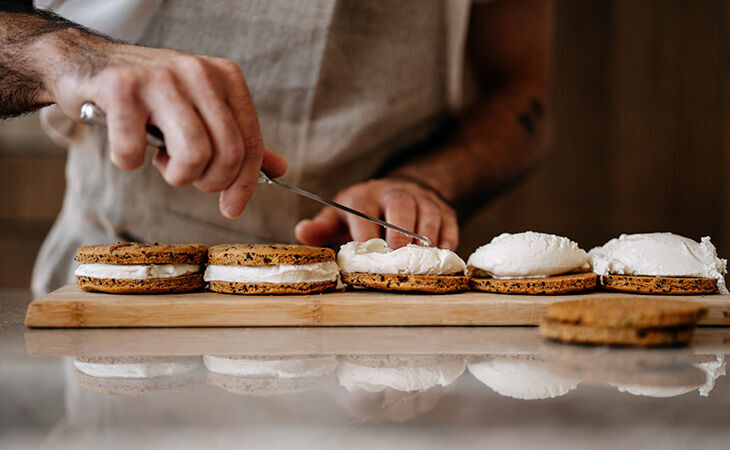 Preparations:
First up, create the miso caramel:
Begin by cutting the butter into small cubes. Once complete, place the cubes into the fridge as you need them later, cold.

Combine the sugar, glucose and a little bit of water into a saucepan bringing the mixture to a light boil over a medium heat.

While waiting for the caramel to form, bring the cream to a boil in a separate pan.

Once the sugar and glucose have caramelised, stir in the boiling cream. By combining the cream and the caramel, you will prevent the caramel from burning.

Add the butter and miso paste to the caramel mixture and whisk until the caramel has a smooth and thick consistency.
Create the ice cream cookies:
Preheat your oven to 165 degrees celsius.

In a mixing bowl, whip the butter and caster sugar together.

In the same mixing bowl, add the honey and then each egg, one at a time.

Finally, add the flour, the baking powder, and a pinch of salt.

Whisk this mixture again, adding the remaining sesame seeds until the combination has become a smooth consistency.

Spread the mixture evenly across a baking tray and bake for 5 minutes.

Remove from the oven and using a ring cutter, cut the dough into a preferable size to sandwich your ice cream and bake for another 5 to 10 minutes.

Once baked, remove the dough from the oven and allow it to cool.
To serve:
Take one cookie and an even scoop of your favourite ice cream flavour.

Once the ice cream is in the centre of the cookie, drizzle the miso caramel.

Add a second cookie to create your perfectly crunchy yet creamy homemade ice cream sandwich.