Want to start your morning with an easy, nutritious breakfast? These energising overnight oats will give you the perfect boost to start your day. No early-morning cooking is required, as you prepare these flavourful oats the night before. So, in your morning rush you can simply grab these oats from the fridge and enjoy a healthy start to the day.
This recipe contains a lot of fibre, is high in protein, low in sugar and includes a powerful orange spice - turmeric. Turmeric is much more than just an ingredient used in Persian, Ayurvedic and Traditional Eastern kitchens. The colourful root is packed with health-boosting properties - it contains a lot of vitamins and minerals, and is famous for its powerful anti-inflammatory, antioxidant and antibacterial benefits. Turmeric has been utilised in Eastern medicine for centuries to heal wounds, treat skin conditions, inflammation and infections.
The variety of colours in the fruits and seeds in this recipe is beneficial for your health. We need these different colours, including the orange of the turmeric. The colour in the root comes from curcumin, a compound with many scientifically-proven health benefits, such as the potential to prevent heart disease and Alzheimer's. It is an anti-inflammatory, that may even help to improve symptoms of depression and arthritis.
I like my overnight oats to be vegan, therefore I use a plant-based milk and yoghurt. However, if you would like, you can, of course, use regular milk and yoghurt. Once prepared, the oats can be kept in the fridge for up to three days. So, if you double the recipe, as well as changing and varying your toppings, you'll have breakfast ready for a few days.
Enjoy your super healthy and energising breakfast!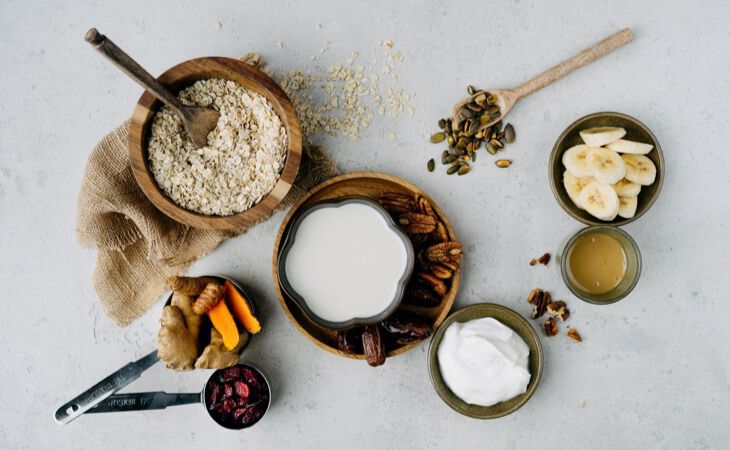 ENERGISING OVERNIGHT OATS
Recipe for 2 people
Preparation time: 5 minutes
Time to marinate: leave in fridge overnight
Note: be careful when grating the turmeric, your hands can become orange from the curcumin.
INGREDIENTS
3 cups oats
3 cups plant-based milk (almond, soy, oat)
2 tsp chia seeds
3 tsp tahini
1 tsp grated ginger
1 tsp grated turmeric
3 tsp finely chopped dates
1 tsp cinnamon powder
TOPPINGS
Banana
Pecan nuts
Pumpkin seeds
Cranberries
Raisins
Date syrup or honey
Plant-based yoghurt
PREPARATION
Mix the oats and milk together with the chia seeds, dates and cinnamon powder. Add the mixture to a bowl and leave the bowl in the fridge overnight.
The next day add the grated ginger, turmeric and tahini. Scoop some yoghurt to make your overnight oats creamier. If you like it sweeter, you can add some date syrup or honey. Go wild with the toppings! I personally like to have a bite, so I add nuts and seeds for a lovely crunch.