This zesty, citrus, salad is a treat for your tastebuds, enhancing your energy levels and giving you a burst of Vitamin C. Inspired by our side dish served at our House of Rituals restaurant, Rouhi, this salad is ideal for a quick summer supper.

Incorporating Yuzu juice, Japanese basil and the acidic grapefruit, this salad is full of refreshing flavours to cleanse your body and feed your soul. The base of this salad consists of buttery little gem lettuce leaves, rich in fibre to promote a healthier digestive system. At the heart of this salad is a whole grapefruit which, according to a study (conducted by the Journal of Agricultural and Food Chemistry), can help decrease "bad" cholesterol levels by 15% as well as containing 88mg of Vitamin C, which is 100% of the recommended daily amount per person. So, sit back and enjoy creating this energising, fresh dish throughout the summer season.
Number of serves: 4
Preparation time: 15 min
Materials:
2 pans

1 cutting board

1 chef's knife
Ingredients:
4 x little gem lettuce

1 x grapefruit

8x shiso leaves (aka Japanese basil)

100 g butter

50 g sushi vinegar

25 g yuzu juice

25 g unrefined sugar

Furikake (Japanese seasoning) to taste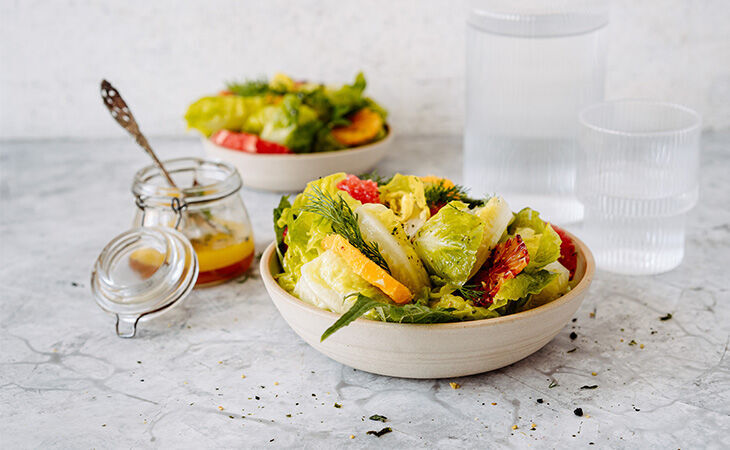 Preparations:
For the yuzu beurre noisette, start by making the brown butter:
In a pan on low heat, melt the butter. When melted, stir the butter and keep it on low heat until the butter becomes a light brown colour with a nutty aroma. Then, at this point, your butter is "noisette". Once ready, put your mixture aside to stop the cooking process.

Combine the melted sugar and yuzu juice in a pan and bring to a fast boil to make a sort of syrup.

Combine the sushi seasoning, the brown butter and the yuzu syrup.

Keep the vinaigrette at room temperature to prevent the butter from setting.
For the salad base:
Cut the bottoms off the little gems to loosen the individual leaves and cut width-wise to create small bite-size pieces.

Peel the grapefruit with a chef's knife and remove the segments.

Cut the shiso leaves lengthways to release the flavours.
To plate:
Dress the little gem lettuce leaves with your yuzu beurre noisette.

Arrange the lettuce leaves in a salad bowl facing upwards and scatter the shiso leaves across the little gems.

Carefully plate the grapefruit segments upon the lettuce base.

Finish with a sprinkling of furikake.
Enjoy!