Yogi bowls, Buddha bowls, all-in-one bowls—they're not only delicious and convenient, they're also a unique way of getting all the nutrition your body needs in one go. Truly sublime! Enough protein, carbohydrates, good fats, vegetables, nuts and seeds--with a pseudo-grain like quinoa (which is actually a seed) --is what you can expect from these one-bowl wonders. The "standard" formula for your average bowl is simple:
20% grains like quinoa, any kind of rice, couscous, spelt, etc
25% veggies that you steam, fry, roast or eat raw
30% green, raw (leafy) vegetables like spinach, kale and broccoli
20% boiled beans like lentils, peas, edamame, green beans, etc
5% seeds and nuts, preferably unroasted
You can also add a touch of (dried) seaweed—healthy and tasty!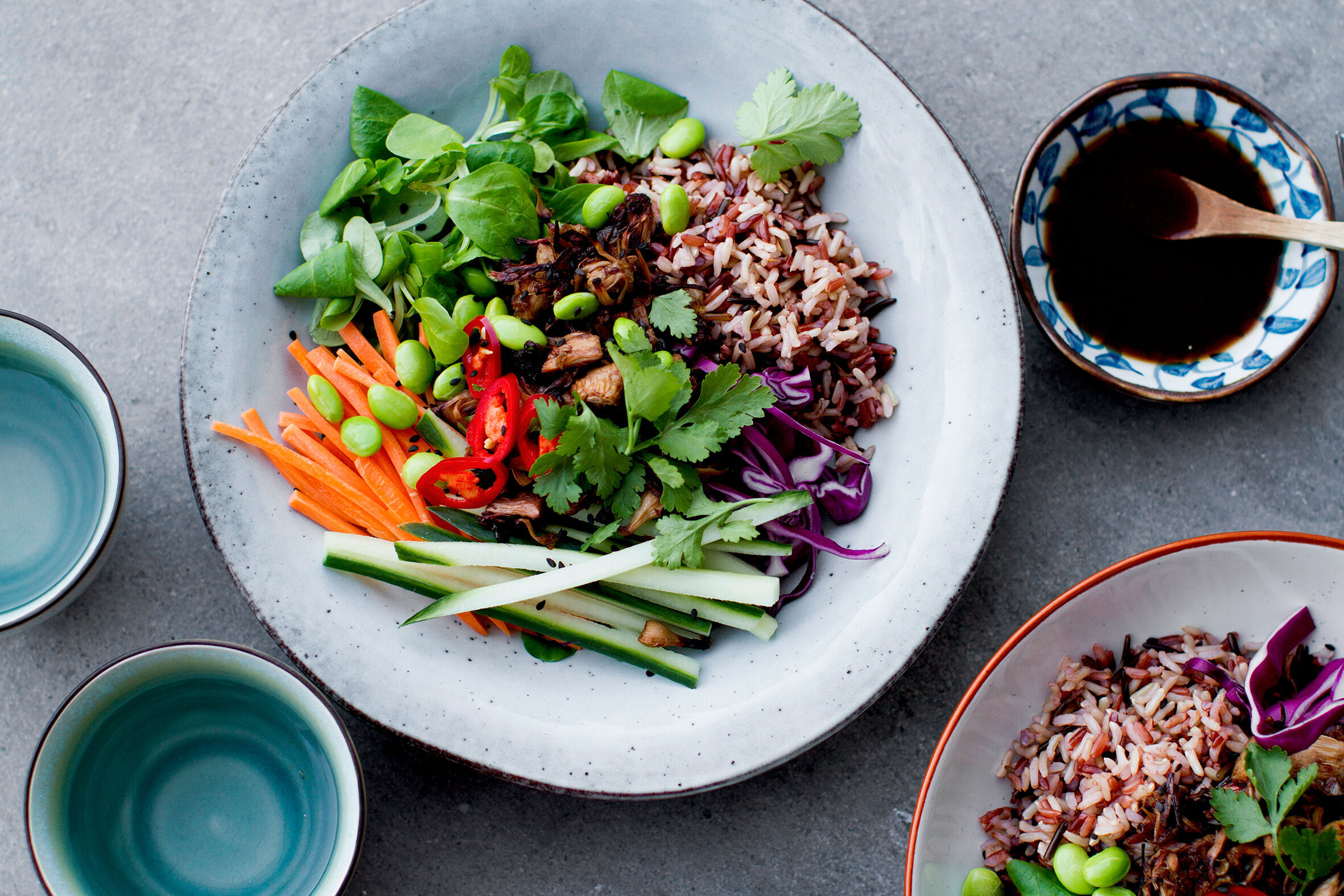 ASIAN YOGI BOWL
Jackfruit is an amazing Asian fruit because when it's been prepared correctly, it has the structure and "bite" of meat. For example, you can use it to make "pulled pork," or in this case, "crispy duck." It might be a bit of a task, but I'm absolutely certain even the most die-hard carnivore won't be able to tell the difference! As a basis, we use wild rice. The red cabbage, carrot, cucumber and green lettuce leaves are julienned, to add to the total colourful picture. With edamame, sesame seeds, chili peppers and an outstandingly delicious hoisin sauce dressing.
Recipe serves 4 people
Preparation time: 40 minutes
Ingredients for the "crispy duck"
2 tins of jackfruit (found in an Asian specialty store), strained
3 cloves of garlic, finely chopped
3 stalks of spring onion sliced in little rings (just the white part)
3 tbs sunflower oil
2 tbs ginger, finely chopped
1 tsp Chinese Five-spice
3 tbs soy sauce (Kikkoman) or tamari
3 tbs hoisin sauce
2 tsp toasted sesame oil
2 tbs rice vinegar
½ tsp black pepper
Please note: If you mix the crispy duck with the hoisin sauce and leave it to marinate overnight in the fridge, the flavour will be even more intense. But it's also fine to just prepare it and place it straight in the oven.
Ingredients for the bowl
200 g mixed rice, cooked
1/8 of a red cabbage, julienned
1 medium-sized carrot, peeled and julienned
1/3 of a cucumber, sliced once in half, washed and julienned
4 small handfuls of lamb's lettuce
2 handfuls of edamame, blanched
2 tbs sesame seeds (roasted, if possible) or black sesame seeds
1 chili pepper sliced into rings
1 small handful of fresh coriander leaves for garnish
Ingredients for hoisin dressing
3 tbs hoisin sauce
2 tbs sesame oil
2 tbs soy sauce
2 tbs rice vinegar
½ tsp agave syrup
1/8 tsp Chinese Five-spice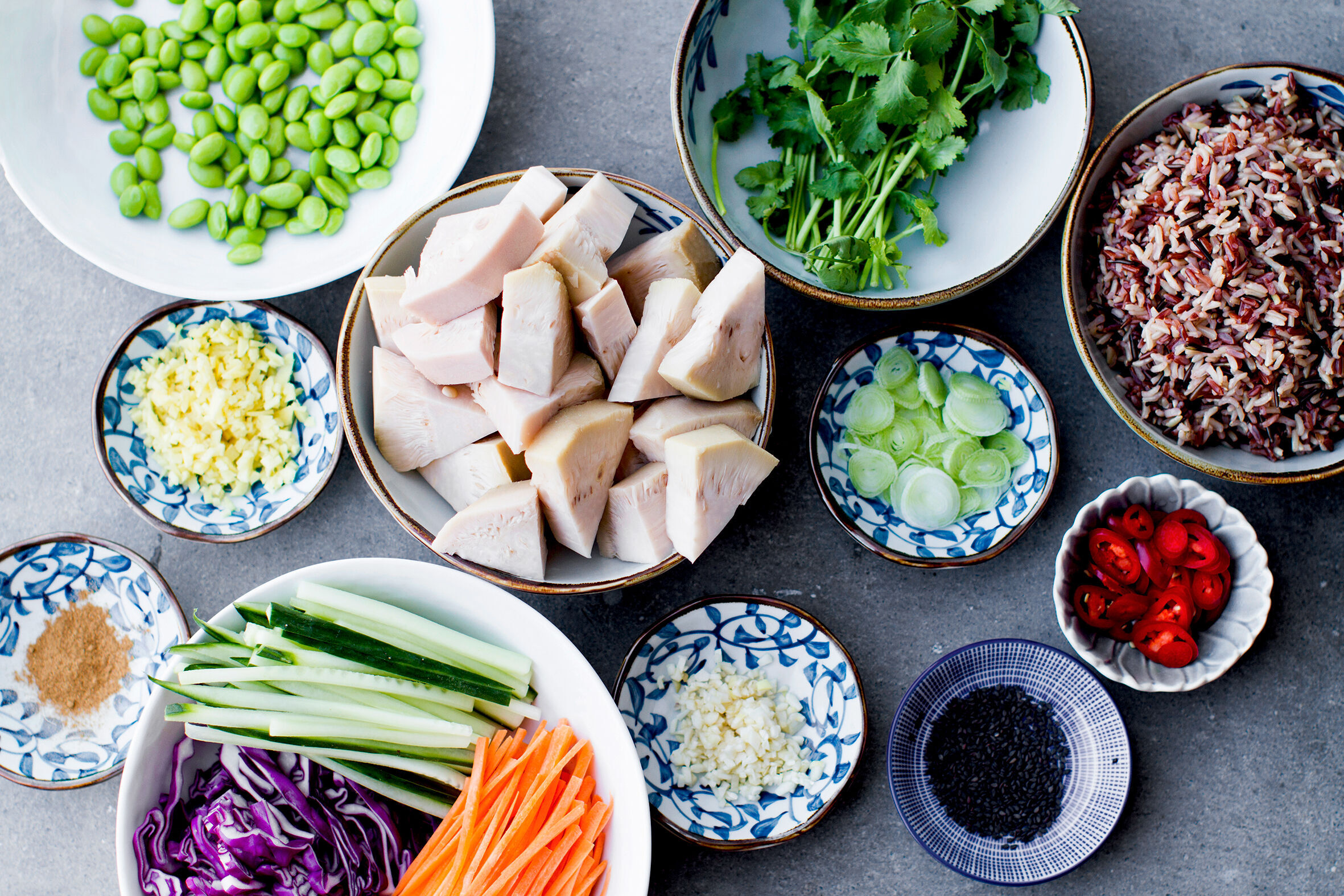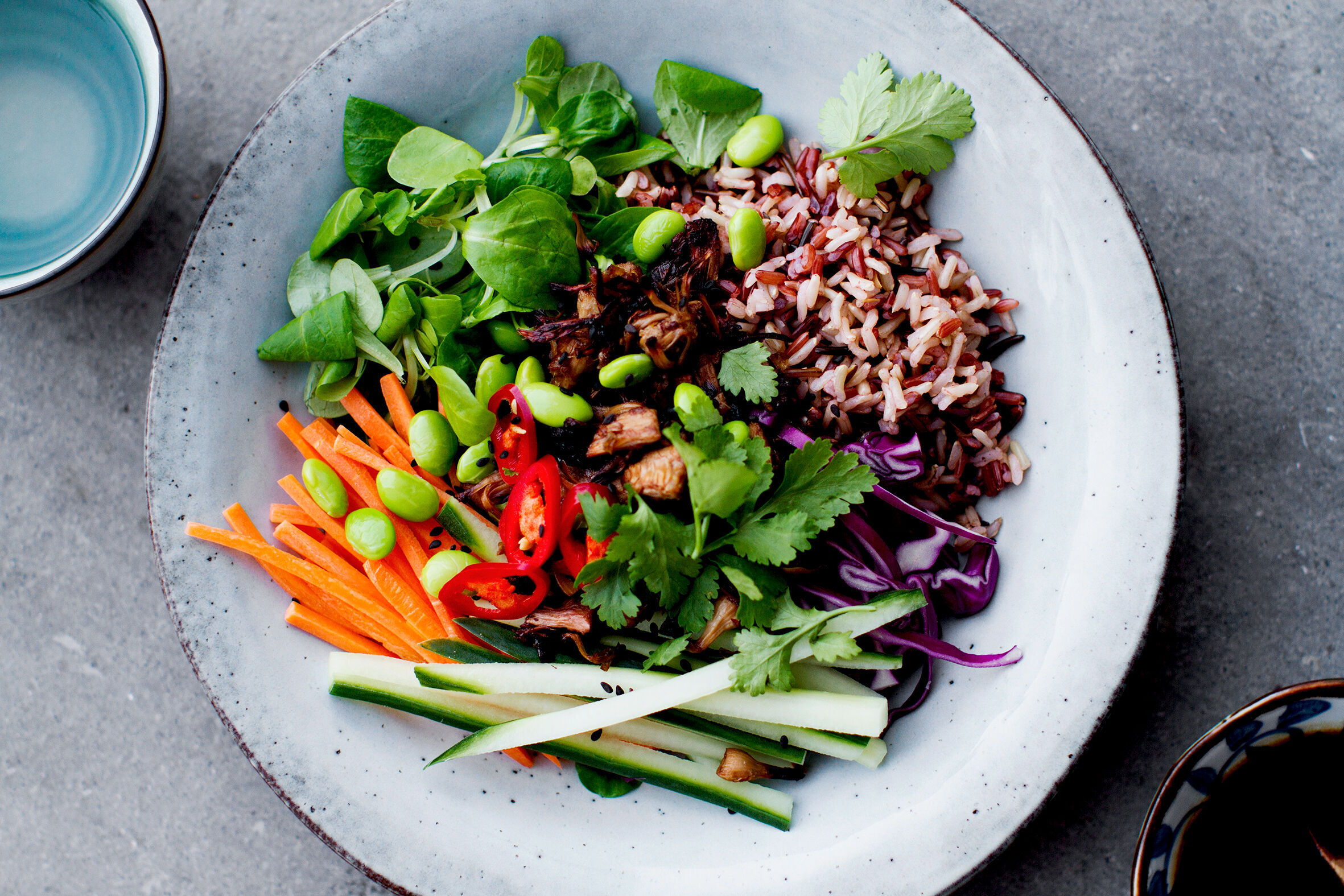 Preparation
1. Cook the rice according to the instruction on the package and let it steam dry under a lid.
2. Strain the tins of jackfruit and cut the hard pieces out. You won't need these anymore.
3. Heat the sunflower oil in a pan with a heavy bottom and add the rings of spring onion. Stir fry for a few minutes until the onions are soft, then add the ginger and garlic. Stir fry until everything is soft and aromatic. Then add the Five-spice and cook for another minute.
4. Put the jackfruit in the pan, then add the soy sauce, 2 tbs of hoisin sauce, toasted sesame oil and rice vinegar. Mix everything thoroughly.
5. Use the rounded side of a spoon to crush the jackfruit slightly until it has a looser structure. Pepper to taste, turn the heat off and let everything cool off for around 10 minutes.
6. Preheat the (hot air) oven to 180 degrees. Spread the pieces of jackfruit onto a baking sheet covered with baking paper, and drizzle them lightly with an extra tbs of hoisin sauce. Bake them for around 20-25 minutes, until the start to colour and caramelise a bit around the edges.
7. To prepare the dressing, mix all these ingredients in a jar with a lid and shake thoroughly.
8. Cut all the vegetables and set them aside. Blanch the edamame for a minute and strain them.
9. Put all the delicious yogi bowl ingredients in a lovely bowl and drizzle with hoisin dressing.
Bon Appetit!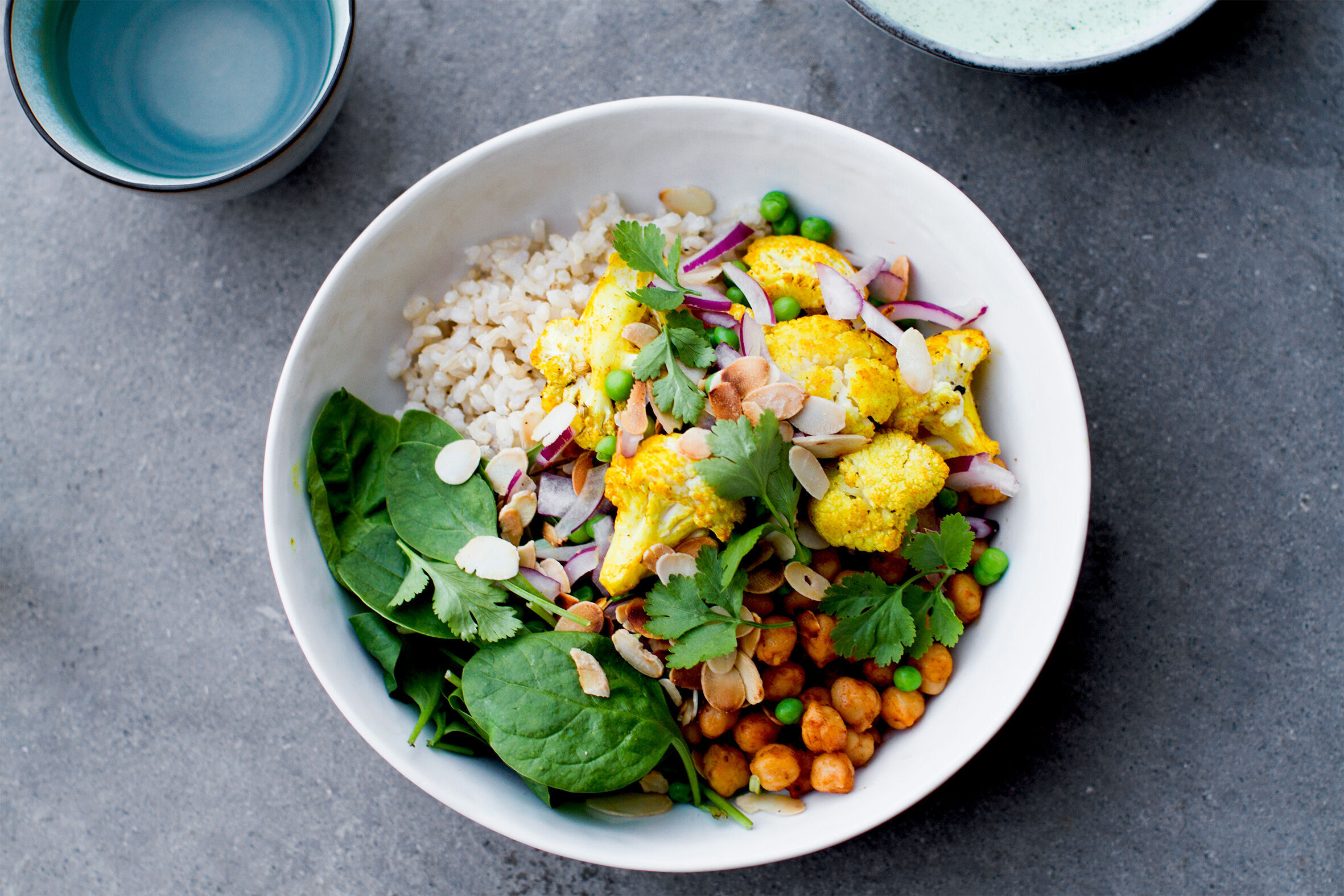 INDIAN YOGI BOWL
With this Indian yogi bowl, we stick to the same principles and quantities as the first recipe, but then with an Indian twist. Of course, there is a lot of room to play with the ingredients. We'll use brown rice for the basis in this recipe, but you can choose something else if desired. You can also substitute different vegetables, leafy vegetables and beans. The roasted turmeric cauliflower and the yogurt mint dressing in this dish is what sets it apart and gives it that typical Indian character.
Recipes serves 4 people
Preparation time: 25 minutes
Ingredients for bowls
200 g brown rice, cooked
½ medium-sized cauliflower, cut in florets
2 tsp cumin
1 tsp turmeric
1 tsp coriander seeds
a little bit of salt and pepper
3 tbs sunflower oil
½ red onion, halved again and cut into thin strips
200 g chickpeas
½ tsp chili powder
dash of oil for frying
200 g peas (frozen or fresh), blanched for 2 minutes
4 handfuls of fresh spinach leaves
50 g slivered almonds, lightly roasted
large handful of fresh coriander leaves to use as garnish
Ingredients for yogurt mint dressing
250 ml Greek yogurt
2 handfuls of fresh mint leaves
1 small handful fresh coriander leaves
1 tbs sugar
1 tsp cumin
1 tsp salt
coarsely ground black pepper
Preparation
1. Preheat the oven to 220 C. Cook the rice according to the instructions on the package and let it sit under a lid.
2. Mix the cauliflower florets in a large bowl with the sunflower oil, 1 tsp cumin, 1 tsp turmeric, coriander seeds, salt and pepper.
3. Place the florets on a baking sheet covered with baking paper and cook them for around 15 minutes until done. Remove them from the oven and let them cool off a bit.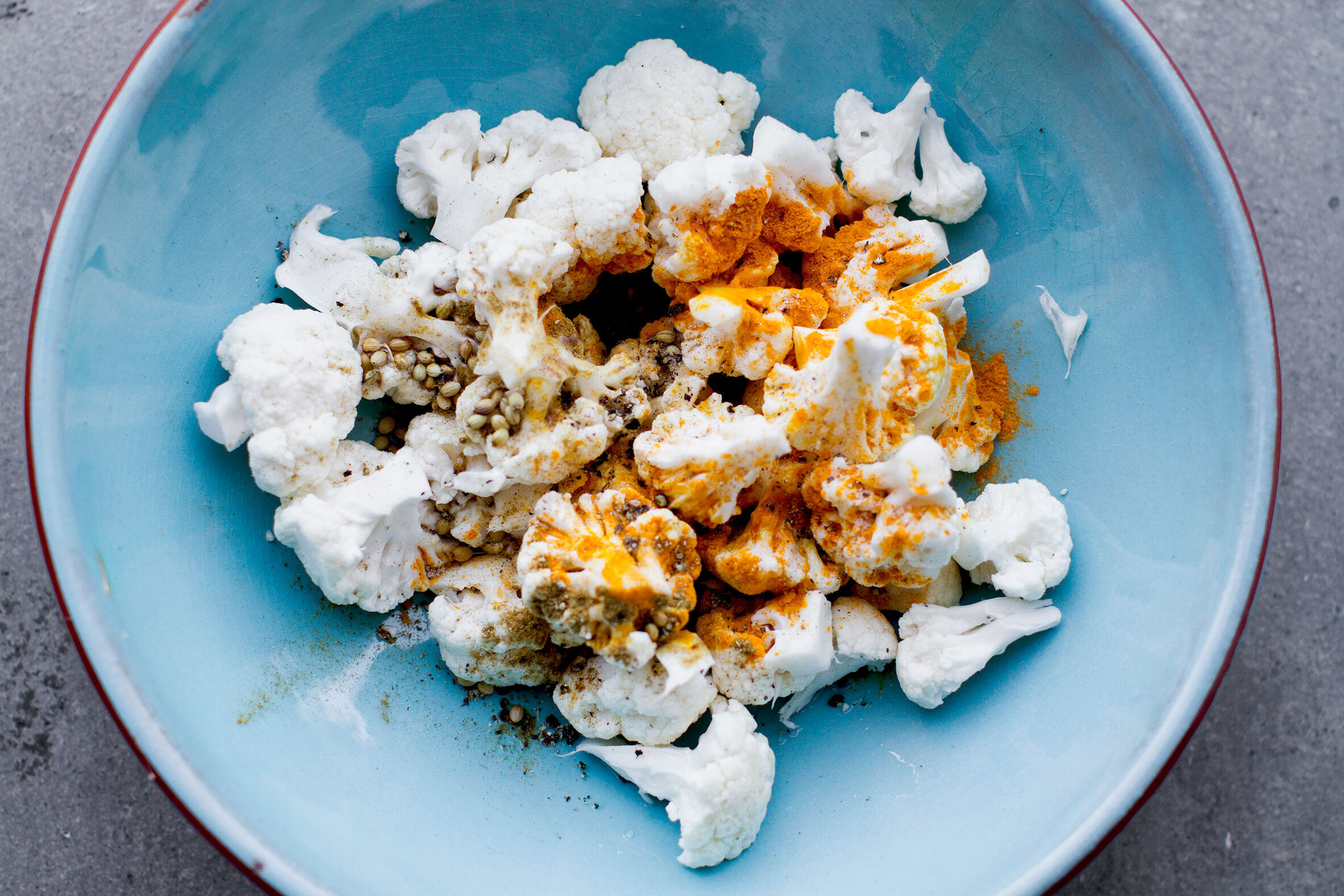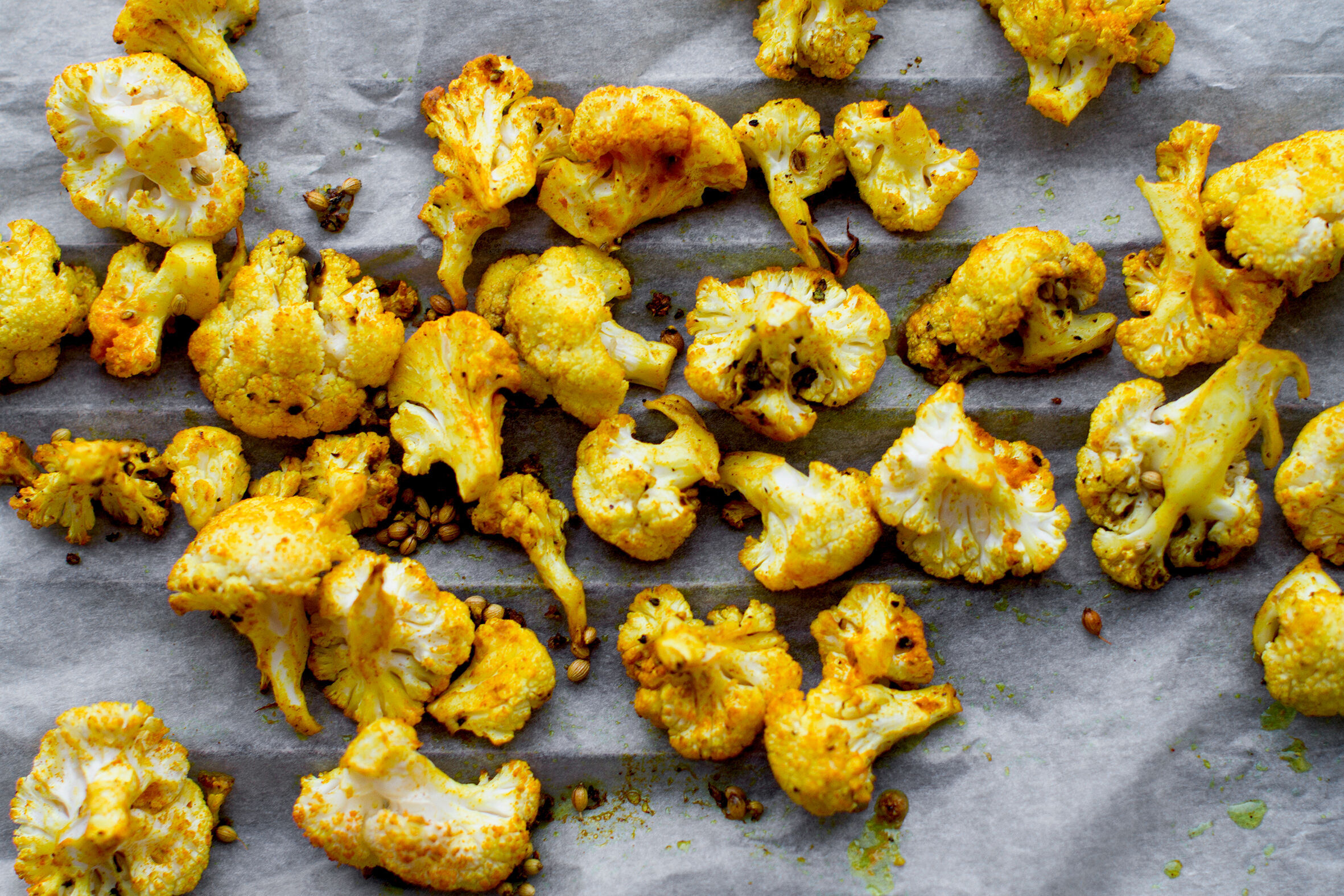 4. Rinse the chickpeas off with water and strain them. Roast them in a large frying pan with a dash of oil and 1 tsp cumin and ½ tsp chili powder over a low flame until they become crispy.
5. Blanch the peas for around a minute in boiling water and roast the slivered almonds in a dry frying pan until the start to colour.
6. Prepare the dressing by mixing all the ingredients for it with a blender or a hand mixer, until it is completely smooth.
7. Divide all the ingredients into 4 bowls. Garnish with the slivered almonds and the coriander leaves and serve with the dressing.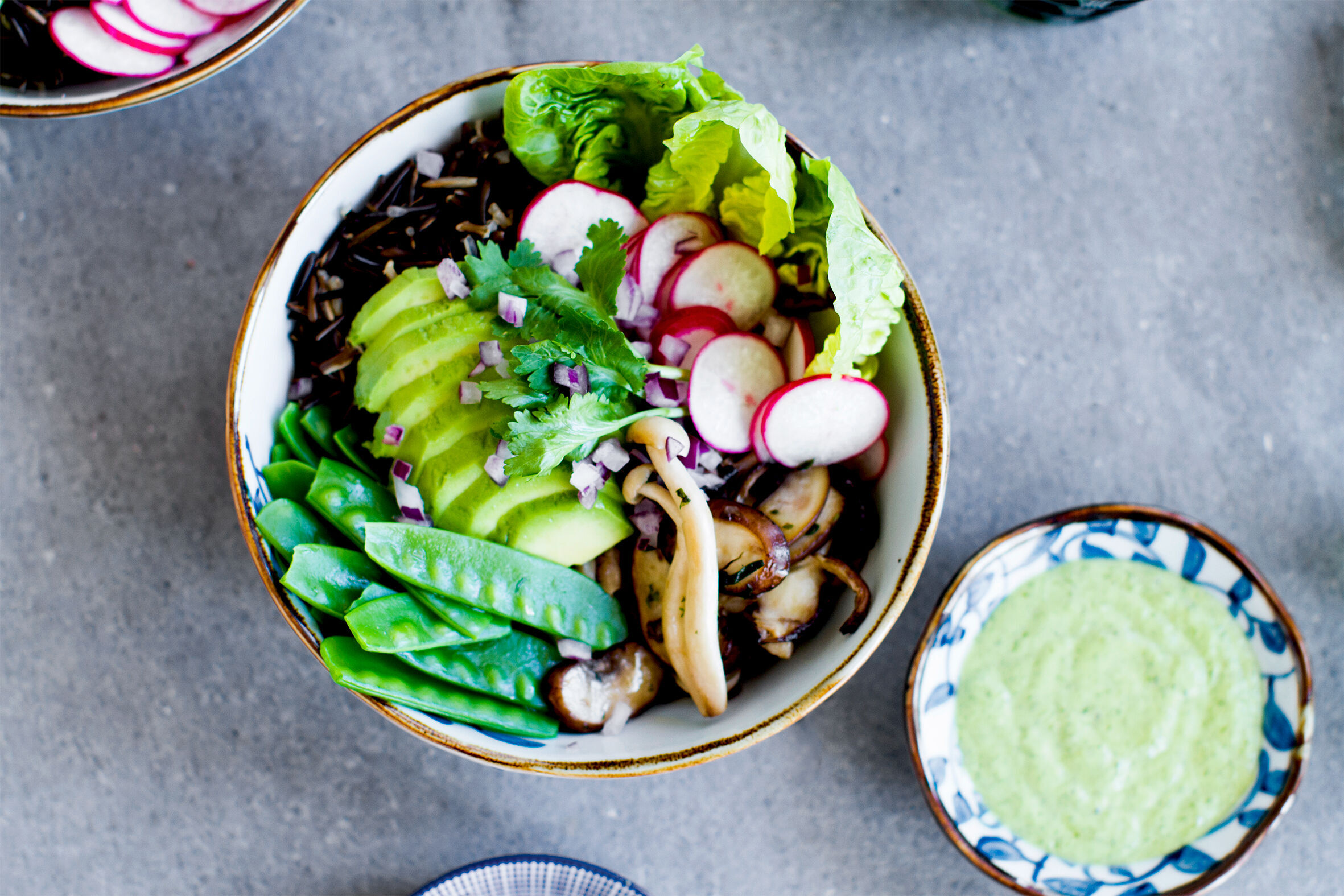 THAI YOGI BOWL
Black rice is a beautiful product because it's fermented rice and therefore good for your intestines. It has a tremendous number of antioxidants and a somewhat nutty taste. Besides being a delicious alternative to brown or white rice, it also looks quite striking with the other vibrantly coloured ingredients. If you want to use different vegetables than the one in this recipe, I suggest substituting with raw cabbage cut in very thin strips, lightly fried broccolini, and some nuts and seeds, for example.
Recipe serves 4 people
Preparation time: 25 minutes
Ingredients for bowls
200 g black rice, cooked
400 g mixed mushrooms
dash of coconut or sunflower oil to fry with
200 g snow peas, cleaned and blanched
1 large avocado, peeled, halved and in cut into slices
8 small radishes, cut into slices
¼ red onion, diced
pepper and salt
some little gem lettuce leaves for garnish
small handful coriander leaves for garnish
Ingredients for coriander lime dressing
1 bunch of coriander (around 15 g)
green jalapeño pepper (or ½ long, green pepper)
2 cloves of garlic
3 tbs lime juice
80 ml Greek yogurt
agave to taste
½ tsp salt
fresh black pepper
60 ml extra virgin olive oil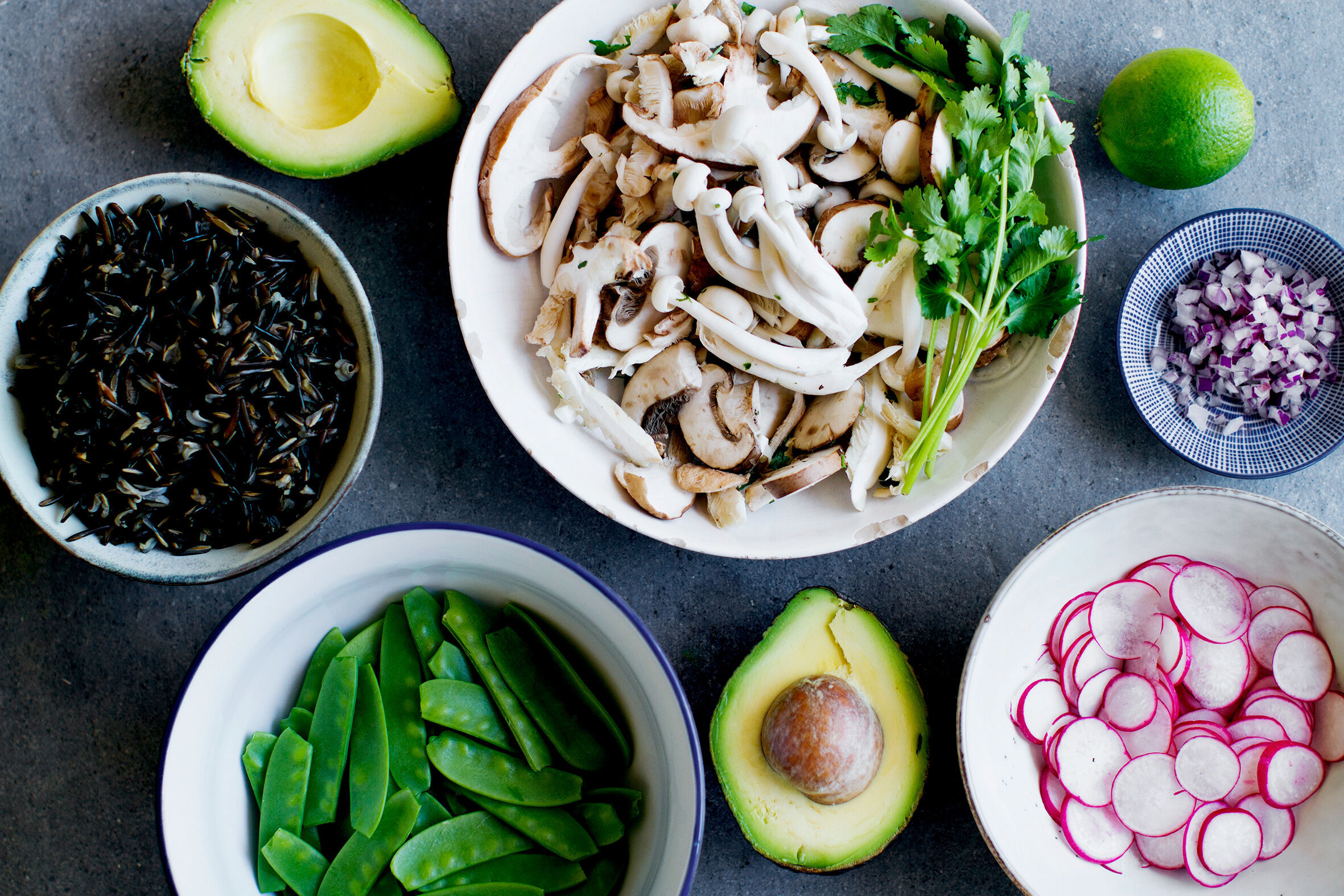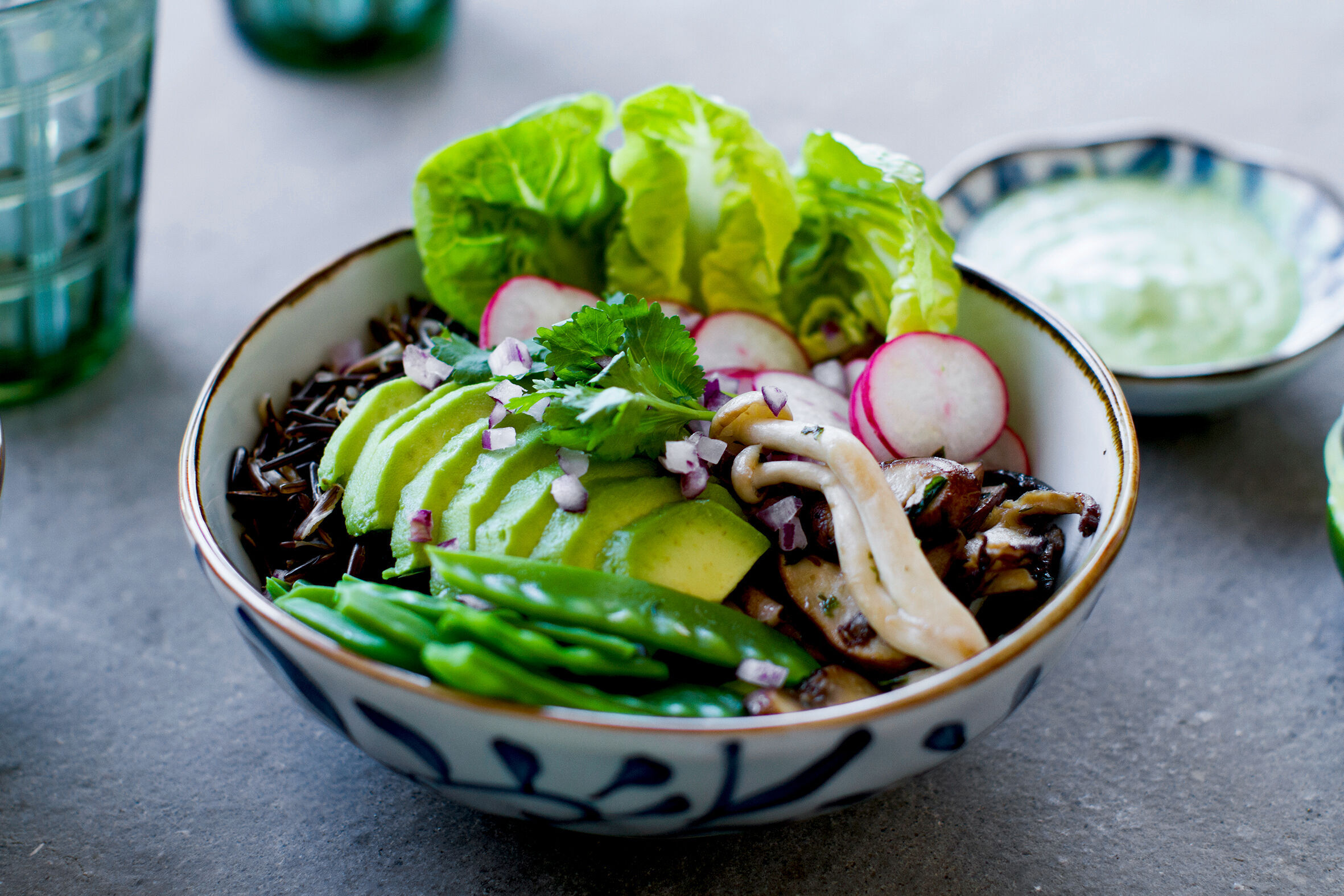 Preparation
1. Cook the rice according to the instructions on the package, drain it and let it sit under a lid.
2. Stir fry the mixed mushrooms in a dash of olive oil until they start to colour. Sprinkle them with a bit of salt and freshly ground black pepper.
3. Blanch the cleaned snow peas for 2 minutes in boiling water, strain, then let them finish draining.
4. Peel and cut the avocado into slices; you'll use a ½ avocado per bowl. Cut the radishes into slices and dice the red onion.
5. Prepare the dressing by mixing all the ingredients for it together with a hand mixer or blender. Use agave and some salt to taste, if needed.
6. Divide all the ingredients over the 4 bowls. Start with the rice, the lettuce leaves, the snow peas and the mushrooms. Then lay the avocado and radishes on top and sprinkle some diced red onion and coriander over it. Serve with the dressing on the side.
Enjoy!