With years of experience in restaurants such as RIJKS, Breda and Daalder, today Renaud Goigoux creates beautiful, soulful plates of mouth-watering food at Rouhi.
The Head Chef of the incredible Eastern-inspired restaurant, situated in the House of Rituals, Amsterdam, shares his morning routine and tells us about the meaning of 'Rouhi'. The mastermind behind our new recipes, we took 10 minutes out to talk all things food with him. Prepare to feel inspired and hungry...
Rituals: Tell us about your career history - have you always been passionate about food?
Renaud Goigoux: Food has always played a huge role in my life. I'm from a family of six so we spent a lot of time around the table. When I was a teenager, I discovered my passion for food, ingredients and cooking. I went to culinary school and it was there that I realised that I was hooked. For me, food is more than vegetables, meat, fish or even restaurants. It stands for creating everlasting memories, travelling the world, long-lasting friendships... A lifestyle in short.
Rituals: Rouhi means 'my soul' - how does that translate to the food you create?
Renaud Goigoux: The food at Rouhi is simple, but packed with flavour. I am a flexitarian and I have implemented this into Rouhi's dishes and menus. Together with my team, I try to have a good balance between vegetarian, vegan, fish and poultry dishes. I love to use seasonal ingredients, and to work with the best quality products possible during the year.
Rituals: Rouhi and Rituals are a great fit - why do you think that is?
Renaud Goigoux: Because we like to take a moment for ourselves and rewind, whether it's taking a nice long bath or having a tasteful meal, we find joy in turning daily things into meaningful moments.
Rituals: Rituals is inspired by the East, how are you and Rouhi inspired by Eastern cultures, practices and foods?And how do you combine them with Western influences?
Renaud Goigoux: At Rouhi, we find inspiration in Asian flavours and middle Eastern spices. Together with Dutch products, we transform them into delicious plates with French cooking techniques. We call it: East meets West.
Rituals: Rituals' aim is to help people find happiness in the smallest moments - what small things represent happiness to you?
Renaud Goigoux: I find happiness in drinking my first cup of coffee in the morning, while looking out of the window and enjoying the view.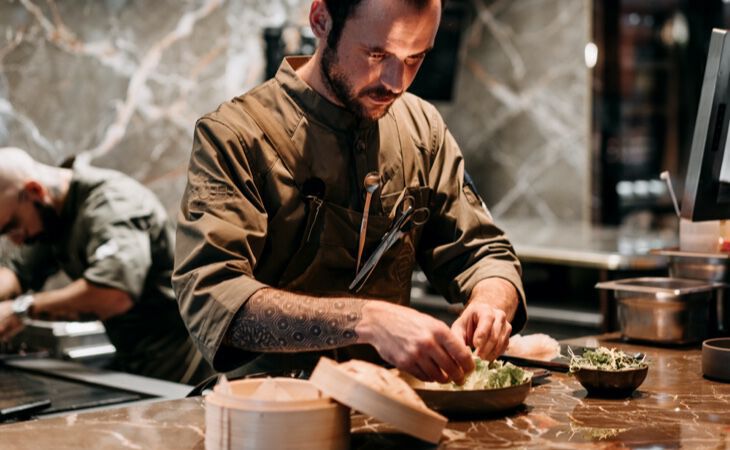 Rituals: What can we expect from the recipes you will be creating for Rituals Magazine?
Renaud Goigoux: The recipes are quite simple, quick and full with ingredients that are easy to cook with. Cooking is about taking a moment for yourself and unwind from your hectic day. With our recipes we create a soulful moment for everyone to enjoy.
Rituals: What's your go-to comfort food?
Renaud Goigoux: I can't mention just one dish, but definitely anything that includes bread!
Rituals: How important do you think it is for people to try and eat locally-sourced, seasonal foods, where possible?
Renaud Goigoux: It is really trendy nowadays to use locally-sourced, seasonal and organic food. But next to that, it is actually the greatest source of inspiration, even for home cooking. To see what the market has to offer at any given moment is truly inspiring. And a very nice plus for your wallet; it is cheaper than doing your groceries shopping at the supermarket.
Rituals: What can people who visit Rouhi expect from the dining experience and the food?
Renaud Goigoux: I think that the team is dedicated and passionate in our philosophy of dinner and services. It reflects into our food, drinks and the atmosphere.
Rituals: Do you have any favourite cook books?
Renaud Goigoux: Ooof, there is a lot on my shelves! But, at the moment, I am very much into:
Japan the cookbook by Nancy Singleton Hachisu.
Mildreds: Vegan Cookbook, by Dan Acevedo and Sarah Wasserman. They have a cool approach on vegan food.
Bar Tartine: Techniques & Recipes by Nicolaus Balla and Cortney Burns. For lots of techniques, pickles and sauces.
Rituals: What routines do you have to kickstart your day and also to unwind after a busy day at work?
Renaud Goigoux: Every morning I take a cold shower, for about a minute. After that, I have a nutritious breakfast consisting of a fresh juice, plant-based yoghurt, fruits and loads of nuts and seeds. I strongly believe in the power of habits. After a busy day I like to go for a walk outside, to clear my head, by just simply putting one foot in front of the other and breathing calmly.