Home fragrances are more than just scent, they can create different ambiances in your home depending on the mood or time of year. Fragrance sticks, reed diffusers, interior sprays, candles - they come in many shapes and forms, with endless fragrances possibilities. You can control the fragrance strength, get a burst of fragrance when you choose to, and the designs enrich your living space. But did you know that there are some do's and don'ts when it comes down to your interior perfume? From the fragrances that fit your bathroom best, to the places you should avoid placing your fragrance sticks, we listed everything you should know to get the most out of your home perfume.
Care for your candle
When using scented candles to create a romantic, refreshing, calming, energising, or soothing atmosphere in your home, there are some things you should think of. Treat your candles with care, and they will perfume your home for a longer period of time. Here are five things you can do to take good care of your candles:
The 'first burn' is very important. When lighting for the first time, burn the candle until the wax melts across the entire surface up to the sides of the vessel as this will prevent tunnelling, and create an even burn for the duration of the candle's 'life'. This may take up to 2-4 hours, but we promise it will make your candle last longer.
Trimming your wicks is key. Maintain a short wick to get the most out of your candle. It is recommended to trim your wick before every lighting. The wick only needs to be approximately 6mm in length, so with this in mind maybe yours are in great need of a "haircut". Extra bonus: a short wick controls the size of the flame allowing you to get the most time out of your candle.
Keeping the wax pool free of wick trimmings, matches and debris at all times, with a damp cloth between uses will do your scented candle good.
Don't burn your candle all the way down. Always keep in mind that you won't light your candles when there is 10 millimetres of wax or less remaining in the jar. Although it is tempting to continue burning your candle until the wax is gone, we strongly advise against this as the flame needs a solid base of wax to avoid overheating the glass jar and potentially bursting into flames.
Opening windows and doors will disperse the scent and lessen the concentration. For maximum fragrance keep windows and doors closed and burn your candle in the desired space for 30 minutes before entering it.
Do you tick all the boxes? Then your scented candle should burn properly. Efficient burning means that the flame is not flickering, teardrop shaped and upright. Extinguish a candle if it smokes, flickers, or the flame becomes too high. These signs indicate the candle is not burning properly and the flame isn't controlled. Let the candle cool, trim the wick, and go through the checklist above before you re-light it.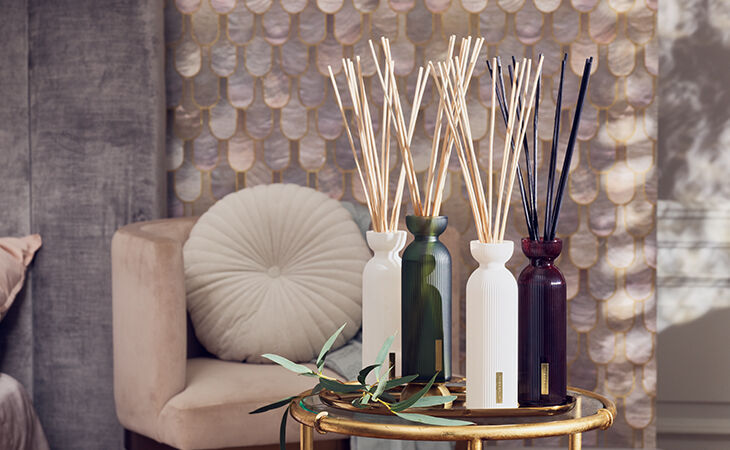 Where to place them (and where not)
Placing your fragrance sticks or reed diffuser close to a drafty window may seem smart - because the scent spreads more quickly through the air – but it's not. There are many factors that contribute to how long your reed diffuser or fragrance sticks will last. When it comes down to the best places to put and avoid putting your gloriously-scented friends, there are things to bear in mind.
As a starter, avoid radiators and windows as heat will make the fragrance evaporate faster. Also, rooms that are airconditioned are not the best spaces to place them because the diffuser will deplete quickly. If there is a vent in the room, make sure it is not sucking air out of the room since this can cause the same effect. And last but not least: the room should be dry and not exposed to direct sunlight since this will empty the diffuser more quickly. Keep them in a draught-free, shady and cool environment, this will help your diffusers last much longer than if you place them on a warm, sunny windowsill.
Great, we've sorted out where you shouldn't place them to enjoy your favourite scent as long as possible. Let's shine a light on the best specific spots in your home to place them. In many cases, think of a diffuser or the fragrance sticks as a bouquet of flowers - you'll smell the fragrance as you walk by, but it won't necessarily fill the room with scent. Place your diffuser in a high-traffic areas, think office, living room, bathroom or kitchen. Another great spot is just inside the room near the door - or the hallway itself - so your guests will feel welcome at your doorstep. Especially in summertime, it can be really refreshing to treat yourself to a fan. Always aim the fan just above the diffuser to concentrate the scent towards a specific area of your room, such as your bed or work desk.
A scent for every mood & room
We all know fragrance has a psychological effect, scents have the power to calm down your nervous system, or to boost your mood instantly. Therefore, it is important to know in which rooms you should place a particular diffuser. Because smelling the energising scent of oranges before you try to drift off to dreamland, won't work in your favour.
Promote your sleep with the calming combination of sacred lotus and jujube found in The Ritual of Jing. Inspired by the ancient Chinese concept of Jing, representing calmness, stillness and tranquillity, this fragrant blend helps you find your path to inner peace and cultivate the art of calm. Other aromas that will help you to fall asleep without endlessly counting flocks of sheep are lavender, valerian, bergamot, and chamomile.
Not a morning person? Take a deep breath in, because there are scents that might actually make you feel more awake. And no, it's not the smell of coffee. There are three scents that can wake you up: jasmine, which increases beta waves (the brain waves associated with alertness), peppermint and citrus scents, that stimulate the same nerve that's activated when you're revived with smelling salts. Our new body & home collection The Ritual of Mehr is enriched with sweet orange and cedarwood. This pure, aromatic essential oil of cedar has a stimulating woody fragrance, that helps to brighten and energise your soul. In combination with the zesty, spicy, fresh yet sweet fragrance of sweet orange your mood and energy levels boost within a blink of an eye. A perfect spot for your Mehr fragrance sticks or diffuser is in your (home)office. So, you will start your working day feeling completely energised. Or infuse your surroundings with The Ritual of Mehr interior spray and bring an instant happy feel to your home.
Another area in your home where a refreshing scent in the morning will work its magic, is the bathroom. The aromas of revitalising rosemary paired with fresh eucalyptus of The Ritual of Hammam will wake up your foggy brain after a goodnight's sleep. This scent will also remind you of a purifying Hammam spa, and helps you with creating a warm, personal wellness ceremony.
Then we're moving to the room that is the heart of a home for most of us. Yes, we are talking about the living room. In the living room, you can basically go in any direction when it comes to fragrance. Check which scent best suits the atmosphere you want to create. Scents that are always popular, however, are soft floral fragrances like The Ritual of Sakura. The delicate scent of cherry blossom paired with the luxurious fragrance of rice milk is wonderfully relaxing.
To transform your home into a peaceful sanctuary where you can wind down after a busy workday, use The Ritual of Ayurveda. With the balancing scent of Indian rose and almond oil, you will awaken inner harmony. Balanced living is the principle behind Ayurveda, the science of life. This ancient wisdom from India helps you to improve health and well-being by cleansing and nourishing your energy.