Flowers and Mother's Day go hand in hand and while you can't knock the vivid and voluptuous readymade bouquets on offer, there's something about an understated arrangement that's beautiful too. It's like prêt-à-porter vs haute couture and what mother doesn't love something crafted and created just for them by their offspring? Which is where learning the art of Japanese flower arranging - Ikebana - can come in useful.
For starters, you don't need to be a florist to nail it. "Ikebana can be arranged by anyone, anywhere, anytime," says Kasia Borowiecka, owner of Cosmos&Plums Floral Studio and who runs Ikebana workshops. "It's a practice that reflects the person who arranged it - you are the artist, and you choose the materials you want to use. It's about creating beauty with your emotions and feelings and reminding us of our fragile connection with nature."
Also known as 'Kado', Ikebana actually originated in China and Korea but arrived in Japan at the same time as Buddhism when Buddhist monks would place floral offerings on the alters of temples. Consisting of three main stems gathered closely together, the display represented a harmonious relationship between heaven, man and earth. "It's a 3D composition," explains Kasia. "Three elements are important - height, width and depth - and they're the main rules you need to follow. Asymmetry is important to emphasise the lines and the biggest difference to western arrangements that tend to be full and crowded is the use of negative space, or MA as it's called in Japan. It's a less is more concept, and the negative space allows a viewer to appreciate the materials used in the arrangement. It's a pause in time."
HOW TO EXCEL IN IKEBANA
If it sounds complicated, it isn't. It is more ritualistic and mediative than bunging some flowers in a vase though. To make a simple Ikebana you need a shallow container, a flower frog - kenzan in Japanese but also known as a floral pinholder, a pair of scissors and then the foliage and flowers you want to use. If you or your mum has a favourite flower, definitely invest in some of those as the whole point is that these displays are personal but if you have no alliance to a particular bud, go for something seasonal to show your respect to nature. And do remember that less is more, you only need a small cluster of stems for your masterpiece - between 5 and 13 on average.
First you must create your three stems - think about the height and width as this will act as the focal point for your display and hold it all together, a bit like an outline in a drawing. Maybe start with a branch and a tall flower, you can even add fruit or berries like rosehip into the mix. Once you've decided, push each one into the flower frog where the pins will pierce the stem and hold it in place so you don't have to worry about it toppling over and out of the shallow dish.
As with everything, inspiration is everywhere and while your display should mirror how you feel, you can always have a quick scroll on Instagram or Pinterest for inspiration. @cosmosandplums is Kasia's own feed but she also recommends @ikebana.sogetsu and @watara_ikebana to get an idea of what's feasible with your flora.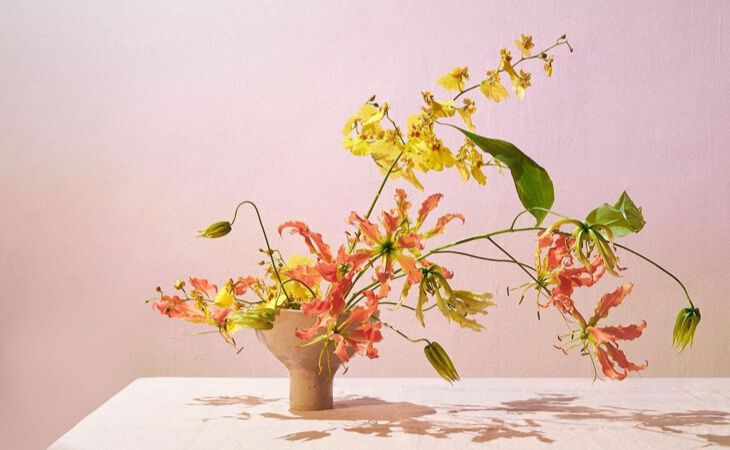 TAKE YOUR TIME
While you can whip up a display in five minutes, the idea is that you create your display mindfully. Take time to look at the shapes, which petals compliment the outline of certain twigs and branches you've chosen and of course, do you like how it appears. "For me, it's so relaxing as it teaches us to look at each material and analyse how best to showcase its beauty. It also teaches us to find beauty in imperfections and in passing (wabi-sabi)," continues Kasia.
You could even create a display with your mum if you're not feeling confident about going it alone. Talk about which flowers you want to use, what you love about them and reminisce about why you're drawn to them. Connecting you with nature as well as each other, there's more than one reason to embrace Ikebana and unleashing your inner creativity is just one.