Put the takeaway menu back in the drawer. These recipes are healthy, tasty and provide the perfect opportunity to be more mindful about what you cook and eat. Food that's clever, tasty and doesn't leave you guessing, because all of the ingredients are fresh and good for you: now that's soulful cooking at its finest.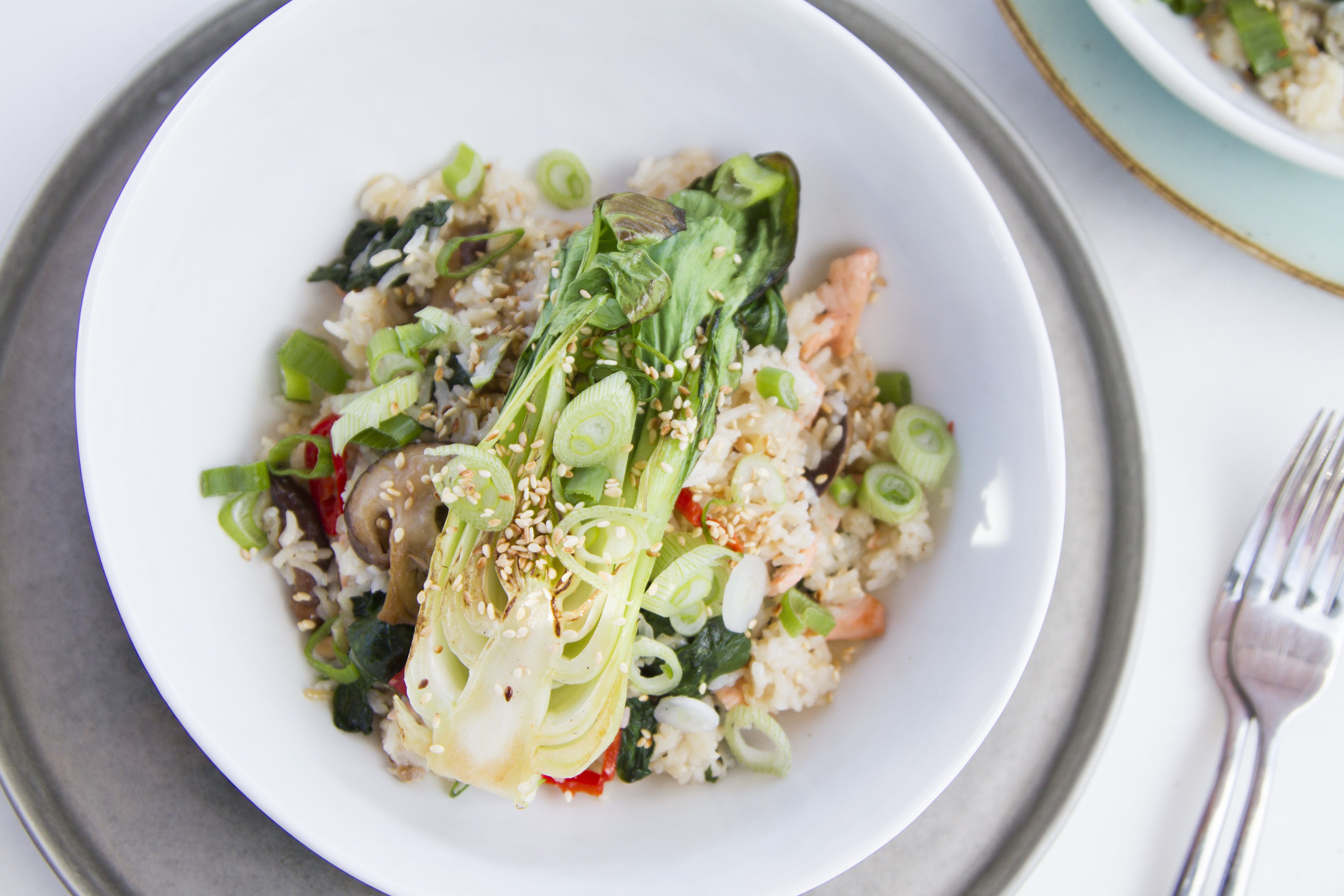 Fried Rice with Baby Bok Choy, Shiitake and Salmon
Bok choy is a super healthy vegetable, filled with vitamins and minerals—more than any other similar type of cabbage. The combination of shiitake and salmon makes this a delicious and nutritious dish. By eating bok choy, you get 75% of your daily requirement of vitamin C. Cook it for a very short amount of time to keep the vitamins and eat it as fresh as possible.

Recipe for 4 people
Preparation time: 25 minutes

Ingredients
400 g cooked jasmine rice
250 g salmon, cut into blocks of around 1.5 cm
2 baby bok choy, halved
150 g shiitake
2 large handfuls of fresh spinach
1 small white onion, cut finely
1 fresh red chili pepper, in thin rings
2 spring onions, in rings
1 clove of garlic, finely chopped
1 tbs roasted sesame seeds
1 tsp fresh ginger, grated
1 tbs soy sauce for the shiitake
1 tbs soy sauce for the bok choy
mild olive oil


Ingredients for vinaigrette
3 tbs soy sauce
2 tsp rice vinegar
juice from 1 lime
Preparation
1. Prepare the rice as instructed on the package. Afterwards, set the pan aside with a lid on top of it.
2. Make the vinaigrette by mixing the soy sauce, rice vinegar and lime together and set this aside for later.
3. Cook the shiitake in olive oil on high heat until they start to colour. Add soy sauce to taste and then set aside for later. Then briefly cook the halved bok choy without letting it go limp. Finish it off with a bit of soy sauce and then set it aside with the shiitake.
4. Heat the olive oil in a pan with a thick bottom. Fry the garlic and onion until it starts to colour, and then add the rice. Stir fry for a few minutes, until the rice gets crispy. Add 2 tbs of olive oil, stir the chili pepper in and follow it with the ginger.
5. Add the spinach and blocks of salmon, and stir fry them until the spinach has shrunk and the salmon is well mixed with the rice.
6. Lastly, add the shiitake and vinaigrette and stir it until it is well mixed. Add salt and pepper to taste. Scoop the mix into bowls, lay the bok choy on top and sprinkle it with roasted sesame seeds and thin rings of spring onion.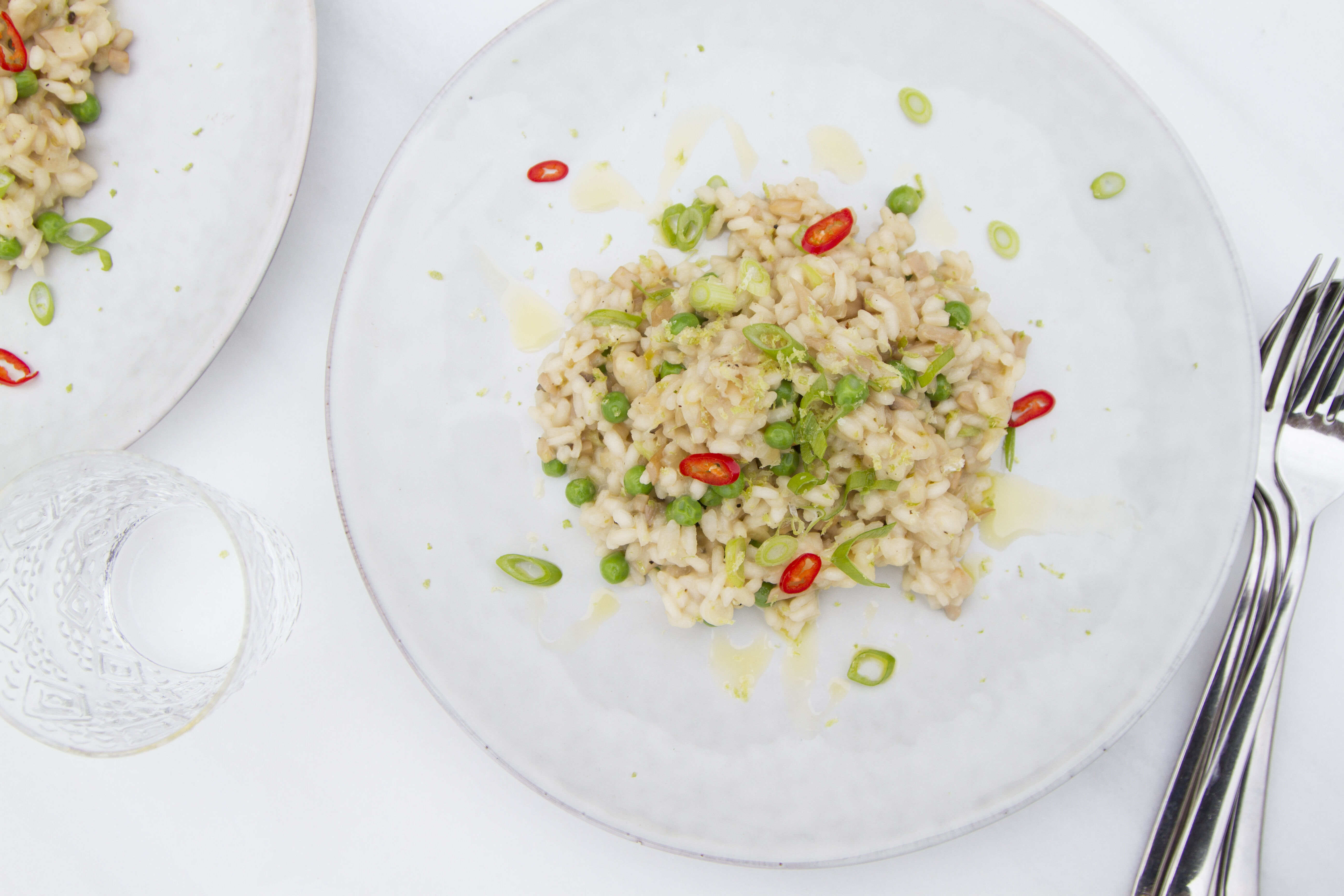 Eastern Risotto with Coconut Milk
Enjoy this Asian take on an Italian classic, made with soy sauce and coconut milk. It also contains boletes, which are a universally popular wild mushroom that adds a distinct earthy flavour to any dish.
Recipe for 4 people
Preparation time: 30 minutes

Ingredients
5 tbs olive oil, divided
1 large white onion, chopped
400 g Arborio rice
1 L vegetable bouillon made from 2 cubes
3 boletes, in cubes of ½ cm
150 g frozen peas
400 ml coconut milk
5 tbs soy sauce
coarsely ground black pepper
spring onion cut into thin rings to garnish
1 small red pepper sliced into thin rings to garnish
zest of 1 lime to garnish

Preparation
1. Chop the onion finely and cook the pieces for a few minutes in 3 tbs of mild olive oil, stirring until they become glassy. Add the rice and cook and continue to stir for a minute.
2. Pour just enough bouillon over the rice so that it is completely covered. Keep stirring until the bouillon is almost completely absorbed, then keeping adding bouillon until there's no more left.
3. In the meantime, slice the boletes into mini cubes and cook these in 2 tbs olive oil until they begin to colour nicely. Pour 1 tbs of soy sauce over them, cook them together shortly, then set them apart.
4. Pour 200 ml coconut milk onto the risotto along with 5 tbs and keep stirring until the risotto is al dente. Don't let it get too soft!
5. Season with freshly ground black pepper and (if needed) salt to taste. Scoop directly onto the plates. Sprinkle it with some good olive oil, some spring onion, red pepper and the lime zest. Enjoy!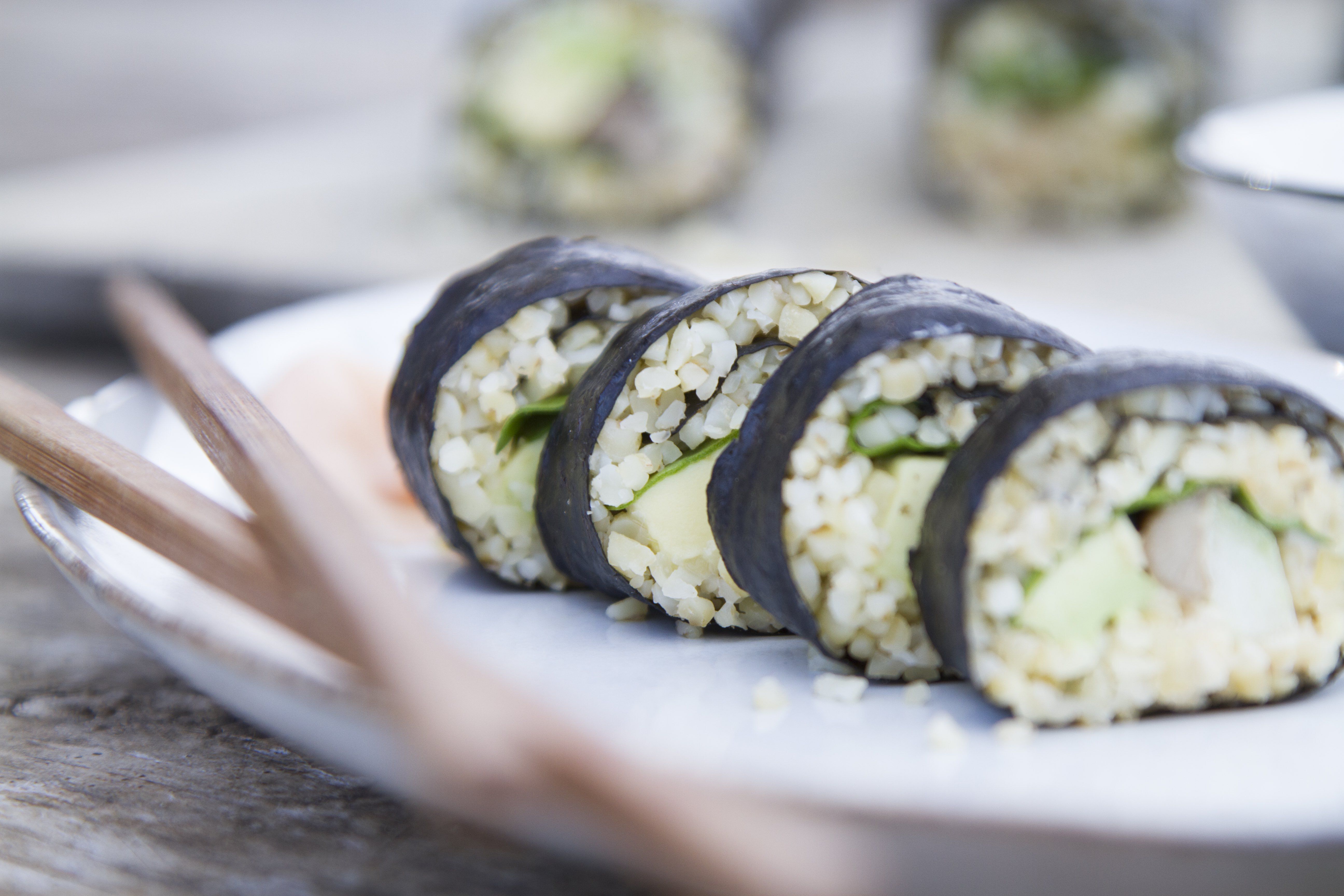 Bulgur Sushi
This fun take on sushi is made with bulgur: a dried, cracked wheat that is popular in the Middle East. Bulgur contains more fibre, protein, vitamins and minerals than white rice, making it a healthier version of the classic sushi.

Recipe makes 4 rolls
Preparation time: 25 minutes
Ingredients
2 tbs rice vinegar
1 tsp salt
2 tsp sugar
4 nori sheets
200 g bulgur
150 g oyster mushrooms
½ of a cucumber
1 avocado
2 handfuls spinach leaves
soy sauce for dipping
pickled ginger to serve on the side
bamboo rolling mat
2 tbs organic mayonnaise
1 tsp wasabi
2 tsp soy sauce
Preparation
1. Boil the bulgur for 3 minutes longer than it says on the package. This will give it the desired sticky texture needed for sushi. Add the ingredients for the seasoning and heat it while stirring until the salt and sugar is completely dissolved, but do not let it boil. Let the 'bulgur sushi' rest under a lid while you prepare the rest of the ingredients.
2. Cook the mushrooms in 1 tbs of olive oil until they start to colour. Cut them into strips around 1 cm wide. Peel and de-seed the cucumber and cut it into thin strips. Cut the avocado into strips.
3. Prepare the wasabi mayonnaise by mixing 2 tbs organic mayonnaise, 1 tsp wasabi and 2 tsp of soy sauce together thoroughly.
4. Lay the nori sheet with the rough end facing upward on the bamboo mat and cover ¾ of this with a thin layer of bulgur. Lay the avocado, oyster mushroom and cucumber on the spinach.
5. Roll this up as tightly as possible and seal the sushi roll by wetting the uncovered part with water. Cut the sushi into slice of around 1 to 1.5 cm thick. Serve with extra wasabi, ginger and soy sauce.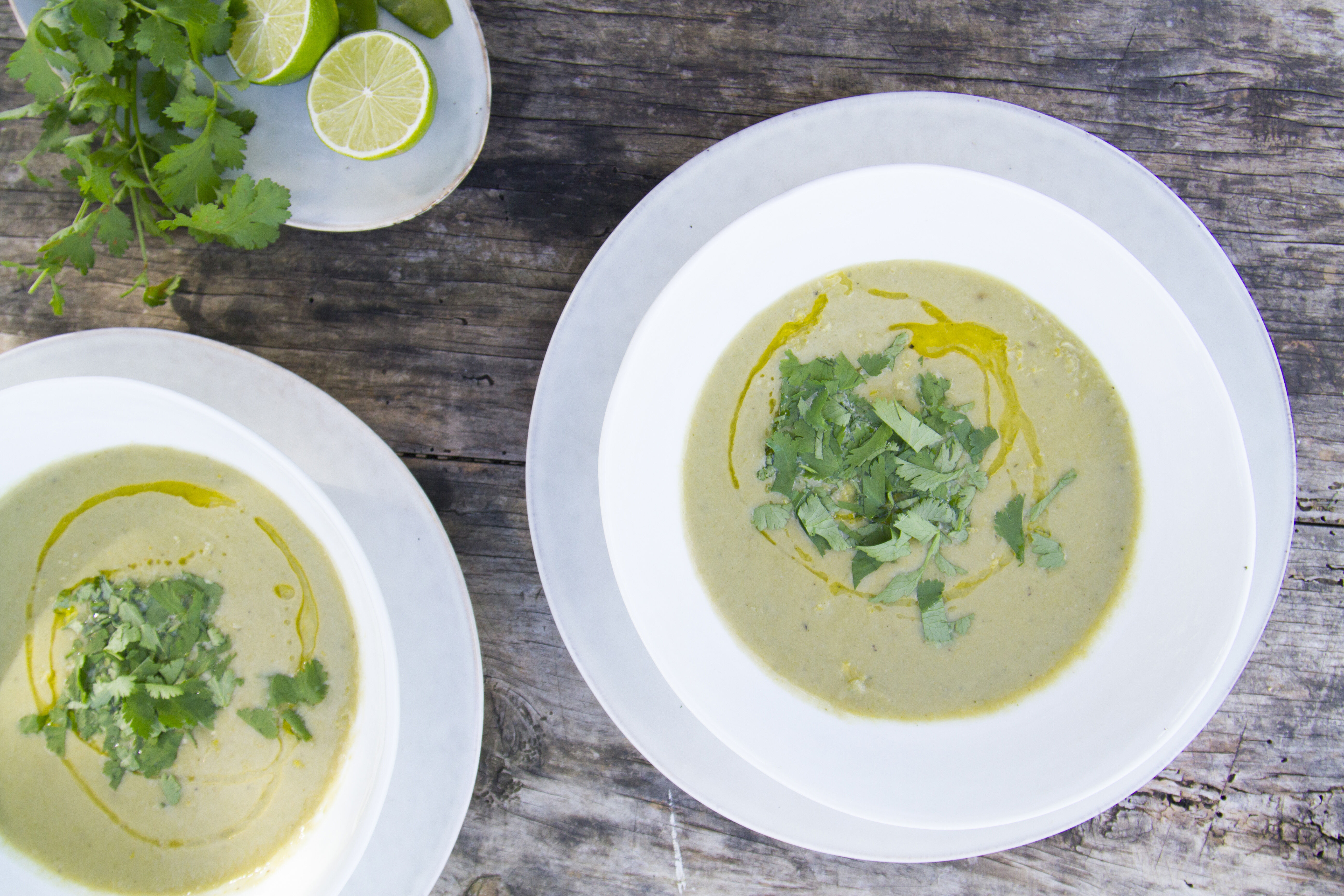 Thai Green Snow Pea Soup
When you're craving Thai flavours, there's nothing more satisfying than a bowl of green snow pea soup. Delicious, healthy and surprisingly easy to make.

Recipe for 4 people
Preparation time: 20 minutes



Ingredients
400 g snow peas, cleaned
2 tbs mild olive oil
1 white onion, diced
2 cloves of garlic, cut in thin slices
2 tbs fresh ginger, finely chopped
600 ml vegetable bouillon made with 3 bouillon cubes
400 ml coconut milk
4 lemon leaves
zest of 1 lime
juice of ½ lime
1 large handful of coriander to garnish
1 tsp salt and freshly ground black pepper
Preparation
1. Heat up the oil and fry the onion for a couple of minutes before adding the ginger and garlic. Stir this for a few minutes.
2. Add coconut milk, lemon leaves, lime zest, vegetable bouillon and the snow peas. Let this simmer in a covered pan for 10 minutes.
3. Remove lemon leaves and puree the soup. Strain it through a coarse strainer to remove the last strings from the snow peas.
4. Add salt and pepper to taste, along with the lime juice. Garnish with a dash of extra virgin olive oil and finely sliced coriander to taste.