Year on year, Pride remains one of the most anticipated events in the calendar. All over the world, streets are filled with glitter, rainbows, music, floats, in celebration of liberty, solidarity, and being able to express one's most authentic self.
Pride's origins can be traced back to June, 1969, and an uprising at The Stonewall Inn in New York City. As police raided the queer venue in the middle of the night, the bar's patrons fought back, with trans women of colour at the forefront of the resistance. The following summer, to commemorate the one year anniversary of the Stonewall riots, the first ever Pride marches were held across New York City, Los Angeles, and Chicago.
Since then, Pride events have continued to expand across the globe, but even though it's a global party, filled with unrivalled joy, Pride can also be an emotional time for many. It's both an opportunity to assess how far we've come as a community as well as a chance for personal reflection. Here, 5 people from around the world tell us what Pride means to them this year.
"This year, for the first time, I will feel actual pride."
Sarah*, Berlin
"It's not my first time celebrating Pride, but it will be my first time celebrating as an openly out trans woman. After many years of pain and dysphoria, I finally came out to friends at the beginning of 2022, and have felt overwhelmed with love and support ever since. For the first time, I will feel actual pride. I feel so happy and excited to finally show up as my real self.
"I'm sure I'll also feel very aware of how lucky I am to be there. It's important to remember that the reason we have Pride is because of a riot in New York, at a time when it was illegal for people to wear clothes typically worn by the opposite sex. I'm very mindful that we have to celebrate our existence as much as we have to fight for it. So, this year, I will be marching alongside a queer nonprofit organisation, doing just this.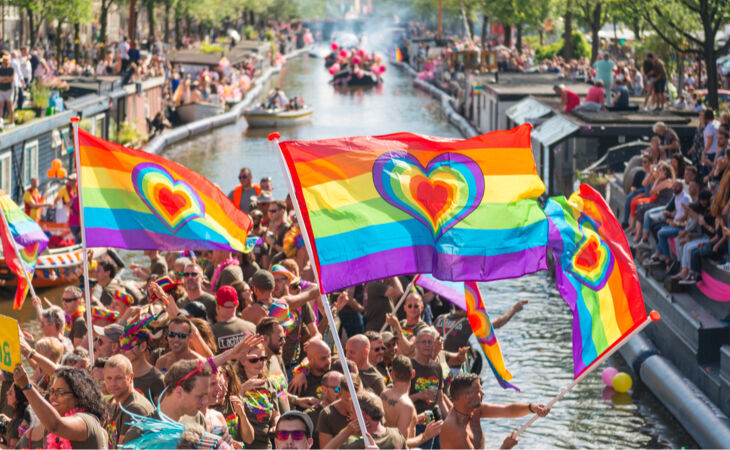 "Pride is exactly what I feel. I always look at this celebration with a warm heart."
Dirk, Amsterdam
"For me, Pride is about being your true authentic self without any judgements. And this year I can truly say I'll be doing just that. I'm the HR Business Partner at Rituals and this year I'll be partying with colleagues, dancing through Amsterdam on the Rituals float at the euro pride.
"Although I've been to many pride events before, it's always been with friends or my boyfriend. To be attending in both a personal and professional capacity, representing my company as well as my community, feels incredibly special.
I know I will become very emotional about it on the day when I reflect on the significance of it all. Being able to celebrate who I am and knowing that I can be myself no matter what, whether at work or home, truly fills my heart with joy."
"Pride month is a reminder for me to reflect and learn"
Stef, Florida, U.S.
"I attended my first Pride event when I was 17. I saw a documentary that featured a clip of a famous anti-gay rights activist having a pie thrown in her face on national TV. Seeing that footage made me want to study queer resistance down here. I've since learned a lot of other things from queer elders. But honestly, even though I have learnt some great information from them, there is still a lot they don't know because that history is very much tucked away in archives.
"These days I mostly celebrate Pride privately. I see it as a reminder to give myself more time to reflect on queer history throughout the month and my own experiences of being a queer person. I've been to a few prides over the years and always had a lot of fun. But for me, Pride will always be linked to watching that documentary and realising just how much history lies behind the rainbow flags."
"Previously, I felt like a guest, now I feel like I belong."
Kate*, Cape Town
"Throughout my life I've only dated men, but this year I'm finally celebrating Pride with my first girlfriend and I'll be more than proud to attend with the girl of my dreams. In the past when I've been to pride with friends, I felt like a guest. now I'm excited to really feel a part of the celebration."
"Here in Cape Town, the celebrations are set to be extra special, as it'll be coming up to thirty years since the decriminalisation of homosexuality. It's important to recognise our history, all the leaps and bounds we've made, as well as all the progress yet to come."
"The celebrations here seem to get bigger and bigger every year. And I just know it will feel incredibly cathartic and uplifting to be amongst thousands of strangers dancing and celebrating one another."
"Pride has given me hope and purpose."
Dr. Pamela J. Lannutti, New York
"When I was younger and in the early process of coming out to myself and others, spending time at Pride celebrations helped me to see there was a big and diverse community that I could be a part of. Over time it gave me connections and other LGBTQ+ people for friendship and support.
"Now I'm older, Pride has given me a chance to be one of those community members available to support others.
One thing I always remind people is that while, on the surface, it can seem like everyone at Pride is fierce, happy and confident, not everyone is. So, it is ok to recognise that you may be feeling differently and prioritise your own wellbeing. That is often overlooked. If you are feeling anxious or have negative feelings, give yourself space to take a break or talk with someone who supports you."
"Being able to offer my support and experiences like this also helps me too. It gives me a sense of purpose and makes me feel I add value to our community which is a wonderful feeling."
*Names have been changed to protect anonymity.
Emma Madden is a writer and reporter based in Brighton, England. Their work has appeared in the New York Times, The Guardian, GQ, and many others.