Sustainability is the latest buzzword across all companies, especially the beauty industry. According to a poll of 2,000 adults, 54% of consumers consider sustainability a key factor when buying beauty products. With this in mind, it's no surprise that terms like 'sustainable' 'all natural' or 'eco-friendly' get overused, as brands clamour to give consumers what they want. When it turns out that there is no evidence to back those claims up, it's easy to get frustrated. In a recent global study by Google Cloud, 58% of the 1,491 business executives questioned, said their company was guilty of greenwashing. If you ever see a brand claiming to be 100% sustainable, this could be a red flag. The truth is, it's virtually impossible to be 100% sustainable these days. At Rituals, we believe that 'sustainable' is not an end goal, we should always be looking to continuously improve. Sometimes, there are often good reasons why a formula may only have 90% natural ingredients, or packaging is made using plastic. Even the most eco-conscious companies make choices that, on the surface, may seem to contradict their mission. Good intentions are one thing, but these must have a good impact too (and these aren't always the same thing).
Ingredients of natural origin
20 years ago, few people would be inspecting packaging labels to check there were no sulphates or parabens in their care products. Nowadays, it's common practice. In a survey of 4,487 female internet users, 56% of people said would pay more for a product that was made using natural or organic ingredients. At Rituals, we have made a commitment that by 2023, all our formulas will contain at least 90% natural origin ingredients. Wondering why that goal isn't 100%? Simply put, natural ingredients aren't always the most sustainable choice. Some lab-made ingredients are actually more environmentally friendly than their natural alternatives. When making improvements to our formulas, we always have to take into account how improving one component could negatively impact another. For example, rose petals are a frequently used ingredient in fragranced products and perfumes. "Rose oil is something we recreate artificially," says Rituals' environmental responsibility manager, Cameron MicKinnon. "Why? Because it takes masses of rose petals to create the amount of oil we would need. If every single brand in the cosmetics industry used natural rose petals, we might end up with no roses left at all." For this reason, it's a much more sustainable option to artificially produce this oil, and even a top perfumer wouldn't be able to tell the difference. This is of course just one example, and we will always opt for ingredients of natural origin wherever possible, but it's all about finding the balance, hence our 90% target.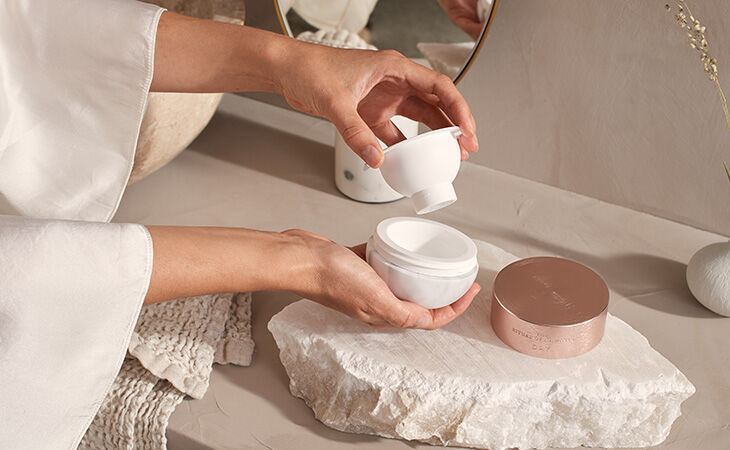 Sustainable packaging
When it comes to packaging, reducing plastic consumption and waste has become a huge priority to the world. In a poll by YouGov, four in five (81%) of people in the UK agreed that governments should introduce targets to reduce plastic waste. Some consumers might therefore ask the question, why are so many companies still using it? 'Many companies continue to use plastics for their functional benefits and because they haven't been able to get these functions from other materials' explains Dr Alan Campbell, technical director of The LCA centre. "If plastic is used efficiently and responsibly (ideally in a reuse system, ending in recycling), then it could contribute to a lower carbon footprint option than some other packaging material types." The infinitely recyclable glass, is often seen to be a more sustainable alternative to plastic. However, it also has its own setbacks. The actual process of making glass requires a lot of heat (around 1500 degrees) and this is often done with fossil fuels. Glass is also considerably heavier than plastic, and because of this, its transportation creates more carbon emissions. Truth be told, there's no such thing as 100% sustainable packaging. Even if it's made of recycled materials or is biodegradable, there will be some form of resources used in production.
Of course, this is not to say we shouldn't continue to reduce the number of resources used. According to a report by Stanford University, a single ton of recycled plastic reduces 5,774 kwh of energy, 13.6 barrels of oil and 98 BTU's of energy. At Rituals, we are committed that all our packaging will be refillable, recyclable, and/ or made from recycled materials by 2025. In 2021 alone, our refills saved 492,028 kg of waste (that's the equivalent of 619 formula 1 racing cars) and we are continually looking to add more to this collection.
Palm oil
It's common knowledge that the cultivation of palm oil has significant environmental impacts, though it remains the world's most used vegetable oil. Why? You might ask. Well, palm oil has incredible skin benefits. Its substitution is difficult to achieve and switching this ingredient for another vegetable alternative isn't always a better option. Palm oil is the highest-yielding oil crop, needing less than half the land required by other crops to produce the same amount of oil. So, if we chose to use coconut oil instead, this would place higher demand on coconuts, but we would need even more land to grow them. At Rituals, less than 1% of the total amount of ingredients we use in our products are derived from palm oil and 99% of this is oil now RSPO certified. By the end of 2022, our goal is to make this 100%. This will mean that all the palm oil we use won't cause a negative impact on environments and communities.
Organic farming
In recent years, the use of pesticides and chemical fertilisers in farming has become a cause of concern. These synthetic substances have been found to damage ecosystems and harm human health. Naturally, this has created a boom in the organic farming industry, where only natural methods are used, meaning food is safer and the soil is healthier. Sounds good right? But some studies have found there to be some hidden truths about these farming methods. While they are seen as the healthier and safer alternative, the process of growing organic ingredients can have its own environmental issues. The chemical fertilisers used in regular farming increase the crop yields, meaning less land is needed than in organic farming. To keep up with regular farming methods, this could mean creating new farming land, cutting down forests and therefore realising carbon dioxide into the atmosphere. In research on organic farming led by Oxford University in 2012, Dr Hanna Tuomisto commented "People need to realise that an 'organic label is not a straightforward guarantee of the most environmentally friendly product." Comparison between organic and regular farming is a contentious matter, and this is not to say organic doesn't have huge environmental benefits, but the takeaway point is – there are multiple factors to take into account and 100% organic, doesn't always mean 100% sustainable.
How to spot good impact over good intentions
"Spotting greenwashing can be very difficult," says Alan. "It requires an understanding of the material science, processing, and lifecycle assessment. Often an environmental claim can be misleading." While we might not all have this understanding, what you can look out for, is third-party recognition such as a B Corp™ certification or when a product makes a claim, check to see if the company carries out life cycle assessments to back that claim up. The key to spotting a company making genuinely sustainable choices is transparency. That's why each year, Rituals will publish a new sustainability report outlining (in detail) our social and environmental impact and the progress of our goals. Our new report will be published next month but you can read our 2020 report here.