As a hair and make-up artist for many (large) brands and Dutch celebrities, Carmen Zomers has the inside knowledge on how to protect your hair all through the year. With summer on the way, we asked her for her best advice on keeping your hair healthy and styled in the heat. Follow these tips and you'll be sure to be a stunner all season long. She says:


Summer! I can't get enough. Laying in the sun, going for a run or a swim…and when the temperature rises, I immediately feel prettier and more energised. That's not strange, though. Vitamin D gives our hair, and nails quite the boost. That is why it's so important to protect our skin and hair as much as possible from chlorine, sea water and the sun. The salty sea water reduces the moisture in our hair, while chlorine, just like the sun, dries out our hair. On top of that, sun and chlorine reduce the natural oils that our scalp produces. In other words: bye-bye structure, and hello weak, vulnerable hair.


Here are some helpful tips to prevent this from happening:
1. Protect your hair against the sun
Personally, I love when my hair gets lighter because of being out in the sun. However, it's not really healthy for your hair. The sun dries it out, changing the pigment and damaging it. My main advice: before going into the sun, use a protection (spray) such as The Ritual of Karma Sun Protection Hair Spray, that protects you from UV radiation thanks to ingredients like vitamin E and gingko biloba. You can apply it repeatedly throughout the day, for example, each time after swimming.
2. Wash your hair less
Use a mild shampoo and try to not to wash your hair too often. During the summer, it's advisable to do it as little as 2 times per week. You might have to get used to this, but you'll notice that your hair doesn't become oily as fast as before and that it holds it shape. And, bonus: you won't have to blow dry it as much or use a hair straightener, which is healthier for your hair anyway.
3. Dampen your hair with tap water before swimming
It's very simple: wet your hair with tap water before you go swimming in natural waters or the pool. This will ensure that your locks absorb less chlorine or salt, which means your hair won't get damaged as quickly.
4. Care from root to tip
Using a hair mask or another extra caring product after washing—for example, The Ritual of Happy Buddha Dry Oil —will do your hair a world of good.
5. The wonders of satin
Sleeping on satin pillows can actually work wonders for your hair. This handy tip helps you wake up with silky-soft hair and no frizz.
6. The importance of a soft brush
Use a soft brush that feels nice on your skin and your hair. Preferably a brush (or comb) without metal because these can cause strands of hair to break easier.
Here's how to style your hair for summer
During summer, I like to avoid heat-styling tools like a blow dryer or curling iron and use products that give my hair an extra beachy feeling. The more curls, shine and volume, the better! Perfect, because when you don't use these tools, you're not giving them the chance to damage your hair.
I also advise braiding your hair before you go to sleep or when you're out in the sun all day. A hair band can also help prevent unintentional lightening of your hair.
Looking for a good, easy, yet also stylish way to braid or wear your hair up? Here are two suggestions: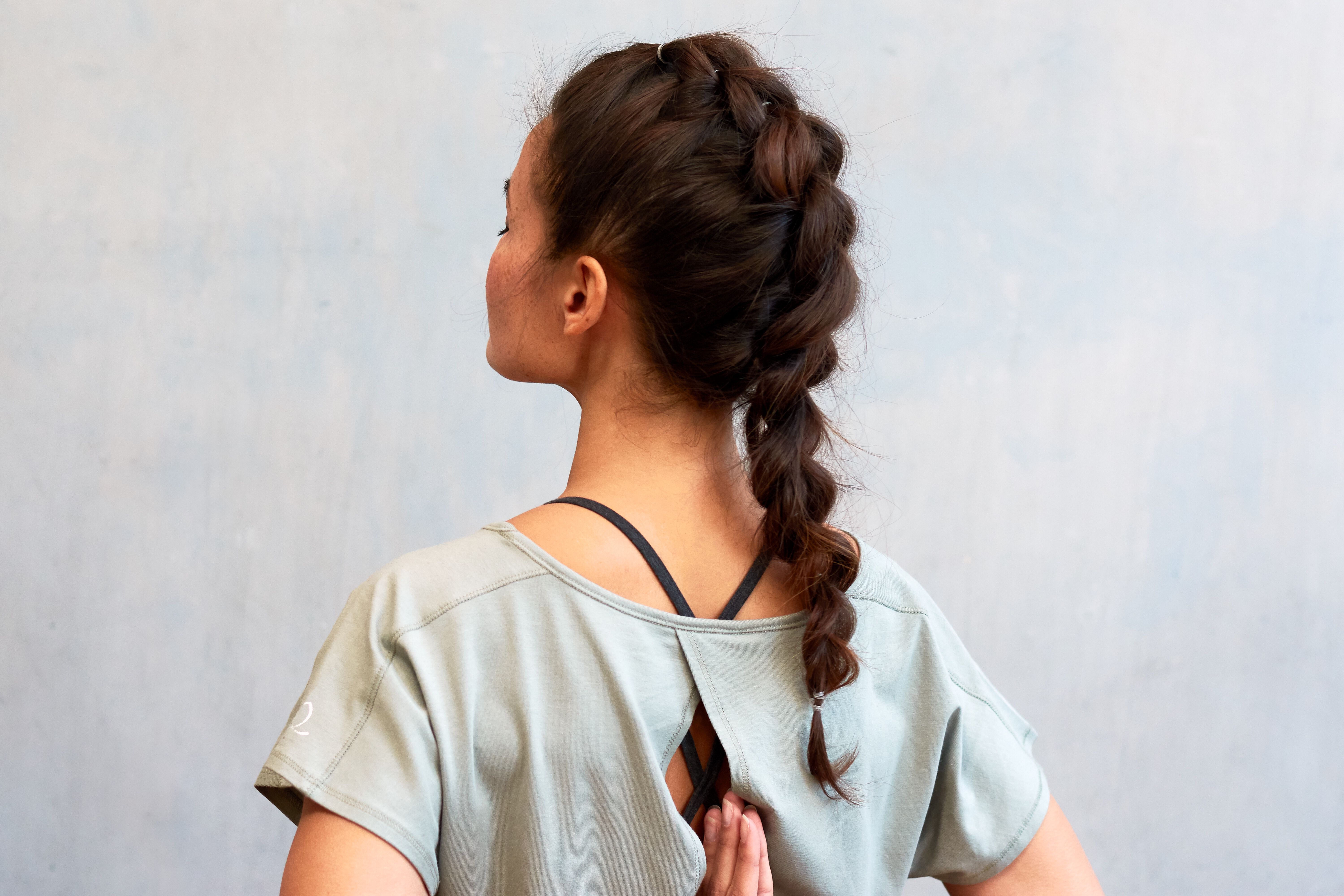 1. Pull-through braid – the volume braid
The pull-through braid is actually not a braid, but you do create it with rubber bands. It's actually simpler than a normal braid and creates a great deal of volume.
Gather the crown of your hair into a ponytail.
Underneath this, pull the rest of your hair into another ponytail.
Divide the top ponytail in 2 and wrap them around the bottom ponytail.
Hold them together beneath the bottom ponytail and create yet another ponytail.
Pull the "braid" out carefully so that it appears very thick.
2. Huge mohawk bun
Divide your hair into two parts: leave the top part loose and put the rest in a ponytail.
Divide the top into 3 tufts.
Braid each tuft, then braid these together from left to right. Tie a rubber band around the braid and hold it together in a ponytail.
Roll or loop the ponytail into a little knot. (optional)
This will make sure you keep your head protected and cool this summer. Enjoy!