Dry brushing is a simple, soulful way to treat your body. Come autumn, many of us forgo our summer bodycare routines but with the addition of wooly layers, cooler temperatures outside and central heating inside your skin deserves even more attention and care. Discover why dry brushing should be part of your autumn/winter skincare routine, so that you can feel your best all year round.
Dry brushing, or garshana (a traditional Ayurvedic dry massage), does a lot of good things for your body. Known to exfoliate and condition the body by sweeping away potentially pore-clogging dead cells and boosting circulation, dry brushing helps improve the appearance of your skin leaving it looking smoother, clearer and more radiant. Most importantly, dry brushing stimulates the lymphatic system to help it more effectively flush unwanted toxins from the body. Think of it as a mini spa treatment you can enjoy from the comfort of your own bathroom. Margo Marrone, founder of the London-based Organic Pharmacy confirms, 'It's invaluable in helping with so many issues, but especially detox."
Do It Yourself Dry Brushing
While a sweep with a dry brush is commonplace in many spa treatments, dry brushing is incredibly easy to do yourself. Invest in a natural stiff-bristled brush, with or without a long handle to help reach your back. We suggest doing it in the morning, as the invigorating effect will energise you for the entire day. How often you dry brush depends on your skin type, some people like to do a quick sweep every morning, others prefer to dry brush just once or twice a week for a little longer. Be guided by how your skin responds and what feels good for you.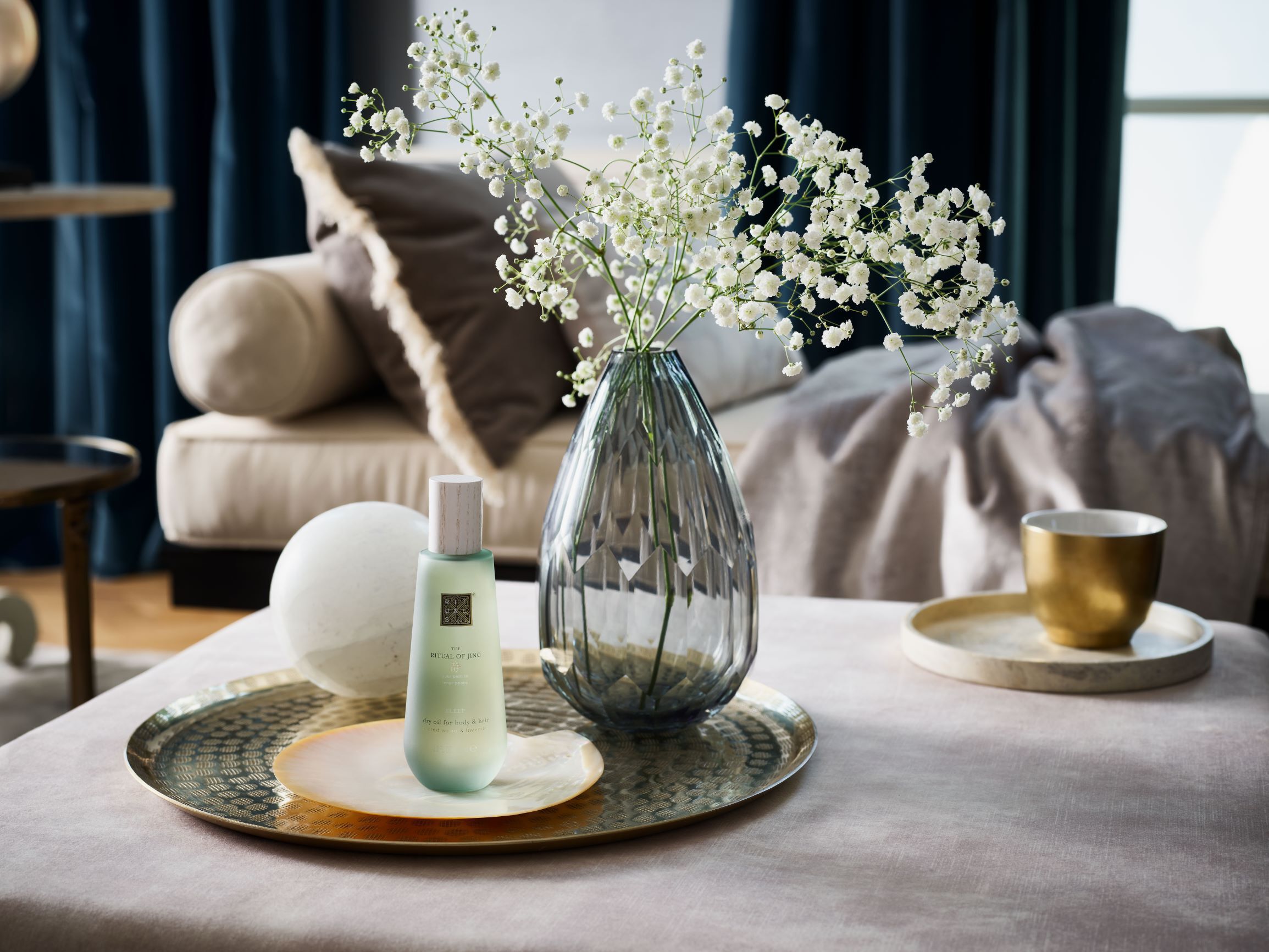 Dry Brushing: How to
Always stroke from bottom to top, moving in the direction of the heart so that the lymphatic system is properly drained. Try to go over each area two or three times. Follow the circulatory system by starting at your feet and making your way towards the upper torso. Brush in a circular clockwise motion at your belly, and switch to downward strokes once you've reached your neck and cleavage.
Some people use the brush on its own, while others prefer adding some body oil. If you're the latter, we recommend showering before you brush. The 100% natural dry oils from The Ritual of Ayurveda are ideal, as they contain herbs known to soothe body, mind and soul. Be sure to carefully warm the bottle of oil in hot water first and cap it off with a luxurious self-massage. If you want to dry brush without oil, complete your new body care routine by taking a relaxing shower with The Ritual of Happy Buddha Shower Oil, the zesty aroma is incredibly invigorating. Just be sure that the water is not too hot, as this can strip the skin of its natural oils.
Sensitive Skin Vs. Dry Brushing
Take care: If you have sensitive skin, try using an exfoliating Kessa Glove instead. This handy glove sloughs away dead skin, whilst also boosting the lymphatic system. You use it wet in the shower so it is more gentle on skin that needs a little more TLC.
Getting the most out of dry brushing
After showering, apply plenty of hydrating, nourishing moisturiser. Envelope your skin in The Ritual of Namaste Natural Hydrating Body Cream, it's packed with skin-loving hyaluronic acid and shea butter. Take a soulful moment to really massage the cream in.
And there you have it, not only will this dry brushing routine put a spring in your step, it will leave you with an all-over healthy glow for the rest of your day.