This wonderful, seasonal, dish is the perfect add-on to your Easter brunch table. The colours of green, yellow and white really pop in this recipe and you can make it totally vegan if you leave out the poached eggs.
The vegan hollandaise is creamy and easy to make with only a few ingredients. By using wasabi, the sauce has an Asian twist and you can dial up the heat with extra wasabi, if you wish. Super easy to make and so delicious. Go wild and serve your asparagus next to some salmon and your favourite toast, or make your Easter brunch table complete with sumptuous overnight oats.
Happy Easter and enjoy!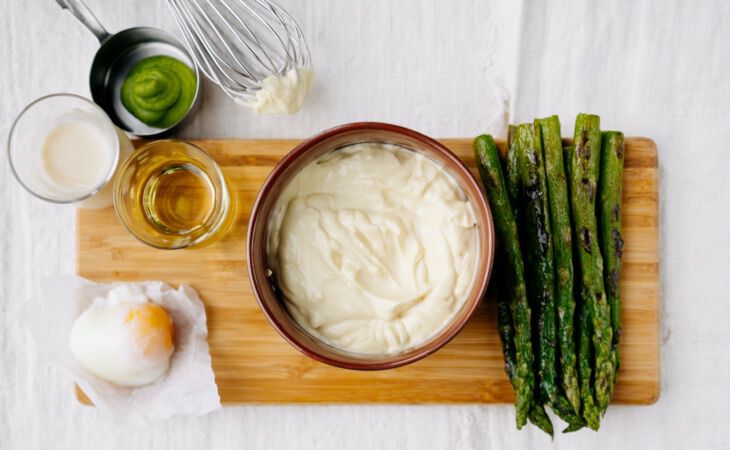 ROASTED ASPARAGES WITH EASY VEGAN WASABI–HOLLANDAISE
Number of serves: 2 people
Preperation time: 25 min
INGREDIENTS
1 bundle of asparagus
1⁄2 tbsp of wasabi paste
1⁄2 tbsp of mustard
1 tbsp rice vinegar
200 ml soy milk
200 ml vegetable oil
GARNISH
Poached eggs (optional)
Togarashi or furikake (Japanese condiments)
Fresh parsley
KITCHEN TOOLS
PREPARATIONS
Clean the asparagus using the tip of a small knife and remove the greener scales.
Rinse the asparagus with water and place on kitchen paper to dry.
Preheat your oven on 180 °C. Rub the asparagus with vegetable oil, some salt and pepper and roast them in the oven for approximately 12 min. on 180 °C.
For the vegan hollandaise, combine the mustard, wasabi, the vinegar, the oil and the soy milk together in a pan, with a pinch of salt.
Heat up slowly, while continuously whisking, until you reach the desired texture.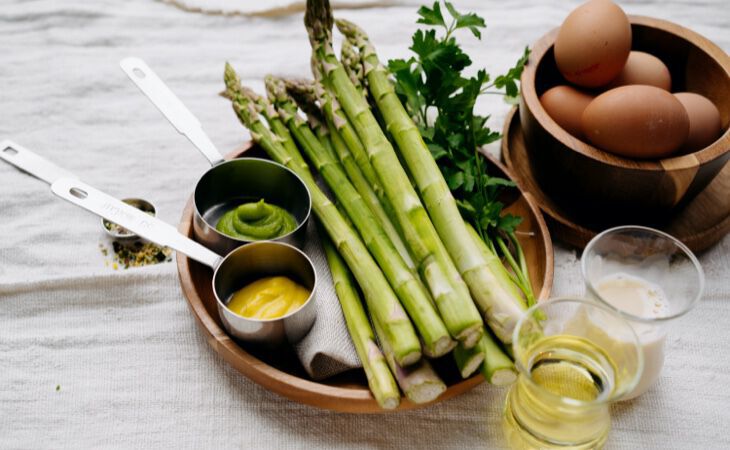 HOW-TO MAKE POACHED EGGS
Bring a large pan of water to a boil, then reduce to low (or turn off the heat).
Crack the egg in a fine mesh sieve (over a small bowl) and remove the liquidy whites.
Transfer the egg to a small ramekin or bowl.
Add one tablespoon of light-colored vinegar to the pan and stir to create a vortex.
Pour the ramekin with the egg into the middle of the vortex and set a timer for 3 minutes.
Once the egg is done, use a slotted spoon to remove the poached egg. Dab with a paper towel to remove excess water and eat immediately.
PLATING:
Put the vegan hollandaise sauce on the plate, add the asparagus on top. Sprinkle some togarashi or furikake together with some chopped, fresh, parsley over it and serve.
Bon appetit!