You asked– we answered! From how to shrink pores to which face mask you should use, these are the skin tips and advice worth reading. Because skincare doesn't need to be so mind-boggling, now does it?
Skincare can be confusing, we hear you. Can you really shrink pores? Is it okay to use day cream at night? And do you really need an eye cream? Well, wonder no more because we have the answers to those three questions, plus 12 more common beauty conundrums. Knowledge is power, and the key to clearer, more glowing, skin. So read on, your complexion will thank you for it…
1. Which cleanser should I use?
Cleansers aren't one size fits all, oh no. Dry skin? Opt for a nourishing cleanser that's oil-based or has the word 'balm' in the name. Something milky would be a smart choice, too.
If your skin is oily, double cleansing is your friend. Start with an oil-based cleanser to break down the sebum and then a gentle foam cleanser to prevent your pores from clogging. Micellar waters are a good option for all skin types, especially sensitive skin as tap water can be irritating; since they don't require a basin you can cleanse in bed (yes, that's a thing for the sleepy).
2. Can face oil replace moisturiser?
If you're dealing with dry or dehydrated skin then a face oil is a brilliant add-on to your routine. Plant-based oils are nourishing and lock hydration into the skin. If your complexion likes oils, then be sure to take a moment to massage it into your face using upward strokes to boost circulation. A moisturiser will often boast more active ingredients—you can layer both (oil on top of cream) or even mix the oil into your moisturiser.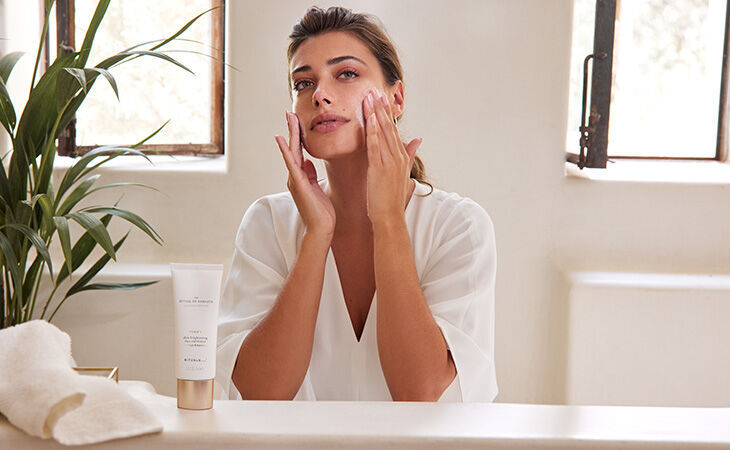 3. When should I start using anti-ageing products?
Sorry to be the bearer of bad news, but our collagen and elastin production starts to slow in our mid-twenties (and these are the building blocks of young, bouncy, skin). On top of that, our cells don't regenerate as quickly either. So, it makes sense to add anti-ageing products and exfoliators into your routine in your twenties to keep your complexion looking plump and glowing. In your twenties the Hydrate range should be your go-to, come your thirties look to the Glow products and then 40+ the Ageless range is your friend. But you know your skin better than anyone, and this is just a guide, if you feel like you need more anti-ageing oomph in your twenties add some Glow products to your line-up.
4. Should I wear sunscreen every day?
In short, yep – don't skimp on the sun protection even if it's cloudy outside. Products containing a minimum of SPF 15 help decrease the harmful ageing effects of the sun, like wrinkles, fine lines, freckles (though cute on some people) and skin discolouration. However, the perfect sun care routine is actually two-fold. After a long day outside your face could use some help replenishing any lost moisture and nutrients, and a good after sun products will do just that. After sun products are highly nourishing, rich in minerals, antioxidants and vitamins, helping to hydrate the skin, aid skin cell renewal and protect from free radicals induced by UV exposure.
5. Can you use day cream at night and vice versa?
The main function of a moisturiser is to hydrate the skin. However, day creams will often have added ingredients that protect the skin from the elements, think antioxidants that combat ageing free radicals or SPF to protect from the sun. Night creams are often formulated to support the skin's regeneration processes that happen as we sleep. So, while you won't do any harm if you interchange your moisturisers, you'll get better results if you use the right cream at the right time.
6. Do I need eye cream?
If you're concerned with puffiness, dark circles or crow's feet then an eye cream is a smart addition to your routine, as it will have been formulated to tackle the specific issue at hand. It will also be lighter in texture, which is ideal for the delicate eye area.
7. Which face mask should I use?
Face masks are your quick-fix, giving you instant results—ideal before an event. If you're struggling with blemishes look to a charcoal-based mask like the Purifying Charcoal Wonder Mask that will draw out impurities and mop up excess oil. Skin looking dull? Ramp up that radiance with the Glow Mask a fast-acting exfoliating mask or the Glow Radiance Sheet Mask. AHAs (alpha hydroxy acids) gently, yet effectively nibble away at dulling dead skin leaving your complexion looking radiant.
8. How can I shrink enlarged pores?
When our skin produces too much oil, it forces its way through our pores stretching the walls and making them look larger. Cleanse thoroughly and use a charcoal mask to mop up excess oil once a week, but be sure to keep skin hydrated as a lack of moisture will send your oil production into overdrive. Lean on anti-ageing ingredients; any products containing hyaluronic acid that plump the skin will also help pores appear smaller (just make sure they're not too rich in texture). And keep blotting papers in your handbag, to keep oil at bay throughout the day.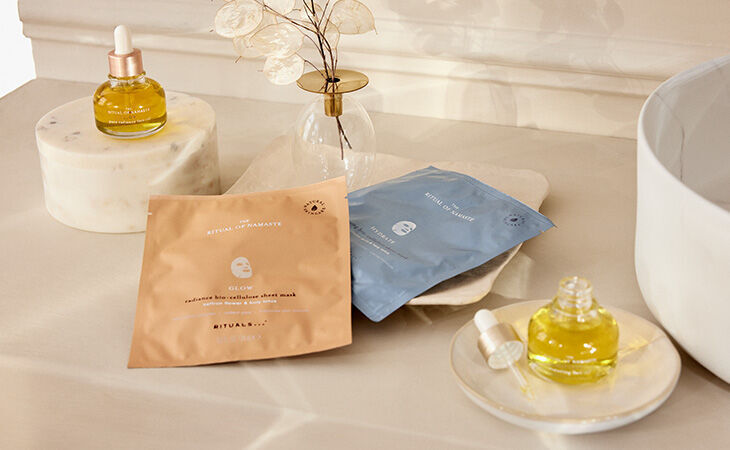 9. How long should you use a product before you see results?
We'd all love to see those skin-boosting results yesterday, but most products take time to work. Cleansers and face masks will give you instant results, but any products that promise anti-ageing or skin-clearing benefits, particularly serums and eye creams, should be used for at least 28 days. That's the amount of time it takes for your skin to go through a renewal cycle and for you to see a difference.
10. What can I do about dark spots?
We touched on this subject before, but three proven ways to prevent dark spots and skin discolouration are sunscreen, sunscreen – oh and sunscreen. What to do if this bit of news caught up with you a tad too late? Well, regular exfoliation may help treat any existing over-pigmentation. Also, look to ingredients that work hard to brighten the complexion like Vitamin C and also Niacinamide which evens skin tone. You can find both ingredients in our potent Natural Boosters that can easily be layered under your day and night creams.
11. How can I get rid of fine lines?
Fine lines are essentially the precursor to wrinkles (insert sad face here) but oftentimes they can be softened by gentle exfoliation, plenty of hydration (applied topically using products with hyaluronic acid and by drinking plenty of water) and a good night's sleep. If hydrating products aren't quite cutting it, then it may be time to start leaning on skincare with anti-ageing benefits. Our Anti-Ageing day cream will help to visibly minimise the appearance of fine lines.
12. Which skincare products are good for sensitive skin?
With sensitive skin, you want to be kind to it and avoid potentially irritating ingredients such as fragrance and alcohol. Look to products that shun synthetics like parabens, phthalates, methylisothiazolinone (MIT), sodium lauryl sulfate (SLS) and microplastics. Mineral oil is known to clog pores so that's best avoided too. To be on the safe side, look to ranges especially formulated with sensitive skin in mind.
13. What skincare should I use if I'm pregnant?
Essential oils are best avoided during pregnancy, as are strong fragrances as these can, in some cases, trigger morning sickness (no one wants that). Strong actives like retinol should be avoided, as should potential irritants like parabens, phthalates, methylisothiazolinone (MIT), sodium lauryl sulfate (SLS) and microplastics. If you're not sure whether a product is suitable don't hesitate to ask the brand in question, either in-store or via social media.
14. Why is natural skincare better?
If a natural skincare brand is reputable it will be doing its best for the environment, as well as your health (win, win)—if those things are important to you then it definitely makes natural skincare a better choice in terms of ethos. Our Clean & Conscious skincare has >95% ingredients of natural origin and as a B Corp certified company, it's something we take seriously.
Read all about the benefits of natural skincare here.
15. How can I remove eye make-up, especially for sensitive eyes?
For starters you need a gentle product to lift away makeup like the Miracle Mild Eye Make-up Remover. Shake the bottle, it's bi-phase which means it has a combination of oil and water, making it effective but gentle. Soak a cotton pad then close your eye and gently press the cotton pad onto your lid and hold for 10-15 seconds. Now, gently sweep out and up. Take the cotton pad and fold the clean side in half and use the edge to gently sweep your lashes on top and underneath to remove any remaining mascara. Repeat on the other eye. Simple!