During the summer months, when the sun is shining, we often feel our most relaxed and happy selves. But someone needs to tell that to our skin, because as the mercury rises our complexions can easily go into meltdown. From excess oil and breakouts to redness and heat rashes, some complexions don't deal with the hot and humid summer weather very well.
Keep calm and carry on with these expert skin tips. We called on facialist Tarryn Warren and Consultant Dermatologist Dr. Alexis Granite at Malucci London to reveal their 5-minute summer skin updates for keeping your complexion clear and calm this summer.
1.

5-minute summer skin update to

b

eat breakouts
When it comes to summer skin, two of the biggest issues Warren's clients face are blackheads and breakouts. "This is generally due to wearing make-up in the heat, pollution and heavy SPFs," she says.
To combat this, Warren says you can really lighten up your daytime skincare routine: "When it's warmer our pores are open, we sweat and produce oil, so you don't need to moisturise." Instead, after cleansing look to a lightweight serum and SPF.
When you get in from a hot day out, Warren suggests cleaning your skin as soon as possible and it only takes 5 minutes or less. "Make sure you cleanse as early in the evening as you can. Let it breathe. Let your pores push out the funk and clean themselves, they can't do this with layers of SPF and make-up."
SPF is designed to cling to the skin so that you're protected, but this also makes it quite stubborn to remove. Ensure you double cleanse in the evenings to remove everything and prevent clogged pores.
If you tend to get breakouts on hot days spent lazing in the park or on the beach especially, then Warren recommends getting a clay-based face mask and using it in the evenings "to absorb oil and draw out the impurities." The Purifying Wonder Mask contains kaolin clay, as well as charcoal and Ghassoul powder to leave skin feeling super clean.
"Remember, SPF doesn't last the whole day. So, if you are having an afternoon siesta, wash your face and let it siesta as well," she adds.
2.

5-minute summer skin update to

p

ut

off pigmentation
Struggling with pigmentation during the summer months? Warren suggests you do your best with a sun hat and SPF. If pigmentation is your complexion bugbear, make sure to opt for the highest SPF you can. We would recommend an SPF 50. Use the The Ritual of Karma Sun Lotion SPF50 on your body and the Sun Protection Face Cream 50Sun Protection Face Cream 50 above your neckline. Be generous with your application, take your time – 5 minutes to apply SPF head to toe and don't forget areas like your ears, backs of your hands or your neck that can often be missed – and reapply often.
The fastest way to tackle pigmentation is with a treatment course of peels or laser. "Generally, I recommend waiting until after summer to treat pigmentation," says Granite, "as any underlying tan can increase the risk of burning from treatments."
3.

5-minute summer skin update to

defeat dehydration
"Hyaluronic should be your number one skincare ingredient during the summer," says Warren. "It's great for ALL skin types and does not cause sun sensitivity." Find it in our Hydrating Gel Cream.
If you're into sheet masks, try our Hydrating Sheet Mask that works in as little as 5 minutes, a bio cellulose mask that contours closely to the face, delivering beneficial botanicals to keep the skin hydrated longer. Your skin will feel intensely moisturised, softened and radiant.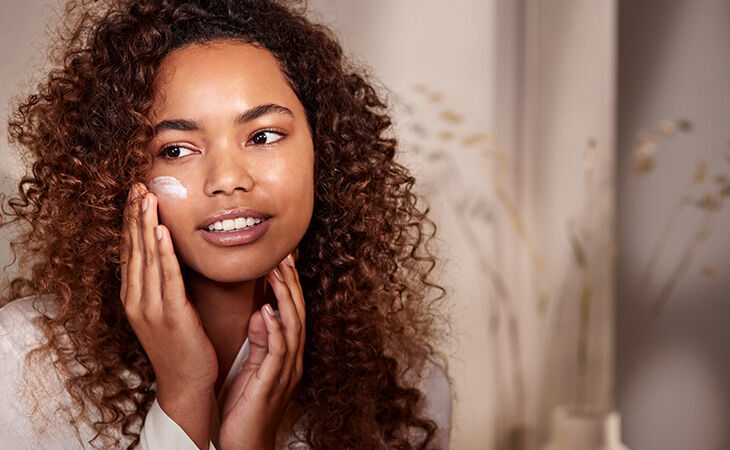 4.

5-minute summer skin update to

take a pass on prickly heat
"Prickly heat, also known as miliaria, occurs when blocked pores trap sweat in the skin," explains Granite. "It is very common in babies, but may occur at any age, especially in hot, humid conditions."
To avoid a bout of prickly heat, Granite recommends you avoid heavy, tight-fitting clothing. "And stay in the shade when possible if you are prone to prickly heat." While a 5-minute cool shower and a cold compress can help relieve the itching, Granite says if it is very uncomfortable "anti-histamines can help." And, according to Warren, factoring in plenty of beta carotene and lycopene from carrots and cooked tomatoes "will strengthen the skin to improve your protection against the sun." You may think it's best to avoid the sun altogether if you're prone to prickly heat, but Warren advises "20 minutes of sun exposure every day in the mornings when the sun isn't too strong."
5. 5-minute summer skin update to bolster your complexion
We all need Vitamin D which is triggered to synthesise in the body by the sun, as it is key for things like healthy bone density and a strong immune system. For the skin, studies have found Vitamin D has a protective role against skin cancer and acts as an anti-inflammatory which is key if you are dealing with conditions like acne or psoriasis. As little as 10-minutes can trigger this Vitamin D synthesis so aim for at least 5-minute break from your screen in the morning and another in the afternoon to get out in that sunshine. Sun not shining? Boost your intake with a supplement but remember, Vitamin D is fat soluble so always take it with a meal that has healthy fats like eggs, salmon or avocado.