How do you detect the shift of seasons from autumn to winter? Is it the festive fairy lights twinkling around town? The smell of hearty soups wafting from café kitchens? Or is it down to less desirable signs – the sting of chapped skin each time you wash your hands, or that angry crop of spots that definitely weren't on your Christmas wish-list?
Autumn days often merge effortlessly with the end of summer, the last few rays of sunshine feeling like a balmy bonus for our skin and vitamin D levels. But the advent of winter can be far more of a jolt. Just as you switch up your wardrobe to survive the colder temperatures though, tweak your skincare routine and the shift from autumn to winter can feel as smooth as your favourite cashmere jumper. Here's how…
Add a Humidifier
Rather like your game plan for all those festive drinks, think prevention of dehydration rather than cure when it comes to tackling winter skin. Adding a humidifier to your bedroom gives you a hassle-free head start; it replaces the moisture lacking in centrally heated air, meaning your skin will be feel more supple when you wake. This one is extra quiet, pairs with essential oils, and is even compatible with Alexa!
Keep scrubbing – but play it smart
"The principles of your cleansing routine shouldn't change too much just because you're stuck inside thanks to colder weather," says Dr Ross Perry, skincare expert and the Medical Director of Cosmedics skin clinics. "If anything, your skin might be more congested during winter. Because of central heating and severe weather, skin irritations have a tendency to flare up more during the colder months." Add in our need for heavier formulations, more frequent application and even thick sunscreen on ski holidays, and this clearly isn't the time to skip your scrub. But if biting winds or mountain air have left your complexion visibly chapped and dry, simply use a flannel or mitt to buff the skin in small circles, several times a week. Add back your regular face scrub when your skin has healed.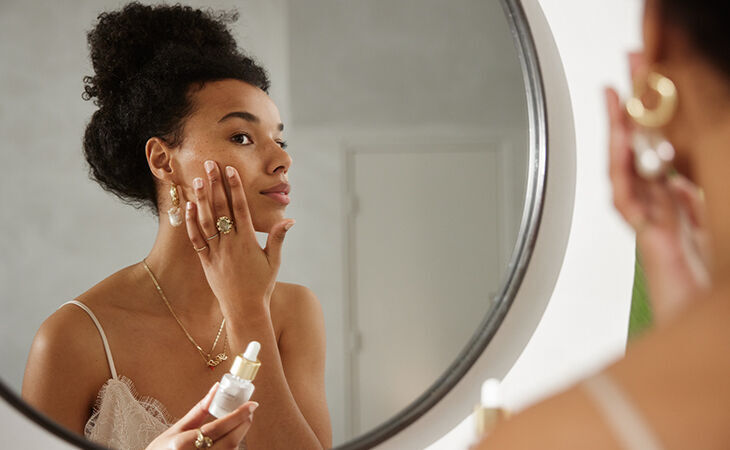 Layers are your friend
Just as the secret to cosy winter dressing lies in layering, so does the key to comforting skincare. Serum is still a vital stage, but if your skin is feeling particularly sensitive, swerve active ingredients like retinol or AHAs. Instead, look for potent but less irritating alternatives such as peptides, bakuchiol or PHAs.
"A vitamin C serum is also a great option during the winter," says Dr Ross.
Then top with a hard-working moisturiser. As the temperature drops, park lighter lotions and gels in favour of richer creams (but not too rich – more on that later). And look for glyverin on the ingredients list as this attracts water to your complexion leaving it hydrated and calm – especially great if you've been exposed to the strong sun light and sub-zero winds on the ski slopes.
Pay extra attention to what lies beneath
Just because they're hidden from view for the next few months, don't ignore your feet and legs. Many of us suffer from dry skin here at the best of times, meaning this zone is particularly susceptible to the dehydrating effects of central heating. And notoriously slow to improve. Want to be ready for that surprise burst of spring sunshine when it comes? Show your legs some love during the winter months.
First, lightly scrub every few weeks before showering to help your body cream penetrate and look for one with moisturising ingredients like the sweet almond oil in The Ritual of Namaste Natural Body Scrub. Then for an extra boost, slather on a nourishing foot cream, and wrap your feet in plastic for 20 minutes. The heat generated will help the cream sink in, and coupled with the calming scent of lavender in The Ritual of Jing Foot Balm - well, we challenge you to stay awake.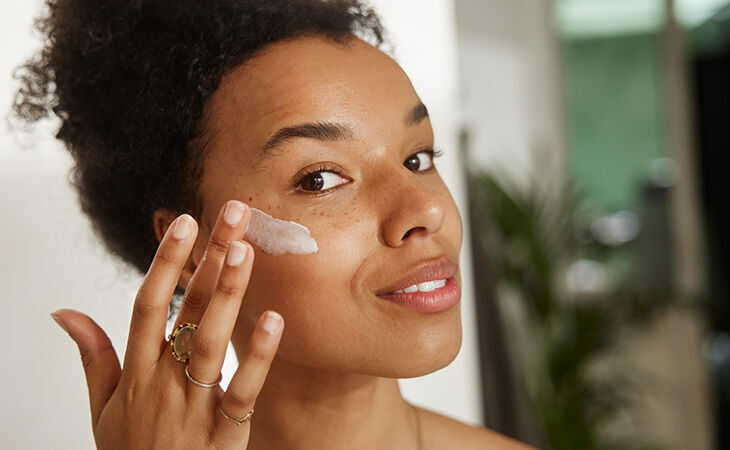 The scarf / spot / sleep link
Winter breakouts are often a sign of imbalance. A moisturiser that's too heavy will clog your pores, while for dehydrated skin, central heating and harsh weather can mean oil glands work overtime. Stay hydrated by layering products rather than relying on one cloying cream, and choose products containing humectants like hyaluronic acid for consistent levels of moisture. Breakouts mainly on your chin and jaw? That roll neck or tightly wound scarf might shield your face from the elements, but it's also trapping sebum and bacteria against your skin. As well as washing your woolen items regularly, don't forget your pillowcase, says Dr Deborah Lee, from Dr Fox Pharmacy "If you suffer from acne remember that dead skin cells, sebum, dirt and sweat all combine on your pillowcase to create a hostile environment for skin," she cautions. "A pillowcase has twosides and can be turned inside out, so you can have a clean surface every four days. Also, consider a silk pillowcase. Silk is ultra-smooth, reducing friction and may also help keep your skin better hydrated overnight – helpful for everyone in winter months."