With over 25 years of experience as a hair and make-up artist, Carmen Zomers is a true beauty guru. Today, she tells us how you can make sure your make-up can handle the summer heat.


Because skin is often a few shades darker in the summer, I like to use a transparent basis with a lovely glow. With these six summer tips, you and your look will be completely ready for the season of sun.
1. Good sun protection as a base
Let's start at the beginning: summer weather requires protection from the sun. Personally, I always like to let the skin breathe in the summer and not try to camouflage any potential freckles with a covering foundation. For a transparent look, I recommend this lightweight day cream with SPF 15. This hydrating cream adapts directly to your current skin colour, creating an even complexion while protecting your skin against the sun. The perfect all-in-one solution.
Another option is using a combination of The Ritual of Namasté Intense Hydrating and the Miracle Light Weight Foundation. Make sure you allow enough time for the serum to be absorbed by your skin before you apply the lightweight foundation (with a brush).
If you want to be absolutely certain that you're protected against the sun the entire day, make sure you carry face cream in your bag at all times. Depending on how intense the sun is, you can choose The Ritual of Karma Face Cream SPF 30 or SPF50. Apply it regularly if you're sitting in direct sun and let the cream become fully absorbed. Feel free to do a small touch-up with a little blush.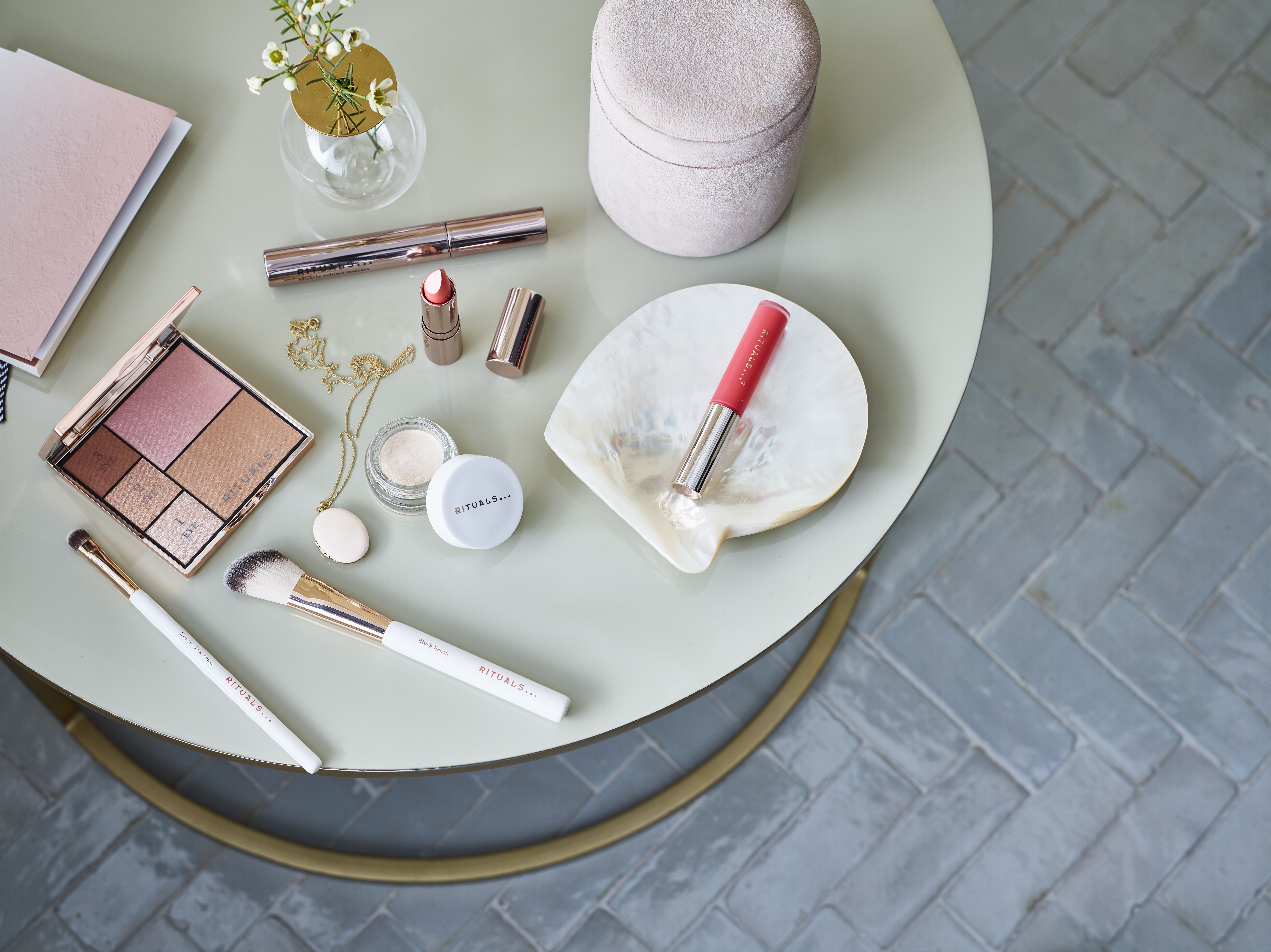 2. A glowing complexion thanks to blush
A beautiful glow is something we all want. I like to apply a lovely pink blush with shimmer from this new palette which has golden undertones.
Next, I use a large powder brush to apply the bronzer. This is the darkest colour in the palette, which I apply on the chin, forehead and cheeks. Do this with the brush using loose movements. That way, you don't need to dab the powder with a sponge. This will create a natural, sun-kissed effect. You can also contour your face with the bronzer. Place the brush to the left or right beneath your hairline and move from the forehead along the sides of your face, in the form of a 3. From above to below: start from the hairline until the underside of your cheekbones, along the jawline until half-way up your chin.
3. Show off the sparkle in your eyes
For a daytime look, I use the no. 1 eyeshadow from the Limited Edition Sun-kissed Glow Palette. I apply this to the upper eyelid. I apply the no. 2 eyeshadow, with a somewhat darker colour, to the outside corners of the upper lid. I then blend it with a blending brush, to avoid hard lines for a softer and lovely look.
You want to make sure that you clean all these used make-up brushes (and keep them clean!) Read our article filled with tips on the best way to do this.
4. Prevent your mascara from running.
The heat of summer can make your mascara run. That's why I advise using a waterproof mascara—the Miracle Waterproof Mascara, for example. I think that best way to apply mascara is to do it layer by layer, so that your eyelashes appear longer and have more volume. When I apply the mascara, I press the eyelashes a bit upward for a lifting effect.
This waterproof mascara is also really easy to wash off with a make-up remover.