Let's go for a picnic this summer. Below you will find the recipe for a perfect, refreshing dip, great to combine with freshly baked pita breads or veggies. The smoked olive oil brings a kind of BBQ feeling to this dip. Baba ganoush finds its roots in Lebanon and is traditionally made from eggplants but, in this recipe, we have used artichokes that are high in fibre, naturally rich in vitamins and minerals and have been found to be anti-inflammatory. Plus, keep scrolling for some other picnic recipe ideas, get ready to pack up your cooler!
Artichoke 'baba ganoush' dip
Recipe for 8 people
Preparation time: 40 minutes
INGREDIENTS
1 kg artichoke hearts
1 pc red onion
2 cloves garlic
50 gr tahini
1 pc lime for zest and juice
1 tbsp cumin
1/2 bunch coriander
1 pc chili pepper
Smoked olive oil (available at most delicacy shops)
Salt/pepper
GARNISH
Small cucumber
Cherry tomato
Fresh pita bread
Radish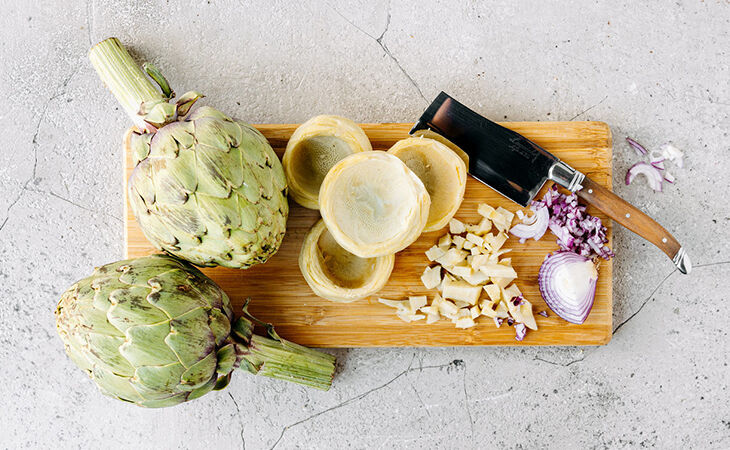 PREPARATIONS
Preheat your oven to 200 C.
Put the artichoke hearts on a rack and season with some oil, salt and pepper.
Roast the artichoke hearts gently for 20 minutes until they are soft.
In the meantime, slice the chili in half - length wise - and take out the seeds with the back of a spoon.
Peel and crush the garlic.
Peel and slice finely the red onion.
Finely chop the coriander.
When the artichoke hearts are roasted, allow them to cool down.
Then take a knife and squash the artichokes on a cutting board.
Add the artichoke mash to a bowl together with the red onion, chili, coriander, cumin, garlic, lime zest and the tahini and start mixing.
Add enough oil until the texture is nice and smooth. Freshen with the lime juice to taste and some salt and pepper.
Serve it with the garnishes.
Build a delicious picnic feast with this tasty kale and wakame salad. Fill up on these mini black bean burgers with piri piri sauce and cool down with these summer drink ideas. Want a sweet treat? Try these baobab superballs or these delicious coconut yogurt popsicles. Enjoy!