Impress your party guests with these three restaurant-quality small bites, the perfect canapes for any occasion
We are fast approaching the biggest party night of the year, and what better way to spend your New Year's Eve than sharing delicious food with friends or family. If you want to invite lots of guests, but you don't have enough seats at the table for a sit-down dinner, here are three delicious Asian-inspired party snacks that require no knives or forks. Get ready for a night to remember!
Chicken dumplings
A bestseller from restaurant Rouhi and a loved dish around the globe, dumplings are one of life's many joys. You've probably ordered these out, but have you ever made them at home? Well, now is your chance to create restaurant-quality dumplings at home as Chef Renaud shares his famous recipe with us. These steamed treats are full of nutrient-rich vegetables and protein, and the recipe makes 24 dumplings - ideal for sharing with friends or family. Head to your local Asian grocery store to get wonton leaves and delicious crispy chilli oil, then all that's left is to roll up your sleeves ready for folding!
Recipe makes: 24 dumplings
Preparation time: 1 hour
Materials needed:
Cutting board

Steam basket

Pot

Mixing bowl

Knife
Ingredients:
1 bag of wonton leaves

1 small pot of crispy chilli in oil
For the filling:
250 g minced chicken

7g spring onion (finely sliced)

60g pointed cabbage (finely sliced)

1 red pepper (deseeded and diced)

1 clove of garlic (crushed)

30g water chestnuts (diced)

Sesame oil
Preparations:
Separate the white part of your spring onions for the filling and save the greens for serving.

In a mixing bowl gather the ingredients for the filling, add a dash of sesame oil and a pinch of salt.

Line out your wonton leaves on your kitchen counter and add 15g of filling in the middle (work in small batches as the leaves might dry out)

To create the shape, dip your finger into a bowl of water and wet the sides of your wonton.

Fold it in half and your wonton will now look like a rectangle. Add a dab of water to one of the bottom corners.

Fold the top two corners down into the middle and then bend the bottom two round so that they touch each other. Pinch them together to secure your dumpling shape.

Steam for about 6 minutes and serve with crispy chilli oil and spring onion.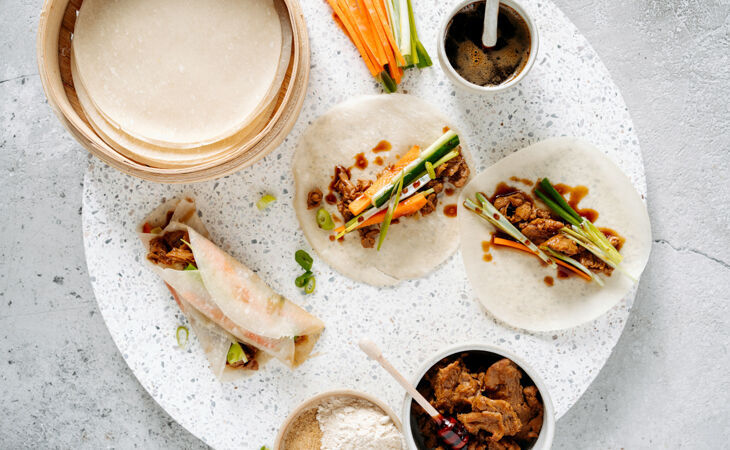 If you want to impress your guests these Peking pancakes will show off your culinary skills. This recipe includes steps for making your own seitan and home-made pancakes. If you're short for time though you could also buy these pre-made.
These delicious bites are filled with salmon, mango, avocado (and more!) then rolled into butter lettuce ready for dipping. The perfect light bite to prepare for an evening of dancing.