Brunch: the best of both worlds if you like sleeping in, but still want to enjoy both breakfast and lunch. It's also a great way to come together with friends and family and celebrate festive moments in a more relaxed atmosphere. But can there be more to it than eggs and waffles? This deliciously fragrant soup goes perfectly with a sweet and savoury spread, and makes a hearty option for vegan guests. Serve it individually as a small starter to kick off your brunch, or make it the main centre piece in a beautiful tureen!
Recipe for 4 people
Preparation time: 30 minutes
INGREDIENTS
3 dried shiitakes
200 g oyster mushrooms, shredded
2 table spoons of soy sauce
4 table spoons of vegan broth (vegan broth powder or cubes)
2 whole white onions
5 cm piece of fresh ginger, peeled
2 tablespoons of coriander seeds
100 gram rice noodles
200 gram beansprouts
1 tablespoons oil
2 spring onions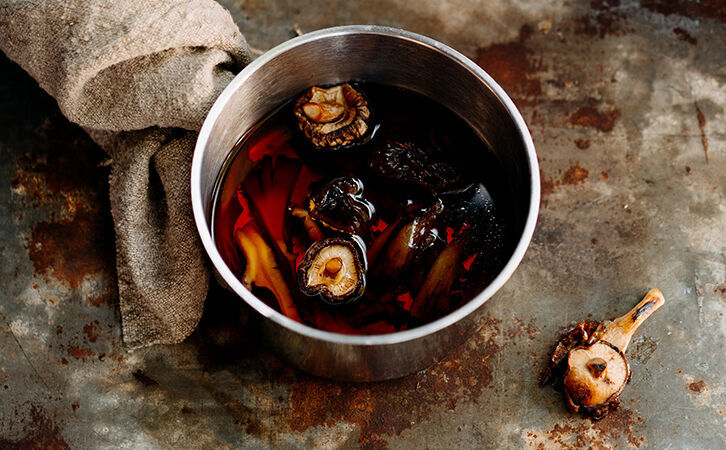 INSTRUCTIONS
Put the oyster mushrooms and the shitakes in a pan with 200 ml of water. Add the soy sauce and broth, bring to a boil over medium high heat, let boil for a few minutes.
Turn off the heat and sieve the mushrooms out of the pan and press the mushrooms with a spatula above the broth to drain the flavor out. Put the mushrooms aside, you will use these later.
Dry roast the ginger and coriander seeds in a pan on medium high heat for about 5-10 minutes until golden brown and fragrant. This will bring out the flavors in a more intense way. Meanwhile, clean and cut the ginger into small (0,5 cm) pieces and finely chop the onions. Turn off the heat when the spices are golden and fragrant.
Fry the onions and ginger with a bit of oil on low heat in a pan until golden brown.
Add all the dry spices and the warm onion and ginger to the broth. Add 1 liter of water and cook on low/medium high heat for about 25-30 minutes.
Sieve out the ginger, onion and all the dry spices and discard. Taste the broth to see if any salt/pepper needs to be added (the broth needs to be strong in flavor).
In a separate pan, boil water and cook the noodles according to the cooking instructions on the packet. Drain and rinse under cold water to stop the cooking process.
Meanwhile, heat 1 table spoon of oil in a pan, add the mushrooms and fry until golden brown.
Cut the top green parts of the spring onions as these can be a bit dry, and discard. Finely slice the rest of the onions into small rings.
Scoop the hot broth into bowls and add the noodles, mushrooms and raw bean sprouts. Garnish with the spring onions. For a spicy hit, serve with samba or chili oil on the side.