As temperatures rise, our bodies crave light and healthy drinks. Find relief from the heat with a fruit-laden beverage – served ice-cold, of course. Here are some delicious options to refresh and replenish your body.
Homemade Lemonade
Serves 4
Ingredients
1 cup water | 1 cup sugar | 4-6 lemons | 4 cups of cold (sparkling) water
Nothing beats the heat quite like a regular homemade lemonade, a drink that's truly stood the test of time. Start off with the syrup, because it needs to cool in the fridge before you can mix it with the lemon juice. Once cool, mix your strained or unstrained lemon juice with the syrup, stir well and add cold flat or sparkling water.
GINGER ALE SOUR WITH CUCUMBER AND LIME LEAVES
Serves 2

Ingredients
1 lime | 4 lime leaves, frozen | 4 slices cucumber | 300ml quality ginger ale | Ice cubes
Take 2 glasses and squeeze half a lime into each glass. Add the squeezed lime, lime leaves and cucumber to each glass, pressing firmly with a spoon to release the flavours. Fill the glasses with ice cubes and add the ginger ale. Stir well before serving.
LEMONADE WITH PASSION FRUIT AND ORANGE BLOSSOM
Serves 4
Ingredients
4 passion fruits | Juice and grated zest of 2 lemons | 4 mint sprigs | 800ml sparkling lemon soda | 1 tsp orange blossom water | Ice cubes
Scoop the flesh from the passionfruit into a large jug. Add the lemon zest, juice, mint, lemon soda and orange blossom water and fill the jug with ice cubes. Stir well and pour into glasses
to serve.
Tip: Want to make beautiful floral
ice cubes? Just add some edible flowers to ice cube molds. Gently fill with water and place them in the freezer until ready to use.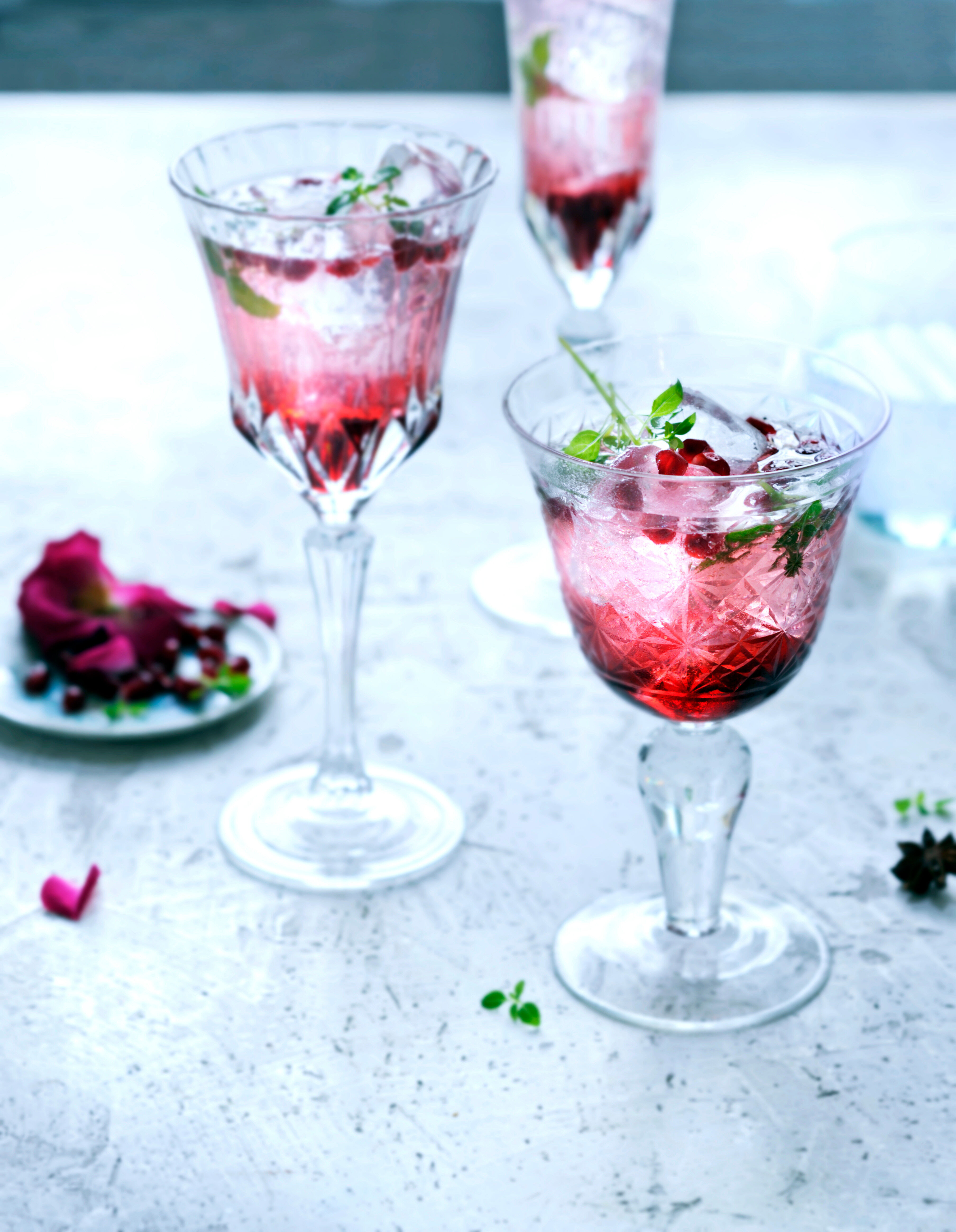 POMEGRANATE-BASIL TONIC
Serves 4

Ingredients
100ml water | 70ml pomegranate molasses (or syrup) | 4 star anise | 800ml tonic water | Handful fresh basil leaves
Bring the water, pomegranate molasses and star anise to a boil in a small saucepan and turn off the heat. Let the ingredients infuse for 10 minutes. Divide the pomegranate mixture among 4 glasses, add a few basil leaves and fill the glasses with ice. Top each glass with 200ml tonic. Stir well before serving.
MANGO COOLER WITH ROSEWATER AND LIME
Serves 4
Ingredients
250g mango flesh, fresh or frozen |21⁄2 tbsp sugar |50ml water |11⁄2 tsp rosewater |2 limes |4 mint sprigs, leaves picked |600ml sparkling water |Crushed ice
Place the mango, sugar and water in a saucepan and simmer for 5 minutes. Using a hand blender, puree until smooth. Stir in the rosewater and allow to cool. Divide the mango mixture among 4 glasses. Add the juice of half a lime to each glass and add some mint leaves and crushed ice. Top each glass with 150 ml of sparkling water. Stir gently before serving.
BLUEBERRY-GINGER TONIC
Serves 4
Ingredients
250ml blueberry juice |3 tsp peeled and grated fresh ginger |250ml tonic water |400ml sparkling water |Zest of 1 lemon |Handful of blueberries
Mix the blueberry juice and ginger in a measuring cup and infuse for 5 minutes. Strain the blueberry mixture into a large jug. Add the lemon peel, crushed ice, tonic, sparkling water and a few blueberries. Stir well before pouring into glasses.