As we battle through the last of the winter months, there's nothing like a hot dish full of spices to warm you up. This Indian stew made from lentils is super easy to make and full of nutrients too. Featuring turmeric, known for its anti-inflammatory properties, high-fibre lentils, antioxidant-rich garlic and digestive-improving cumin, this dahl is the health kick we all need this month.
SOUL - SOOTHING INDIAN DAHL
Recipe for 4 people
Preparation time: 60 minutes
INGREDIENTS
400 gr yellow split lentils
2 onions
3 cloves garlic
2 tbs ginger
2 tbs cumin seeds
2 tbs turmeric
2 tbs garam masala
1 red pepper (without the seeds)
4 cloves
200 ml yogurt or plant-based alternative
1 can (400gr) diced tomatoes
neutral oil (like vegetable or rapeseed)
200 gr basmati rice
1 tbs turmeric
GARNISH
1 lime in quarter
¼ bunch of coriander
cashew nuts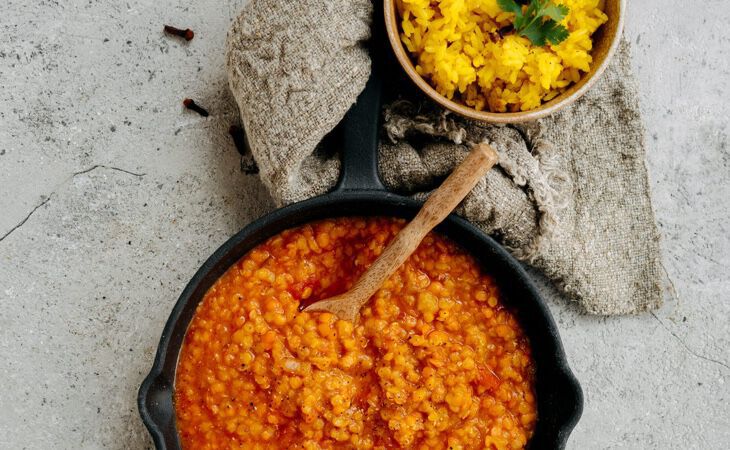 PREPARATIONS
Rinse the yellow split lentils under fresh water and let them soak for 30 minutes.
Slowly heat the finely chopped onions, crushed garlic and red pepper in a saucepan.
Add the ginger, cumin, turmeric, cloves and garam masala and roast slowly.
Add the can of tomatoes and bring to a boil.
When boiling, add the strained lentils and cook on low heat with cover for 30 min or until the lentils are cooked.
In the meantime, cook the rice with 1 tbs of turmeric and a pinch of salt.
When the lentils are cooked, add the yogurt to freshen up the curry and season with salt.
Serve with rice, some finely chopped coriander, cashew nuts and a piece of lime.
Bon Appetit!!