The festive season is all about good food, spending time with friends and celebrating with your loved ones. There's no better time to come together and enjoy each other's company than the holidays. Renaud Goigoux, head chef at Rouhi, created this three-course menu that is festive, delicious and well-balanced. Everything you need to impress your guests and the perfect way to celebrate flavours and textures that will make your mouth water. The recipes below may appear complicated but they are easier than they seem, and will leave your guests both amazed and surprised at the same time.
All recipes (as well as the mocktail) below serve 4 people
Preparation time is indicated per dish below
STARTER
Japanese style ceviche
Ceviche is a seafood dish where diced cubes of raw fish are marinated in a mixture of lemon or lime juices and the citrus juices cures the fish protein. This process is called denaturing, which basically means cooking the fish by curing it. A very simple method of preparation that brings out the freshness and lightness of the ingredients, what makes it a great dish to start of your Christmas meal.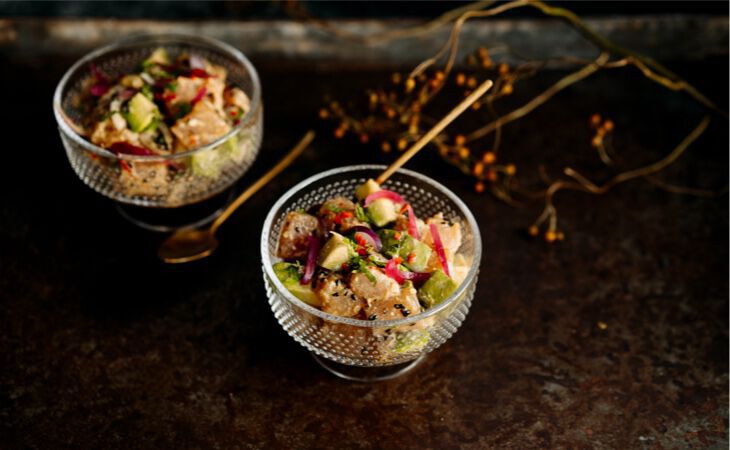 INGREDIENTS
400 gram fresh tuna
2 avocados
2 small red onions
14 tbsp fresh lime juice
4 tbsp soy sauce
2 tbsp sesame oil
2 tsp ají amarillo paste (optional)
2 tsp finely grated fresh ginger
2 cloves of garlic, chopped
3 tbsp finely chopped coriander (plus extra as garnish)
1 red chili pepper
Instructions: (Preparation time 10-15 minutes)
Peel and halve the onions and finely slice into thin strips. Put the onion in a cup of ice-cold water and place in the fridge. This is how they become nice and crunchy.!
Mix the lime juice, the sesame oil, soy sauce, ají Amarillo paste, ginger, garlic and two tablespoons of the coriander.
Cut the red chili in half and remove the seeds (if you like your food really spicy you can leave in the seeds). Finely chop into rings.
Add the chili to your liquid mix and season with a bit of salt and pepper.
Remove the skin from the avocado and cut the tuna and avocados in even sized cubes of roughly 2cm x 2cm squares. Remove the onions from the water and pat dry with kitchen paper.
Mix the avocado, tuna and onion in with the liquid mix and lightly toss (try to not 'damage' the avocado cubes too much).
Evenly divide the ceviche over 4 bowls or plates. Garnish with the remaining coriander.
MAIN
Slow roasted celeriac, miso beurre blanc and caviar
As a main course in this 3-course Christmas dinner we have created a dish with celeriac as the hero. Celeriac has a taste that's similar to regular celery but also has a bit of a nutty taste. There are many ways to use celeriac, this recipe uses slow roasting, making the outside slight crusty, while the inside stays soft and creamy. Roasting the celeriac is the best way to consume it because it brings out the natural flavours and retains as many of the nutrients and antioxidants as possible, making this dish not only delicious but also good for your digestion and heart health. Also, celeriac is lighter on carbs than potatoes so it shouldn't give you that post-meal sluggish feeling.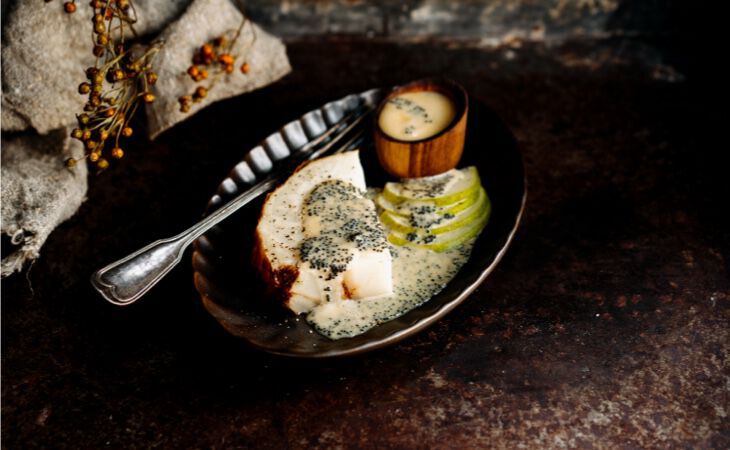 INGREDIENTS
2 small whole celeriacs
Butter to roast (and to taste)
100 gr sushi vinegar
5 gr light miso
300 gr butter in cubes
40 gr caviar
2 pears, Doyenne du comice
Olive oil
Instructions: (Preparation time 90 minutes)
In a pre-heated oven (150 degrees) roast the celeriac for approximately 1 hour. Using some butter to glaze/rub the celeriac every 20 minutes.
Using a wooden skewer, you can check if the middle is soft enough. If the skewer goes through smoothly the celeriac is done.
For the beurre blanc:
In a small pan bring the sushi vinegar to a simmer, then add the butter slowly, one cube at a time until emulsified. Do not bring to a boil to prevent the sauce from splitting. Finish with the miso.
For the pear:
Wash and cut the pear in wedges and season them with olive oil and a pinch of salt.
To serve:
Portion the celeriac in "steaks" and place them on the side of the plate, add some wedges on top.
Scoop the caviar in the sauce and pour it over the celeriac.
AS DESERT
Tapioca pearls with passion fruit
Tapioca, is most known for being the star ingredient in 'bubble tea' or 'boba'. Tapioca balls are edible translucent spheres produced from tapioca, a starch extracted from the cassava root. They originated as a cheaper alternative to pearl sago, a comparable ingredient from Southeast Asian cuisine. This dessert is not only fun and easy to make, it also has a surprising flavor. The addition of passion fruit makes this dessert light, fresh and fun for all ages!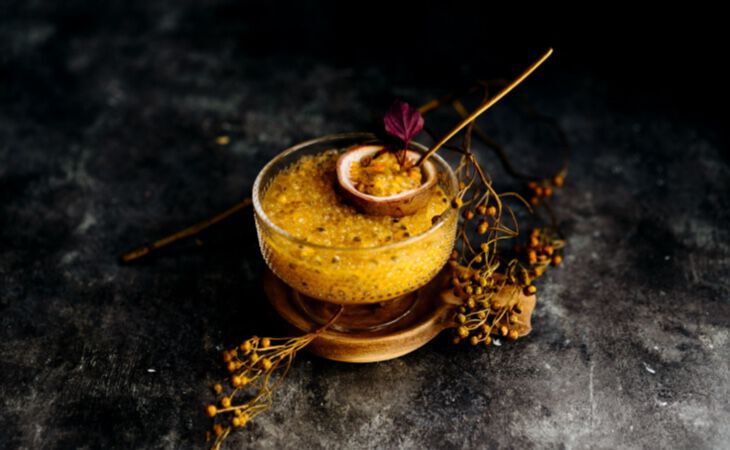 INGREDIENTS
200 gr tapioca pearls (available in most Toko's or Asian grocery stores)
100 gr sugar
4 whole passion fruits
Instructions: (Preparation time 30 minutes)
In a pot bring 2 litre of water to a boil water
Cook the tapioca in boiling water for 15 minutes, keep stirring every 5 minutes to avoid the pearls sticking together.
In the meantime, combine 100 gr of water with 100 gr of sugar and bring to a boil to create a sugar syrup. Let cool down.
When the tapioca is translucent and cooked, strain it and rinse under cold water to cool down.
Place the cooked tapioca pearls in the sugar syrup, stir together and add the fresh passion fruit just before serving.
PAIR WITH A MOCKTAIL
Apple Cranberry Christmas Spritz
A sparkling, non-alcoholic twist on a classic spritz. This family-friendly drink has all of the fun flavours we enjoy during this season and is filled with holiday cheer. Super easy to make, while still looking festive, the addition of fresh rosemary is a tasty surprise.
INGREDIENTS
300 ml Apple juice
300 ml Cranberry juice
200 ml Sprite
12 Cranberries
4 twigs of Rosemary
Ice cubes (to taste)
Lime juice (to taste)
Sugar
Instructions: (Preparation time 5 minutes)
Dip the top rim of a (champagne) glass in a small layer of lime juice, and then in some sugar to create a festive look.
Mix equal parts apple juice and cranberry juice into the glasses. Add a dash of Sprite and some ice cubes. Garnish with cranberries and a sprig of rosemary.