One benefit that's arisen from the working-from-home culture is the opportunity for a much more exciting lunch time. The office microwave has nothing on your full fridge at home, meaning creating a midday wellbeing boost can be your new daily habit. Featuring the nutritional powerhouse that is kale and the sweet and sour sensation of umami, this salad is not only packed with flavour but it's loaded with health benefits. With kale, grapefruit, avocado and cilantro all classed as superfoods, we challenge you to find a healthier, more energising salad than this!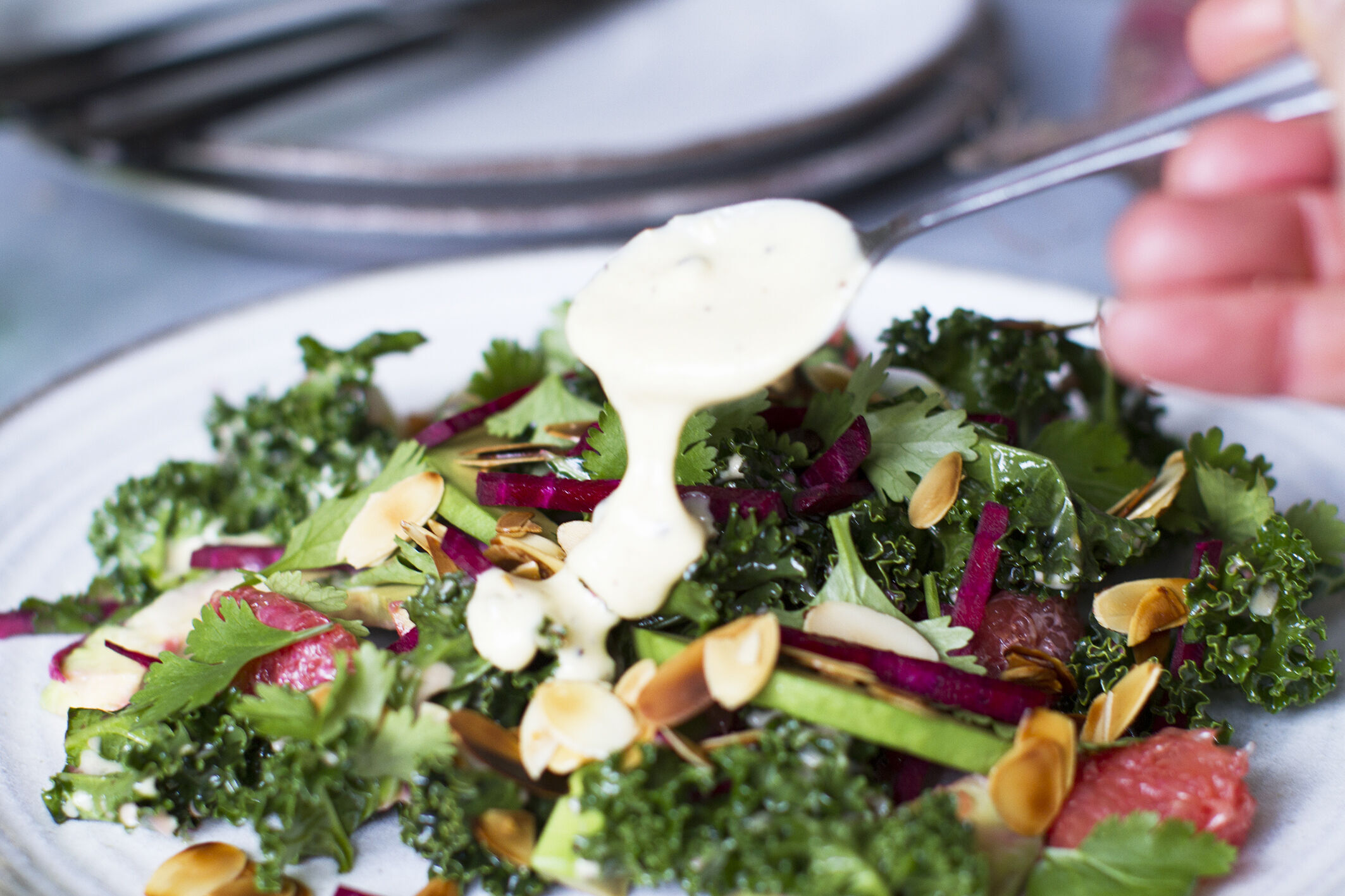 Have you ever heard of umami, otherwise known as the "fifth taste" in addition to sweet, sour, salty and bitter? It's something you hear a lot about in foodie circles. In this recipe, the umami is mostly present in the dressing. But the combination of kale, grapefruit, avocado and cilantro creates a real explosion of flavour! If you "massage" the kale with oil beforehand, it will become beautifully tender, allowing you to eat it raw.
Recipe for 2 people
Preparation time: 15 minutes
Ingredients
85 g kale leaves (thick stalk removed), torn into pieces

2 tbs chili oil

50 g raw (red) beet, julienned

100 g avocado, in slices

1 grapefruit, without skin, in pieces

1 tbs fresh red pepper, in rings

Handful of fresh cilantro, leaves only

4 tbs almond flakes
Ingredients for the umami dressing
4 tbs extra virgin olive oil

2 heaping tbs (organic) mayonnaise

1 large tbs Dijon mustard

1 tbs soy sauce

Juice from ½ lemon

4 tbs grated parmesan cheese

1 glove of garlic, pressed

½ tsp salt

freshly ground black pepper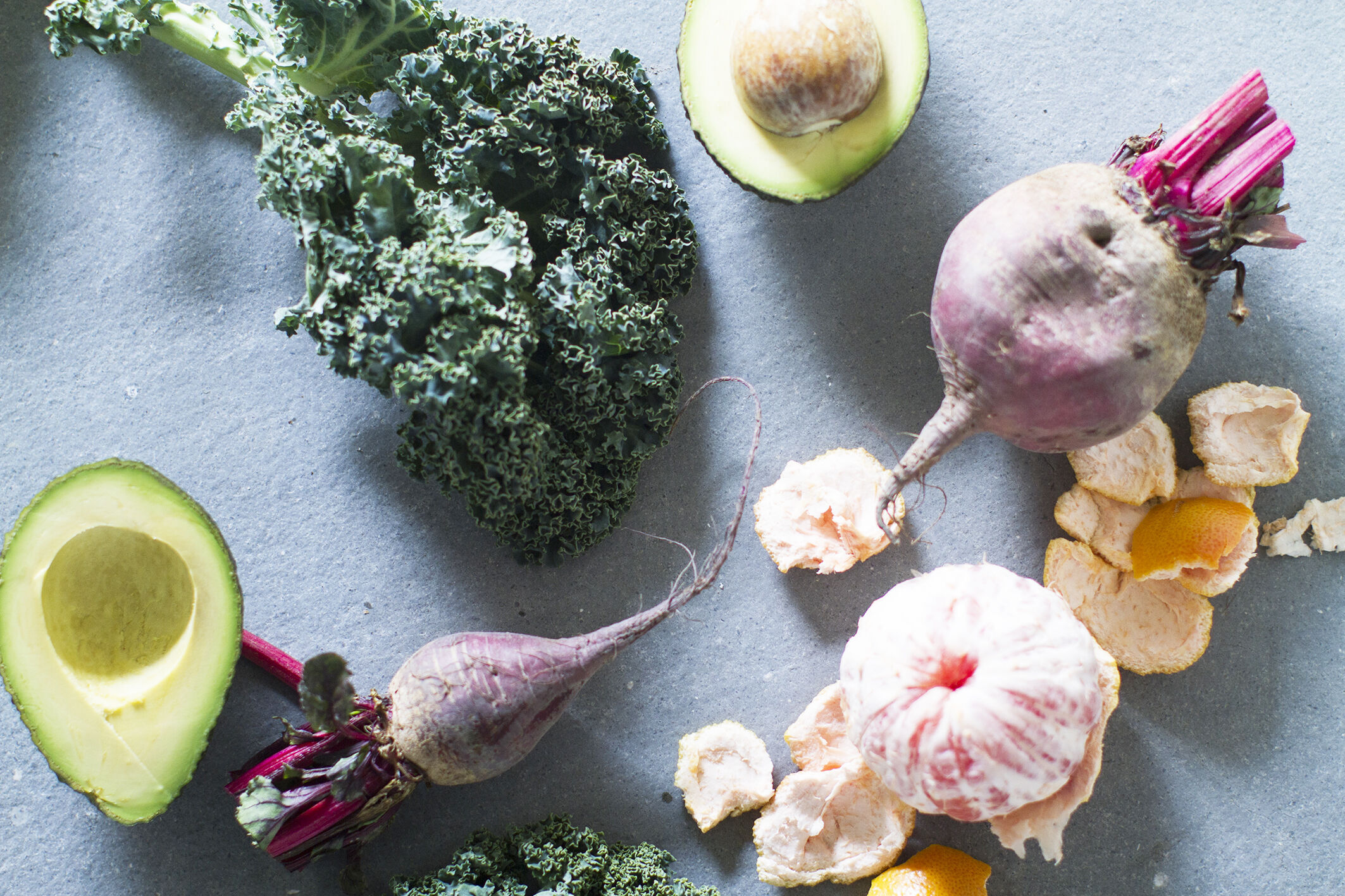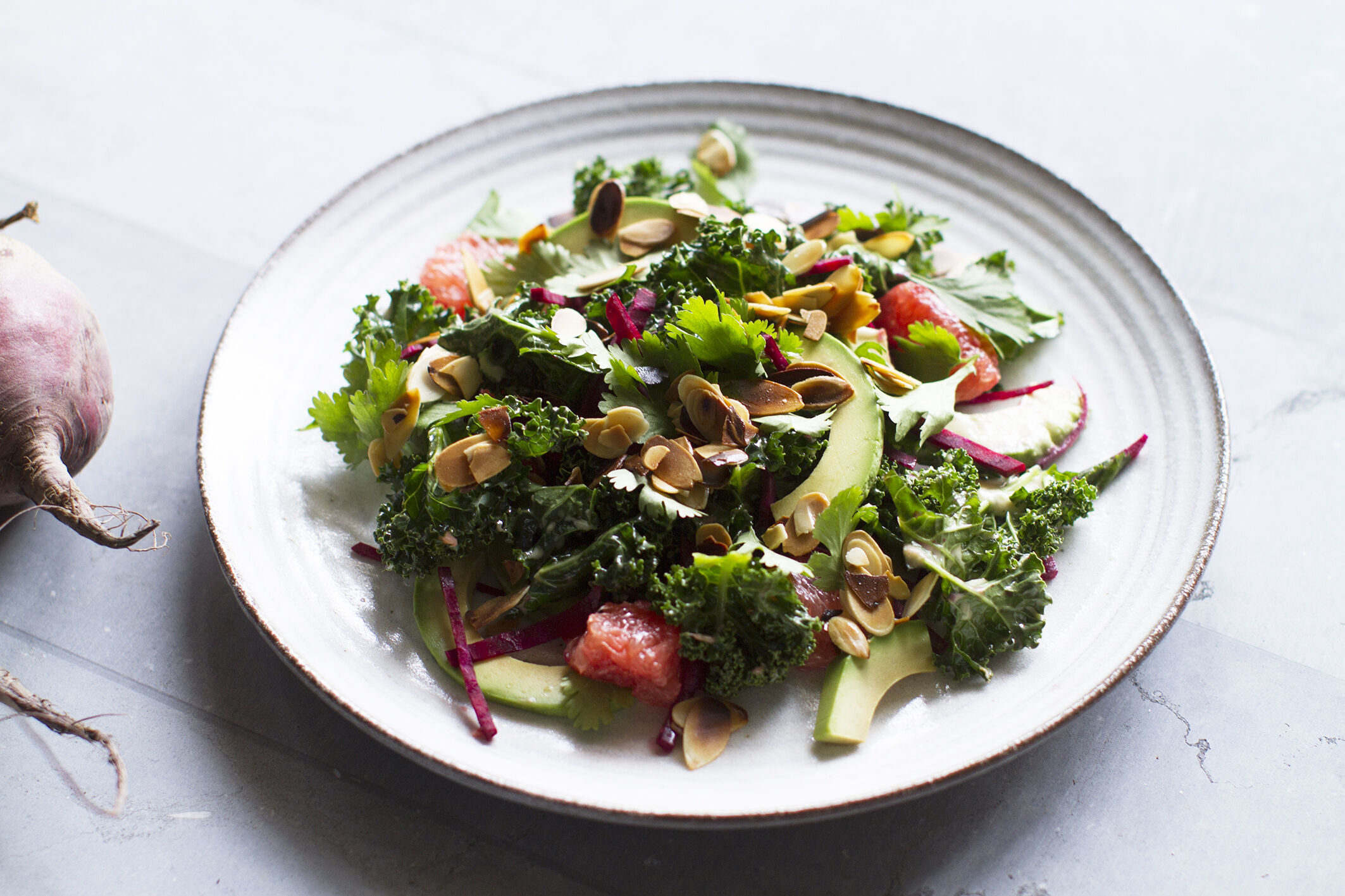 Preparation
1. Cut the leaves of the kale from the thick stalk and tear these into pieces. Sprinkle with the chili oil and massage it in thoroughly.
2. Then cut the avocado into blocks, julienne the red beets (cut into thin bars) and cut the grapefruit into pieces without the skin. Put all of this into a large dish with the kale. Distribute the cilantro leaves, spring onion rings and the red pepper over it.
3. Roast the almond flakes briefly in a dry pan until they begin to colour and then sprinkle them over the salad.
4. Mix all the ingredients for the umami dressing in a small jar with a lid and shake until it becomes a smooth, somewhat thicker dressing.
Serve the dressing on the side.