Khichdi, a dish that finds its heritage in the South Asian cuisine, is quite underrated. The dish is originally made of rice, lentils and assorted herbs and spices (also known as dahl) and has several positive effects on your physical well-being. Khichdi is a rich source of proteins and fibres, leaving you feeling full for a longer, this also makes khichdi a great dish if you find carb-heavy dishes leave you feeling bloated.
But that's not all. In this recipe you'll also find a range of herbs and spices that are known for their beneficial qualities, like ginger and turmeric, which are high in antioxidants and are anti-inflammatory. Not that into spices or have a sensitive stomach? No worries, the level of spice can easily be adjusted to suit your taste, which also makes it a great dish for children as it's soft, easy to digest and very nutritious.
Khichdi
Recipe for 4 people
Preparation time: 40 minutes
Ingredients
50 gr diced onion
20 gr ghee or sunflower oil
10 gr ginger
5 gr chopped garlic
5 gr whole mustard seeds
5 gr turmeric
5 gr cumin
5 gr coriander
5 gr curry powder
1 small dried red chili pepper
10 gr salt
75 gr split lentils
300 gr buckwheat
900 ml water
600 ml veggie broth
600 grams veggies like carrot, parsnips, celery, cauliflower, broccoli
10 grams cilantro
squeeze lime
1 tomato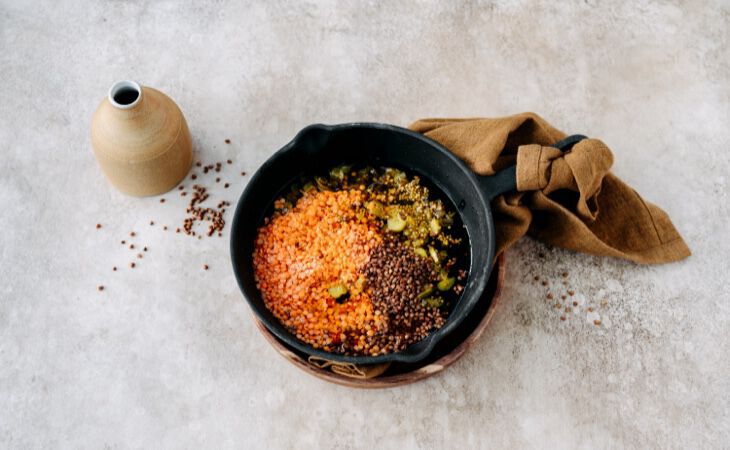 Instructions
Soak the lentils and buckwheat according to the package
Cut the onion in squares, the tomato in cubes and the veggies in any size as long they have the same size. This is important for the cooking time.
Sauté the onion in ghee or oil for 2-3 minutes. Reduce heat to medium and add ginger and garlic, and sauté a few minutes, until golden
Add spices, pepper, salt and toast for a few more minutes. Add soaked lentils and buckwheat. Add water, broth and the chopped veggies, bring to a good boil and cover with a lid. Turn heat to low, and let simmer for 20 minutes.
Once it is done, taste and adjust salt and seasonings.
Spoon into bowls, top with fresh diced tomato and fresh cilantro and a pinch of salt and pepper, and a squeeze of lime.
A drizzle of olive oil over the tomatoes to finish the dish.
And enjoy!