Scones, but like you've never had them before. Buttery soft and light but still nutritious, these beauties are perfect for sharing with friends and family or for setting yourself up for a week full of delicious breakfasts. This recipe uses wholewheat flour, rich in fibre and vitamins, it's a healthier and more flavoursome substitute for regular white flour. With their caramel-like taste, medjool dates are not only sumptuously sweet but also high in antioxidants and great for promoting healthy digestion. The addition of mandarin zest adds a nice tang, which combined with the sweetness from the dates, creates a perfectly balanced bite. Let this comforting, hearty breakfast start your day with a smile.
Recipe makes 8 scones
Preparation time: 15 min
Cooking time: 50 minutes
Ingredients
2 ¾ cups wholewheat flour (385 grams)
⅓ cup granulated sugar (70 grams)
Whole oatmeal flakes (100 grams)
½ teaspoon cinnamon
¼ teaspoon salt
⅛ teaspoon ground cloves
1 ½ teaspoon baking powder
½ teaspoon baking soda
2 tablespoons of mandarin zest (zest from about 3 mandarins)
4 large medjool dates (130 grams) - pitted and finely chopped
½ cup unsalted butter (113 grams) - cut into about 10 pieces
½ cup buttermilk (120 grams)
½ cup creme fraiche (120 grams)
1 large egg
1 large egg yolk - lightly beaten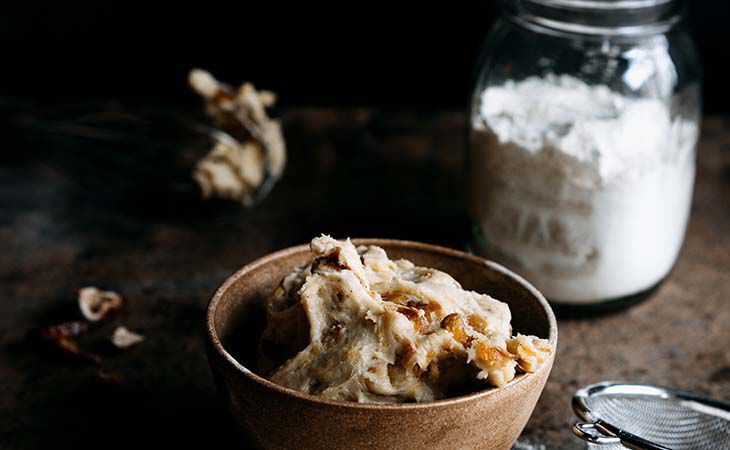 Instructions
Preheat the oven to 350°F / 175°C.
In a large bowl, using a hand mixer on low speed, mix all the dry ingredients (except the oatmeal flakes!), mandarin zest and chopped medjool dates together.
Using your hands, scatter the butter on top and beat on a low speed until the butter is somewhat broken down, but there are still pieces (about the size of marbles) remaining.
In a small bowl, whisk together the buttermilk, creme fraiche and 1 egg (white included).
Using the hand mixer on a low speed, pour your buttermilk mixture into the flour and butter mixture. Beat until the batter just comes together for about 20 seconds.
Using your hands, gather the dough and turn it several times, until all the loose flour is just mixed in. The dough should be very loose and sticky. It's important that you don't overwork the dough!
Turn the dough over to a baking sheet and pat into an 8-inch (20-cm) diameter circle, about 1 inch (2 ½-cm) thick. Brush the entire top of the dough with the egg yolk. Sprinkle the oatmeal flakes evenly over the top. They will provide a nice crunchy texture.
Pre-score the dough into wedges, using a knife to carve into the dough, but not completely cutting through it.
Bake for 50 to 55 minutes, until the entire top of the circle is a rich golden brown. Transfer to a wire rack to cool for 30 minutes.
Cut into the prescored wedges (which will have baked together) and serve.