Matcha has gained popularity in culinary circles as a superfood because it's packed with antioxidants. In fact, 1 cup of matcha is equal to 10 cups of regularly brewed green tea in terms of nutritional content. It's known to boost the metabo-lism and aid in concentration, among other benefits. While the following recipes tend towards the sweeter side and are therefore not as healthy, they do use this powerful ingredient in fun and interesting ways. An accessible and delicious way to incorporate a little matcha into your diet.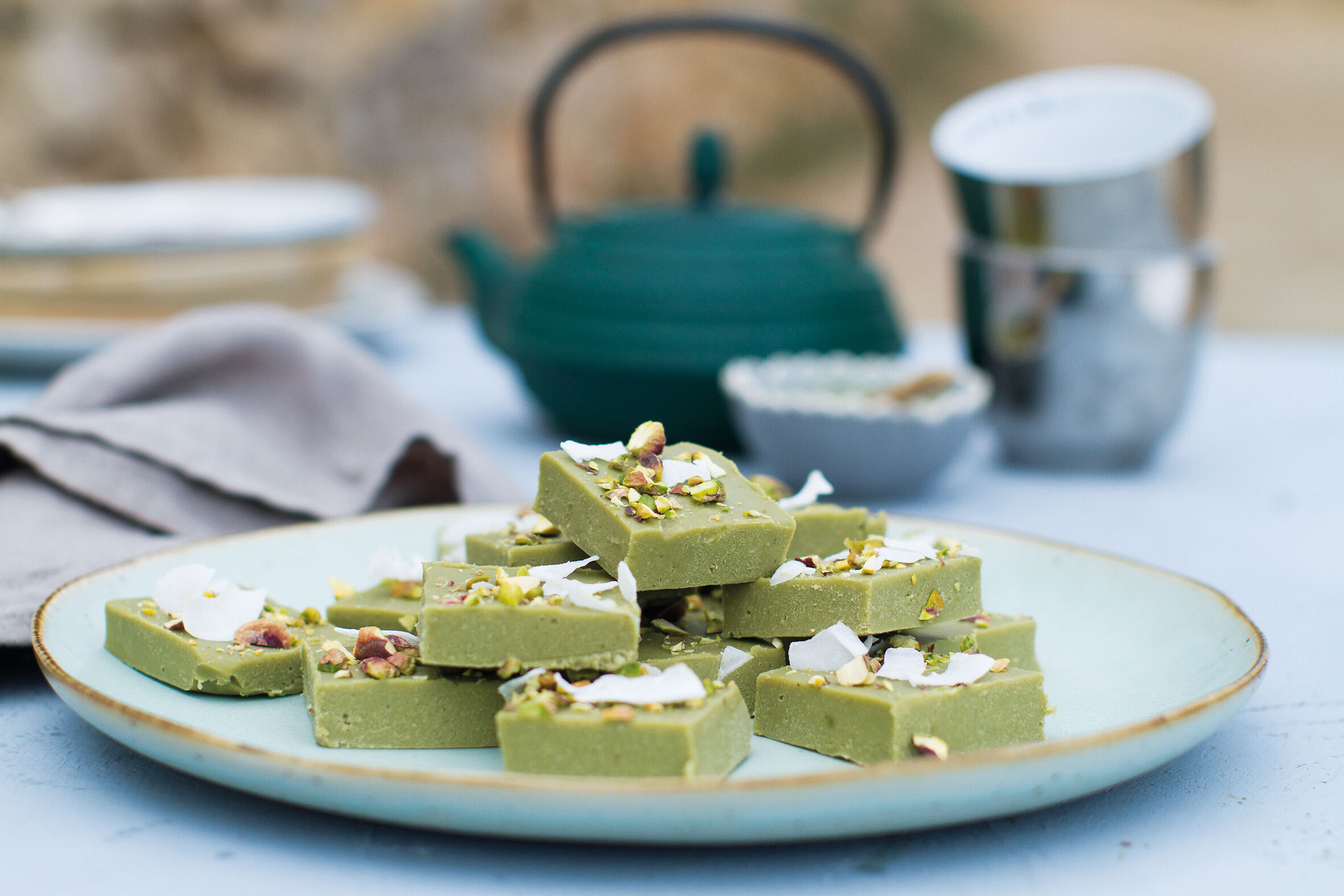 Matcha Chocolate Squares
The taste of matcha complements chocolate perfectly. And these creamy match chocolate squares really prove it. No, not exactly good for your diet, but they are good for the soul—and believe me, that's also important. Maybe even more important every now and then!


Recipe for 4-6 people
Preparation time: 15 minutes + 5 hours to set
Ingredients
400 g white chocolate
125 ml whipped cream
25 g butter
1 tsp cinnamon
1/2 tsp cardamom powder
2 tbs + 2 tsp matcha to sprinkle over the squares
Baking paper, around 60 x 15 cm
2 tbs coconut flakes
Small handful pistachios, crushed



Preparation
1. Melt the butter in a small pan and then remove from heat.

2. Finely chop the white chocolate and add it to the melted butter, together with the whipped cream, cinnamon, cardamom powder and matcha. Let this melt over a low flame, stirring occasionally. Then pour it over a baking sheet or dish that's covered with the baking paper.



3. Sprinkle the pistachios and coconut flakes over it.
4. Cover the dish with foil and put it in the refrigerator, letting it cool for at least 5 hours, or leave it in overnight.
5. Remove the matcha chcolate sheet out of the dish and the baking paper, slice it into nice, equal squares of around 2.5 x 2.5 cm, and serve it with something delicious, like a real "Matcha Latte."



Matcha Latte
Recipe for 1 person
Preparation time: 5 minutes
Ingredients
1 tbs matcha powder
250 ml (vegetable) milk
1 tbs honey or agave
Extra needed: bamboo whisk
Preparation
1. Warm the milk in a small pan until it begins to boil and then directly remove it from the heat. Whip it using a whisk or a special bamboo matcha whisk until it begins to foam.
2. Mix the matcha with 3 tbs of warm milk and honey or agave in a mug until it is a smooth paste and then pour the rest of the milk with foam into it. Stir it through, and your latte is ready!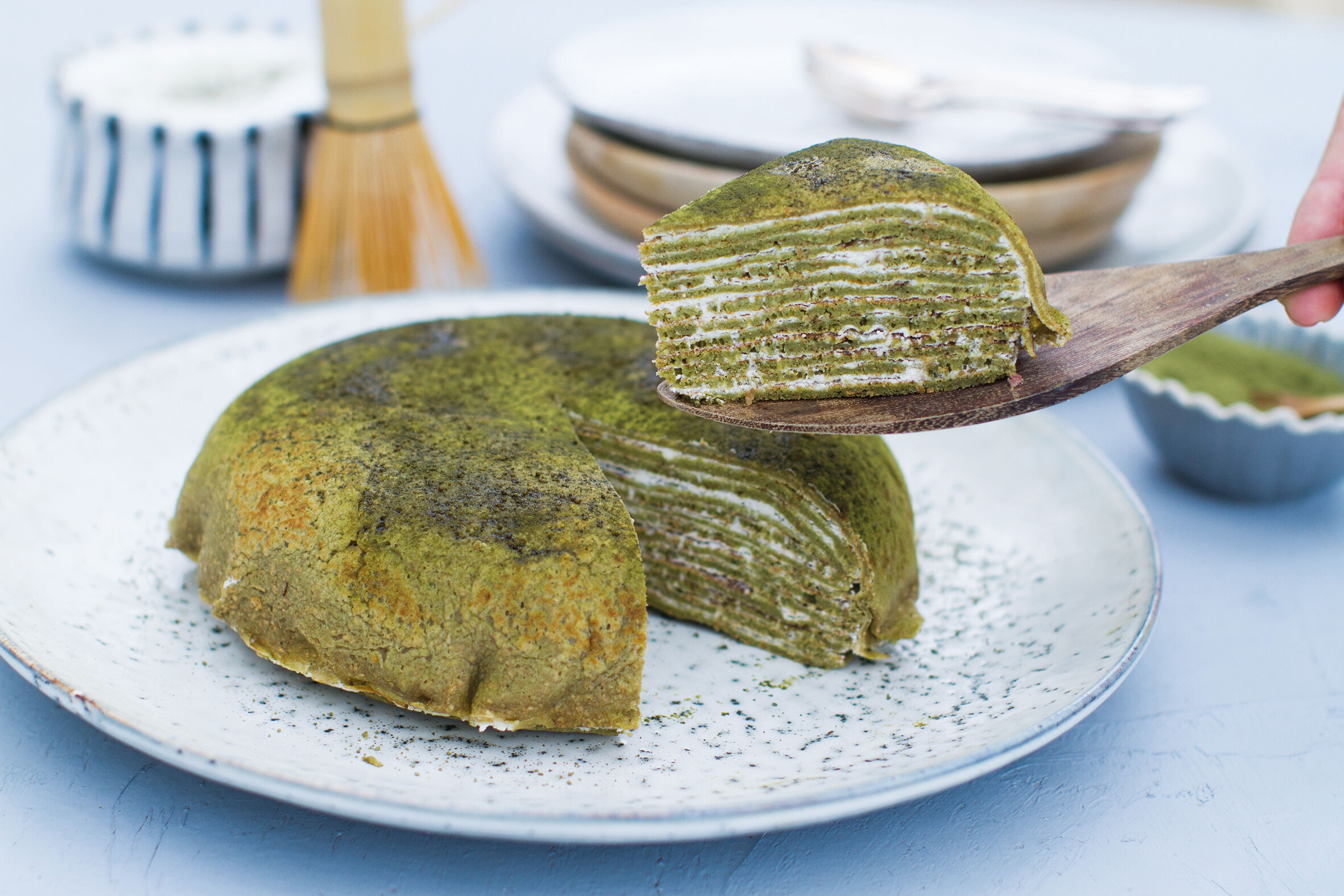 Matcha Mille Crepe Cake

You just need to try this amazing recipe. Period. It may look complicated, but believe me—as well as being fun to make, it's really not difficult. You do need to have a bit of patience, but aren't all wonderful things worth the wait?


Recipe for 6 people
Preparation time: 45 minutes + 5 hours to set in the fridge
Ingredients
400 ml whole milk
3 tbs white sugar
3 large eggs
2 tbs melted butter
140 g flour
2 tbs matcha tea powder
2 tsp baking powder
Vegetable oil or butter to bake the crepes in
For the cream filling
250 ml whipped cream
1 tbs vanilla extract
6 tbs white sugar, or if you'd rather: agave or honey
The cream filling needs to be whipped until it become a nice, creamy mass, but make sure it doesn't get too stiff or curdled.
Extra things you will need
Two frying pans, one that is 10 cm bigger than the other one, both with a good non-stick surface. (30 cm and 20 cm diameter)
1 bowl, around the size as the smaller frying pan
Baking paper cut into two 15 cm strips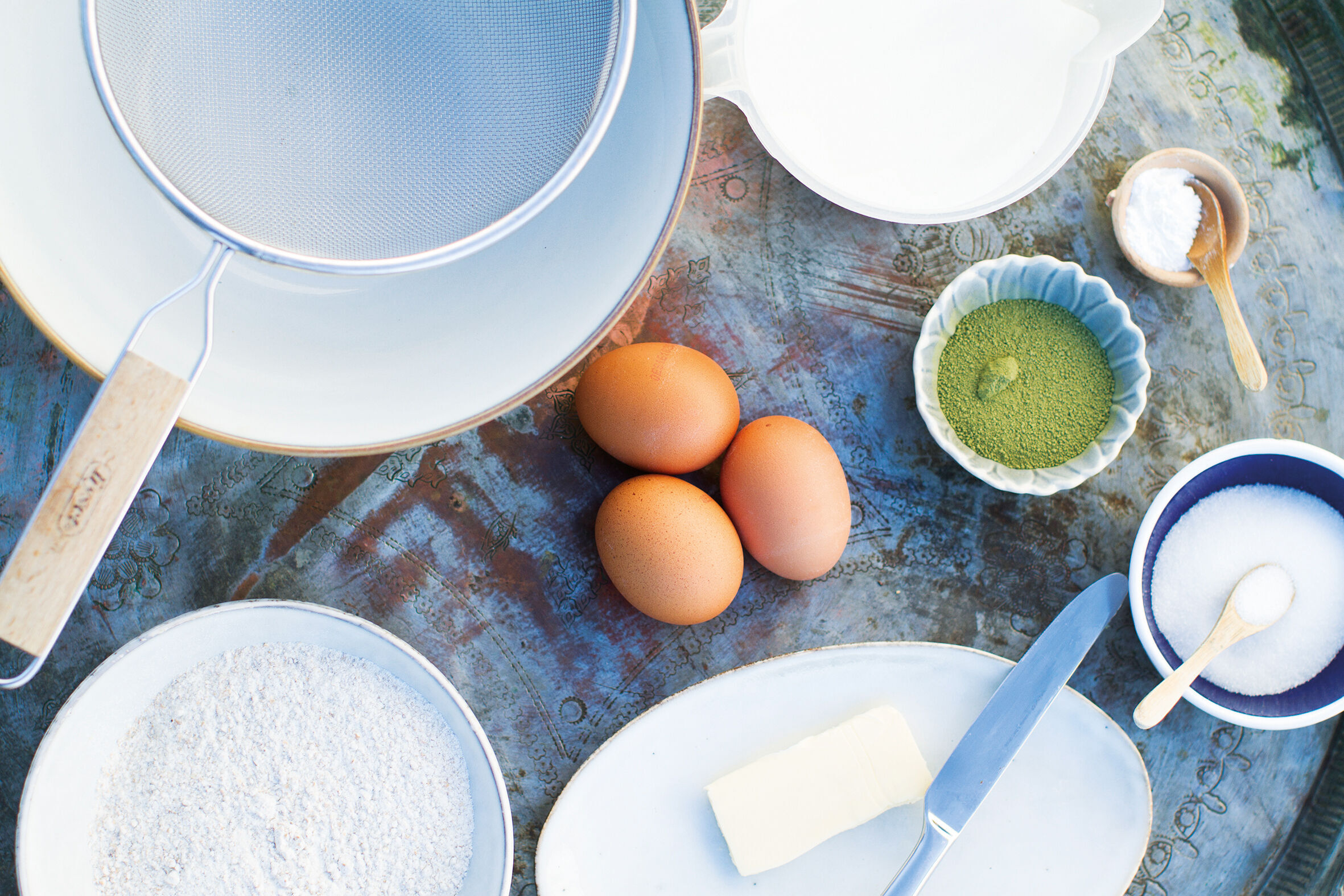 Preparation
1. Warm the milk until it starts to boil, then directly remove it from the heat.
2. Add all of the ingredients. Sieve the flour, matcha and baking powder so that it doesn't start clumping and mix everything together thoroughly until it becomes a smooth batter.
3. Cover the dish with cling film and put the batter in the fridge for an hour.
4. Meanwhile, whip the cream until stiff, then cover this and set it apart in the fridge.
5. Heat some oil or butter in the larger frying pan and make your first crepe: this will be the top layer crepe that will also fall along the sides of the cake.
6. Then use the rest of the batter to make the remaining crepes in the smaller frying pan. Set them on a plate to let them cool.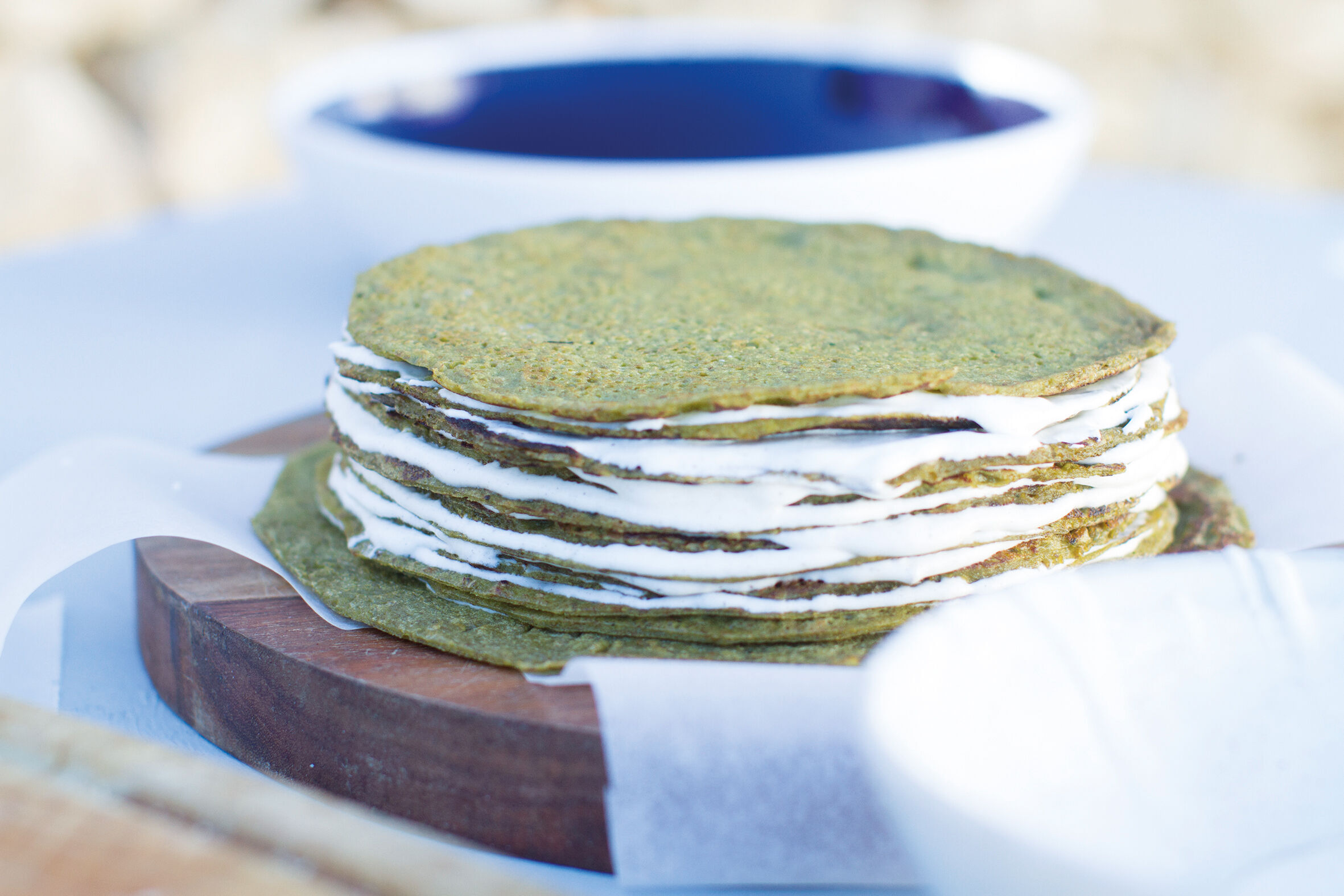 7. Take the two pieces of baking paper and form a cross, laying the largest green crepe on it. Spread a layer of cream the size of the smaller crepes and lay a small crepe on top of it. Continue alternating between a layer of cream and a crepe until all the crepes have been used. The last layer has to be a crepe.
8. Gather the ends of the baking paper together so that the largest crepe is raised and forms a sort of bowl for the rest of the cake. Fasten the ends with an elastic band or a small clip so that it will keep its shape.
9. Lift it into the bowl, making sure it's pulled tight. Then place it in the fridge for 3-5 hours.
10. Now you can open the baking paper. Place a plate underneath the last crepe layer and turn it over. Then remove the baking paper and sprinkle the cake with some sieved matcha powder. Enjoy!