We can't stop raving about all the ways matcha tea is good for you. It's high in antioxidants, boosts concetration, may help lower your blood pressure, and so very much more. And it's delicious, to boot. Turn to this summery homemade sushi salad with matcha dressing to get your health fix without sacrificing the flavour.
Serves 4 persons
Ingredients
Ramen eggs (to be prepared one day ahead)
4 large eggs
ice cubes
5 tbsp Japanese soy sauce
5 tbsp mirin
200ml dashi broth or vegetable stock
Sushi rice
200g sushi rice
3 tbsp rice vinegar
2 tsp sugar
1 tsp salt
Dressing
3 tbsp rice vinegar
1 tbsp white miso paste
3cm fresh ginger, peeled
2 tbsp neutral oil, such as sunflower oil
1 tsp maple syrup or sugar
2 tsp matcha powder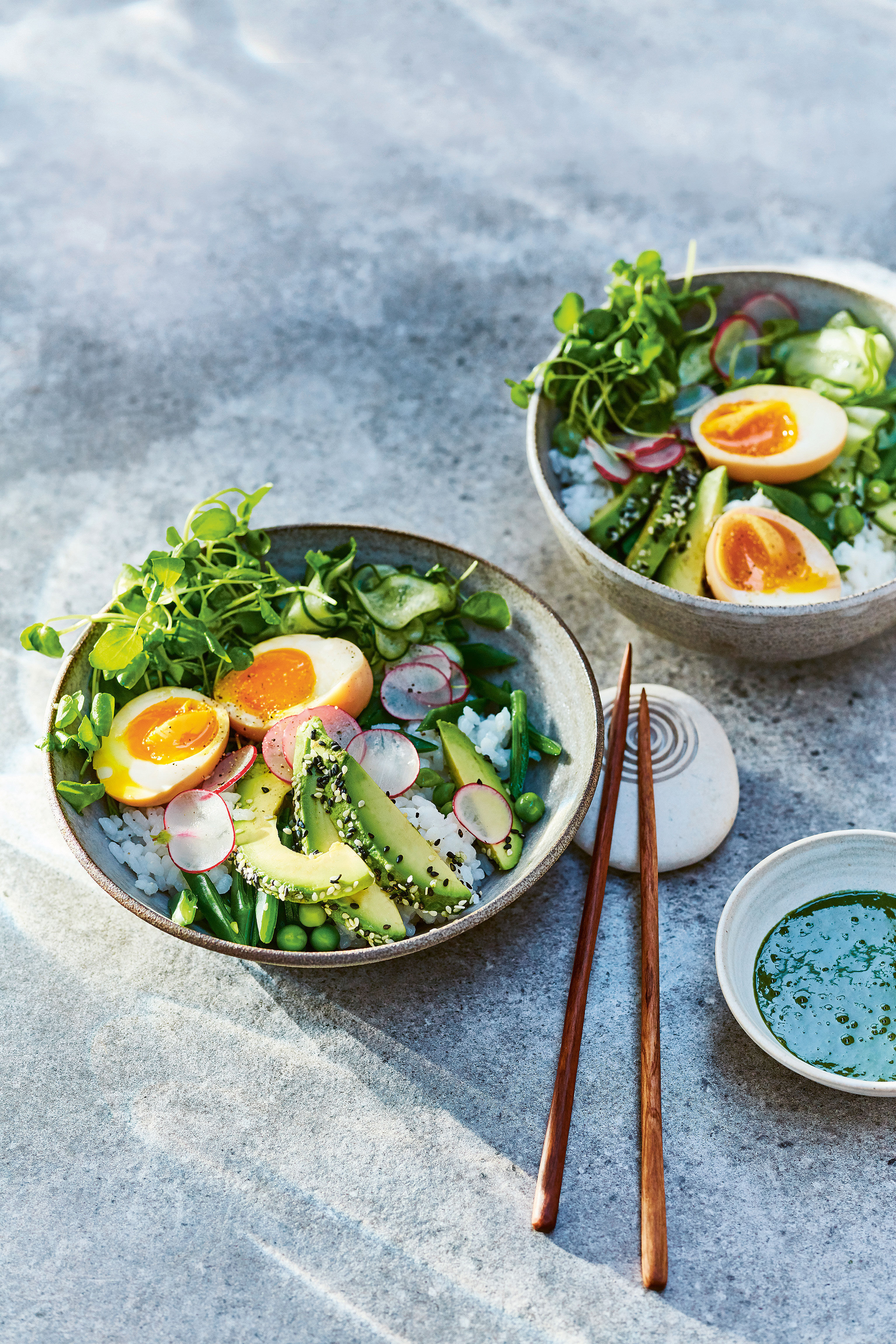 Extras
2 ripe avocados
½ bunch radishes
100g chickpeas
100g sliced green beans
2 bunches watercress
4 mini cucumbers
2 tbsp white sesame seeds
2 tbsp brown sesame seeds
Preparation
Ramen eggs
Boil the eggs for exactly 6 minutes, then put them straight into some ice water. Meanwhile, make the marinade by mixing the broth or stock with the soy sauce and mirin.
Peel the eggs and carefully place them in a ziplock bag. Pour in the marinade and place the bag in the refrigerator overnight.
Sushi rice
Prepare the rice according to package instructions. Meanwhile, heat the rice vinegar with the sugar and salt and stir until they have dissolved. Sprinkle the mixture over the rice.
Matcha-miso dressing
Place the rice vinegar and miso paste in a bowl. Grate the ginger over the bowl using a fine grater. Add the sugar and whisk until well combined. Add the oil and matcha and whisk until the dressing is thick.
To assemble the salad
Sprinkle the sesame seeds on a plate. Peel and halve the avocados, press them into the seeds and cut into slices. Wash the radishes and cut into thin slices. Wash the cucumbers and cut into ribbons lengthwise with a mandoline. Remove the ramen eggs from the bag and halve them. Divide the rice and remaining ingredients among four plates. Serve with the matcha-miso dressing.