This no-faff mushroom pastry pizza is ready in 15 minutes and is sure to serve up lots of smiles. There's no doubt about it, food brings people together. A three-course meal is great, but there's something special about everyone taking a slice from the same dish and enjoying the same delicious bite. The star of this easy-to-make dish? Mushrooms, of course. These contribute to a healthy heart, immune system, muscles, skin, nervous system, balanced blood sugar levels and so much more. But also, they are extremely delicious. The creaminess of the coconut milk perfectly complements the earthiness of the mushrooms and the spices in this dish, giving you a real taste explosion.
Any shape of pastry sheet can be used, with the option of going calzone style by folding it in half or even doubling up and stacking another sheet on top. If mushrooms aren't your thing, feel free to swap in other vegetables. This dish is quick, easy, fun to make and incredibly delicious! So, invite your friends or family round and tuck in.
Serves: 4 - 8
Preparation time: 15 min
Cooking time: 20 min in the oven
Ingredients:
500 g puff pastry sheets or 1 pack*

250 g king oyster mushrooms

250 g shiitake mushrooms

1 large carrot

1 can of artichoke hearts (approx. 250 g)

200 g kale

1 onion

1-2 tsp of garam masala

1 teaspoon of (spicy) paprika powder

200 ml of coconut milk

3 cloves of garlic (optional)

50 g black sesame seeds (optional)
* preferably 'ready to roll'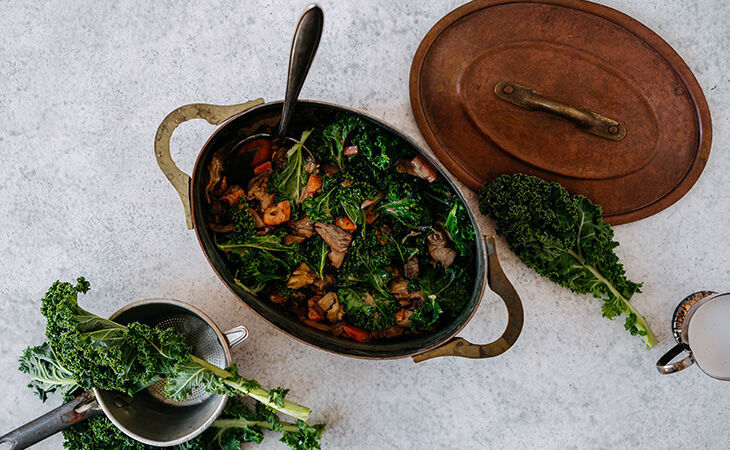 Preparations:
Preheat the oven per instructions of the puff pastry packaging.

Heat up your pan with some oil.

Roughly chop the mushrooms and fry until they start to caramelise.

Roughly chop your onion, artichoke heart, carrot and garlic and add these to the pan with your mushrooms

After 1-2 minutes add the kale and ¾ of your coconut milk. Turn your hob off after 30 sec of simmering.

Add salt and pepper to taste and let your mixture cool.

Roll out the puff pastry and once cool, add your mixture on top.

Brush the dough with your remaining coconut milk.

If you want to finesse, sprinkle some (black) sesame seeds on top.

Bake in the oven as instructed on the pastry dough packaging (usually 10 - 20 minutes, or until golden brown).

Once baked, cut into the desired number of slices and share amongst your party.
Enjoy!