The days are long gone when lemonade was the only ingredient that went into our homemade popsicles. Nowadays, we want our ice lollies to be made of fresh and pure ingredients. And we've also developed a taste for strange and surprising combos!
These coconut yoghurt popsicles with fresh pomegranate juice require some effort(deseeding a pomegranate can be a juicy mess), but they're so good! Trust me, this popsicle recipe is worth your trouble.
Preparation time: 20 minutes plus at least 4 hours of chilling in the fridge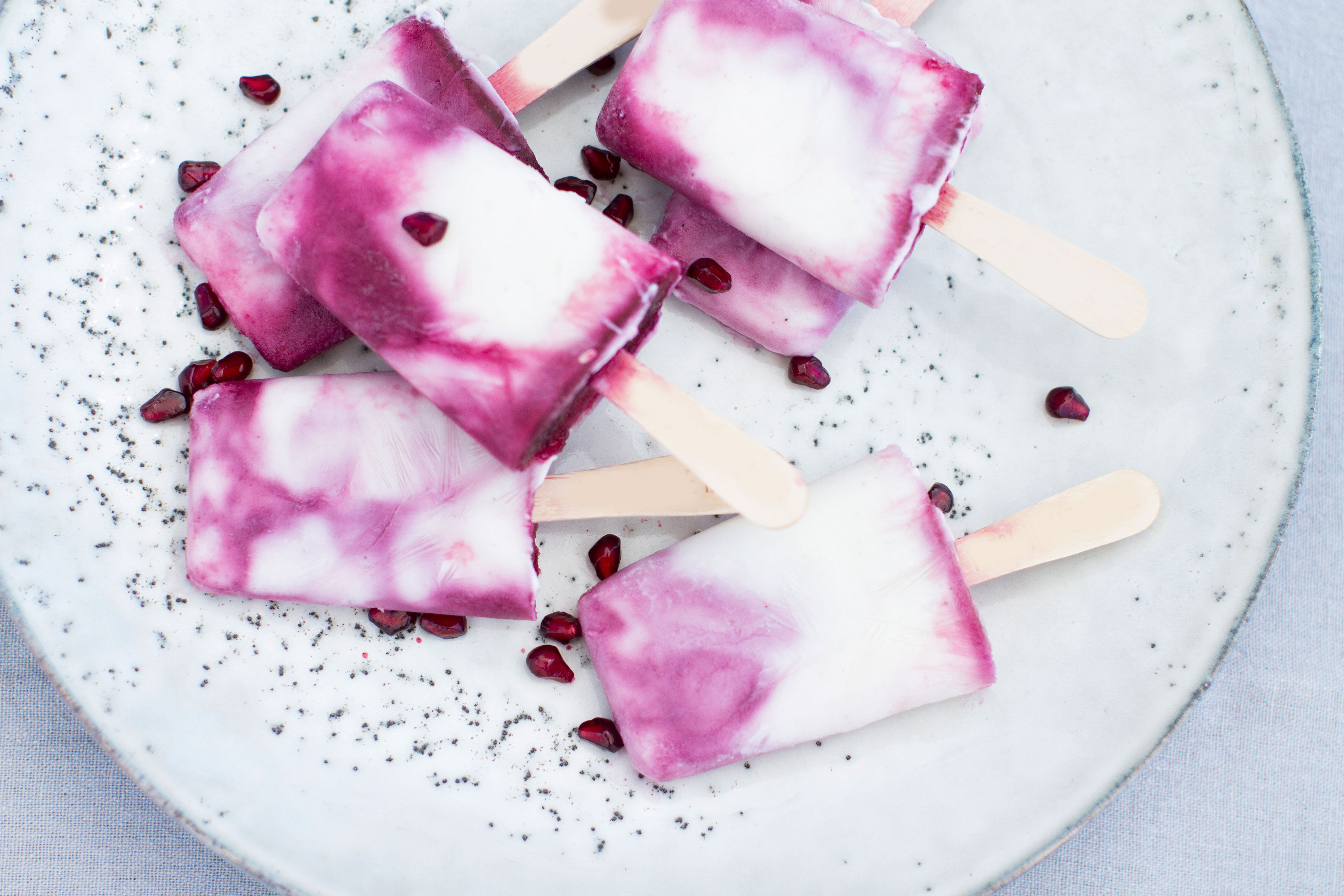 Ingredients for 6 popsicles
The juice of 1 large pomegranate
200 ml coconut yoghurt
1 tbsp honey (or maple syrup, agave syrup)
1 tsp vanilla extract (powder or liquid)
Additional equipment
Popsicle moulds and (wooden) popsicle sticks
Patience
Preparation
1. Squeeze the pomegranate juice over a strainer into another bowl, while removing the seeds with a spoon or a pestle. Try to catch as much juice as possible.
2. Distribute the juice equally into the six popsicle moulds and let chill in the freezer for 1 hour.
3. Mix the coconut yoghurt with the honey and vanilla extract and pour over the chilled pomegranate popsicles. Gently stir the yoghurt and juice mixture with a spoon to create a marbled effect. Let the popsicles chill in the freezer for at least another 3 hours, or until the popsicles are completely frozen.
4. To get your popsicles out of the moulds, loosen them up by dipping the moulds into warm water for a second or two.
Guaranteed to make you melt!