Looking for a soup recipe that feels like a party in a bowl? Spiked with jalapeño pepper and turmeric, also known as the "golden spice" of India, this coconut chickpea soup is as festive as it is flavourful. It's the perfect addition to your holiday dinner line-up! Here's how to prepare it.
Preparation time: 45 minutes
Cooking time: 30 minutes
Serves 8-10
Ingredients
Mustard seed oil
60 ml olive oil
3 tbsp mustard seeds
½ tsp turmeric
salt (to taste)
Raisin chutney
2 small shallots, finely chopped
6 tbsp raisins
4 tbsp coriander (cilantro), chopped
3 tbsp lime juice
2 tbsp olive oil
salt and pepper
Coconut chickpea soup
8 cloves of garlic, peeled
6 cm piece of ginger, peeled and roughly chopped
1 jalapeño or chili pepper
3 tbsp neutral oil
2 onions, chopped
2 sticks of lemongrass, bruised
2 tbsp garam masala
2 400g cans chickpeas, drained
800 ml coconut milk
1200 ml stock (made using a stock cube)
200g dried lentils
Garnish: Coconut flakes, thinly sliced jalapeno and coriander.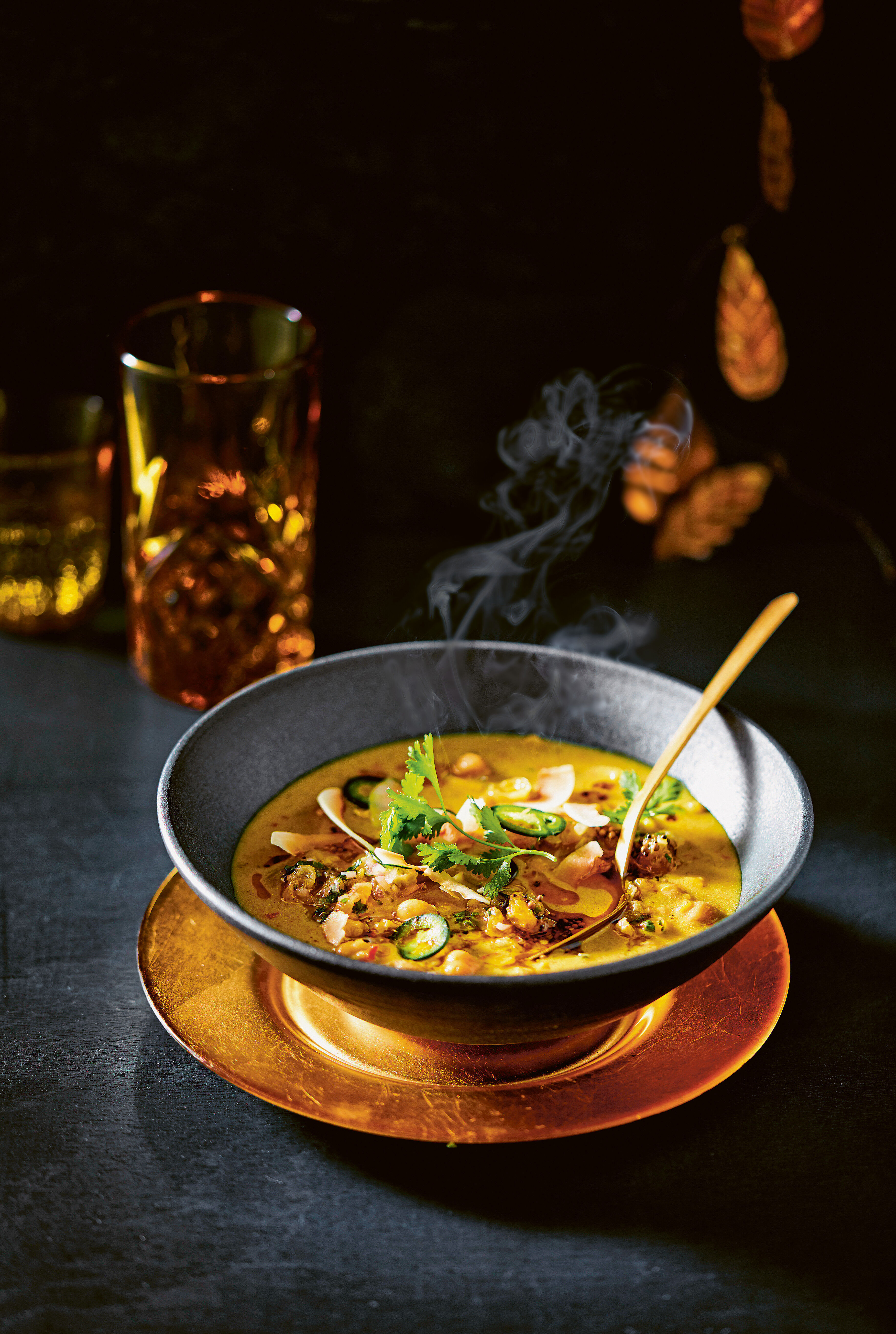 Preparation
Mustard seed oil
Heat the oil and mustard seeds over a low heat until the seeds begin to crackle. Pour into a heat-proof dish, add the turmeric and salt.
Raisin chutney
Mix all the ingredients together in a small bowl and season with salt and pepper.
Chickpea curry soup
Blend the garlic, ginger and jalapeño into a coarse paste. Heat the oil in a large pan. Add the onion and paste and cook over a medium heat for 5-7 minutes. Add the lemongrass and garam masala and fry for 1 minute. Add the chickpeas, coconut milk and stock and simmer for 15 minutes. Add the lentils and cook while stirring for 15 minutes. Season and serve with the mustard seed oil, chutney, extra jalapeno, coconut and coriander.