The perfect lunchtime or light supper solution, this Japanese noodle and salmon bowl is super fresh and tasty. We like to serve it cold, perfect for a sunny spring day.
When it comes to noodles, our preference lies with soba, a type of noodle made from buckwheat flour. Buckwheat itself is a highly nutritious whole grain, it is a great source of protein, is high in fibre but low on carbs, and above all, it's naturally gluten free. This delicious bowl is full of vitamins from the various citrus fruits. High on taste and low in calories, it is a great go-to meal that's incredibly easy to make.
JAPANESE NOODLES AND SALMON BOWL
Recipe for 2 people
Preparation time: 25 minutes
INGREDIENTS
250 gr salmon filet (without skin)
1 white chicory
1 red chicory
1 grapefruit
1 lime
1 lemon
1 pomelo
200 ml rapeseed oil
200 gr soba noodles
1 tbsp sesame oil
1 tbsp sesame seeds
1 tbsp grated fresh ginger
1 bundle of spring onions
2 bundles of coriander
Pinch of rock salt
UTENSILS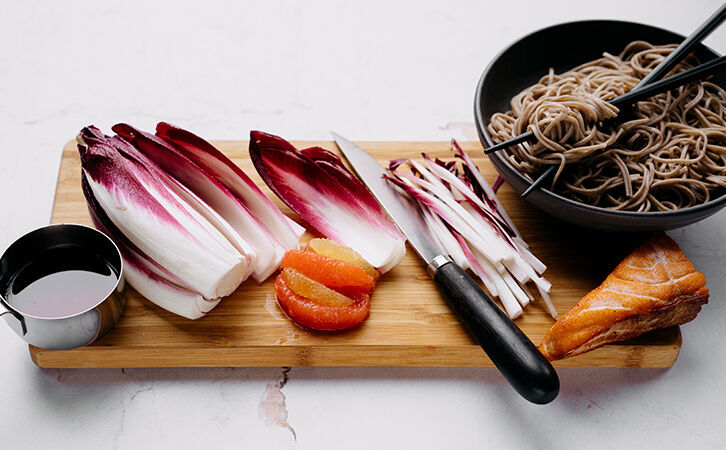 PREPARATIONS
Cover the salmon generously in rock salt and leave it for 15 minutes. This will help to firm the structure of the fish
Rinse the fish from the salt with water and dry it with paper towels
Bring a large pan of water to the boil and cook the noodles for 4 to 5 min. (Soba noodles can be kept slightly "al dente"). When cooked, rinse them in a colander under cold water to remove the starches and add a dash of sesame oil to prevent them from sticking together.
For the vinaigrette, juice the lime and lemon. Add the rapeseed oil, sesame seeds and fresh ginger. Mix well together.
For the garnish, slice a segment of the pomelo and the grapefruit, slice the spring onions and set all aside.
Cut the bottom part of the chicory and separate the leaves. Then slice the leaves length wise about 2mm thick.
Bring a pan to a high temperature, it needs to be almost smoking. Sear the fish on each side for 30 seconds (you will get slight colouration on the fish).
PLATING
Divide the noodles in the bottom of two bowls, add the salmon on top of the noodles. Drizzle half of the vinaigrette over. Top up with pieces of citrus (the pomelo and grapefruit), chicory, spring onions and coriander. Add more vinaigrette, if you wish.
Bon Appetit!!