A superfood salad with amazing ingredients like quinoa, grilled zucchini, alfalfa, avocado, oven roasted sweet potatoes, nuts and seeds. Served with an Asian-inspired sweet & sour dressing, this salad will keep you going for the rest of the afternoon.
Recipe for 2 people
Preparation time: around 30 minutes
Ingredients vinaigrette
juice from 1 lime
3 tbs soy sauce
3 tbs fresh ginger, finely chopped
1 tbs sesame oil
1 clove of garlic, finely chopped
100 ml mild olive oil
Ingredients salad
150 g quinoa
1 sweet potato, cut into blocks of around 1.5 cm
coarse sea salt and freshly ground black pepper
½ zucchini, sliced
2 tbs olive oil
40 g almonds, coarsely chopped
20 g roasted sunflower seeds
20 g alfalfa
1 avocado, peeled and halved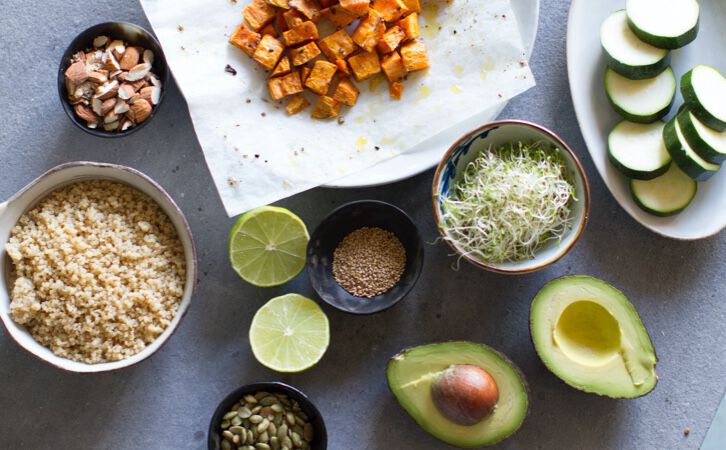 You'll also need a baking sheet, baking paper and a griddle pan.
Preparation
1. Prepare the quinoa as instructed on the package and then cover it with a lid and let it sit.
2. Preheat the oven to 225 C.
3. Divide the blocks of sweet potato on a baking sheet covered with baking paper and sprinkle them with a tsp of olive oil, salt and pepper. Slide the pan into the oven for around 20 to 25 minutes until the sweet potato is done. This time can vary depending on your oven; jut make it doesn't burn.
4. Grease the griddle pan with some olive oil and grill the slices of zucchini for around 7 minutes, so they're done on both sides.
5. Divide the quinoa in the bowls and garnish with all the other loose ingredients: sweet potato, zucchini, alfalfa, avocado, nuts and seeds.