We are all familiar with the traditional Peking Duck, with its thin crispy skin and aromatic flavour. In this recipe we transform this well-known traditional dish into vegan comfort food. How are we going to do that? By making our own seitan and pancakes (prepared two ways – steamed or fried).
I hope you are up for a challenge, as this is an advanced recipe but well worth the extra time and effort. If you want to keep it simple, you can choose to buy your seitan and pancakes at the Asian supermarket.
In the original recipe, the duck is dipped and glazed with soy sauce, five spices and maltose (a kind of runny syrup). We give these vegan pancakes a touch of Dutch by using 'appelstroop' (traditional Dutch apple syrup).
This dish is perfect to prepare and share with your loved ones.
VEGAN PEKING PANCAKES
Recipe for 6 people
Preparation time: 2 hours (for the best result, let the seitan rest overnight)
INGREDIENTS
SEITAN
500g Vital wheat gluten
100g Chickpea flour
60g Nutritional yeast
3 tbs Five spices powder
250ml Soy sauce
750ml Hot water
PANCAKES
550 gr Flour
470 ml Water
4 tbs Sesame oil
GARNISH
1 Cucumber
1 bunch Spring onions
1 Big carrot
SAUCE
130 gr Dutch Rinse appelstroop
120 ml Hot water
4 tbs Soy sauce
1 tbs Five spices powder
½ tbs Sesame oil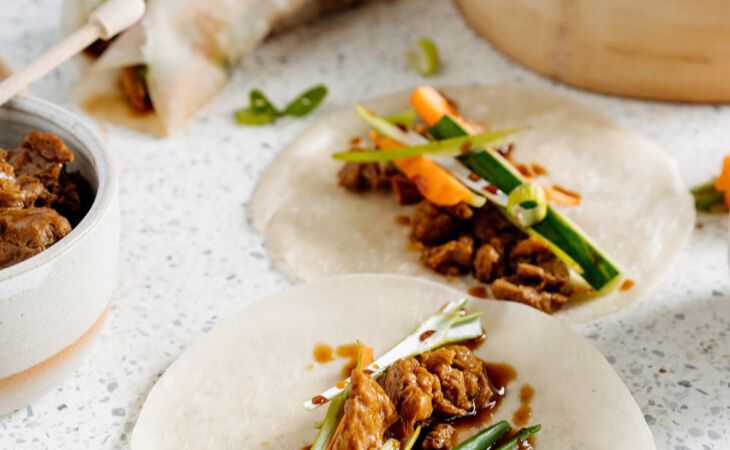 PREPARATIONS
For the seitan:
Put the vital wheat gluten, chickpea flour, yeast and five-spices together in a large bowl
In a separate bowl, combine the soy sauce and hot water
Now add the wet mixture to the dry one and mix until you get a nice doughy consistency. If necessary, add a little extra flower to knead
Spread out 3 long pieces of plastic wrap (each sheet overlapped slightly) and roll the dough in to a sausage shape. Enclose in the plastic wrap and tie a knot at each end to close it off. Leave about 2 cm at both ends to leave some space for the dough to expand as it cooks
Bring water to a boil and cook the seitan in the simmering water for 1 hour
After 1 hour, turn off the heat and leave the seitan in the water to cool down
Strain and drain the seitan in a towel (keep it resting overnight for the best result)
For the pancakes:
Add your flour and sesame oil to a large bowl and stir in the hot water. Set it aside to cool down. Once it is cooled down, knead until it's a smooth dough. Cover it all and let it rest for 20 minutes
After the 20 minutes, divide the dough into 36 similar sized portions
Steamed pancakes
Take one portion of dough and roll it into a paper-thin wrapper around 16 to 20 cm in diameter
Prepare a steamer or steam basket and place lining paper inside
Place one pancake in and cover the lid and let steam for 1 minute until it is almost cooked. During this time, roll the next piece and then place the new one on top of the already steamed one. Continue steaming for 1 minute before adding the next piece. Repeat it until all the pancakes are steamed
Pan-fried pancakes
Take one portion of dough out and flatten it. Brush oil on the surface of the dough. Then overlay with another small portion and roll the two pieces together.
Put some oil in a pan (only a small amount needed) and fry over medium fire until one side is brownly dotted, then flip the pancake over to fry the other side
After that, tear the two pancakes apart when still warm
For the sauce:
Mix the hot water, the soy sauce, the sesame oil, the appelstroop and the five-spices powder together
For the garnish:
Cut the veggies into strips lengthwise
Finishing:
To finish, slice the seitan into ½ cm thick slices and fry in ½ cm oil until it's a nice golden colour and crispy
Sit onto kitchen paper to strain the excess of fat before serving

To serve:
Place all the elements – pancakes, seiten, garnish, sauce – onto the table for everyone to tuck in and assemble their own pancakes.
Bon appetit!