The veggie burger has long become an indispensable part of the menu, and fortunately more and more great vegetarian variations are making their way onto our plates. This black bean burger is nice and spicy, and ready to eat in about 40 minutes. For the hot spice pros out there, who can handle something with a little bite and a kick to it, add an extra spoonful of homemade piri piri sauce – if you dare.
Needed:
food processor or a good blender
small frying pan
oven tray
INGREDIENTS
BLACK BEAN PATTIES
1 can of (organic) black beans
1 red pepper
2 (organic or free range) eggs
100 gr walnuts
1 garlic clove
1 small handful of fresh basil leaves, finely chopped
1 small handful of fresh coriander, finely chopped
1 tsp salt and freshly ground black pepper
3 tbsp olive oil
BUNS
6 hamburger buns (we used charcoal brioche buns)
Lettuce leaves
2 to 3 sliced tomatoes
1 red onion, in rings
(vegan) mayonnaise
Piri piri sauce
PIRI PIRI SAUCE
1 small red (piri piri) peppers (see photo)
3 garlic cloves
1 red onion, peeled and cut into pieces
5 tbsp smoked paprika powder, not the spicy variety
3 tbsp apple cider vinegar
5 tbsp Worcestershire sauce
Zest and juice of 2 lemons
1/2 tsp salt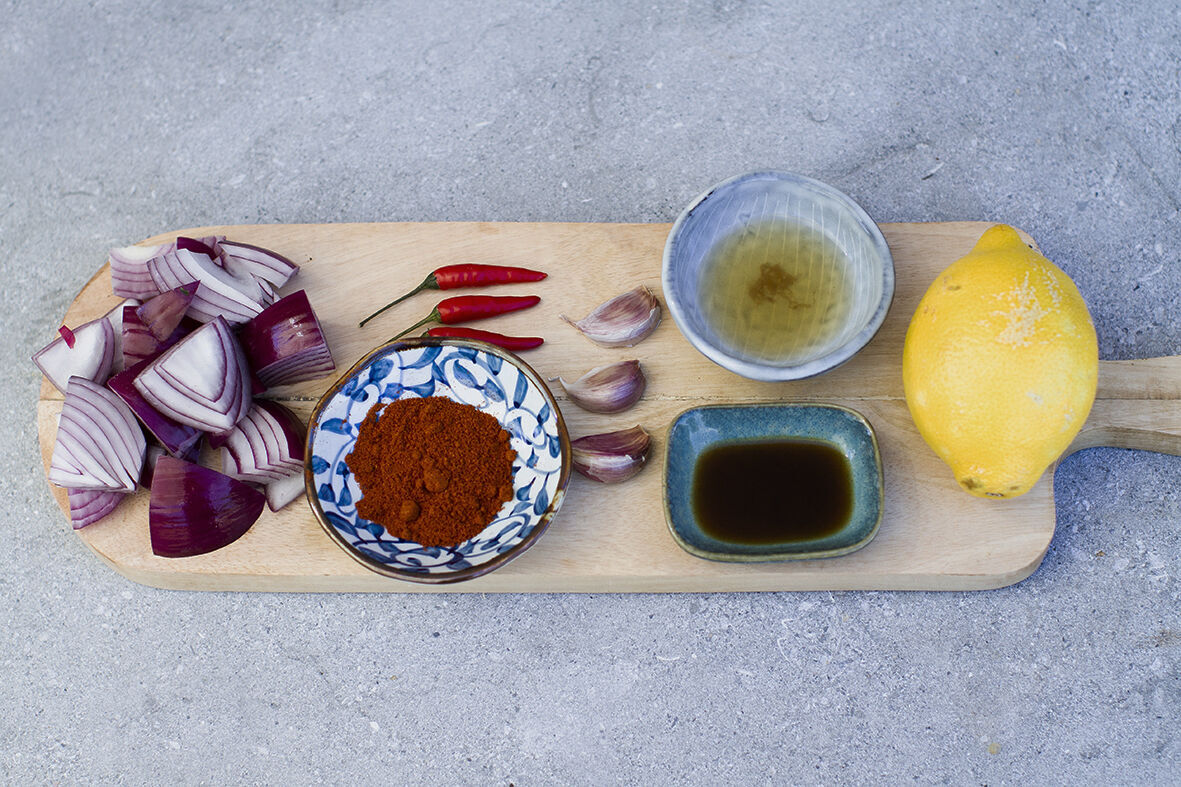 PREPARATION 40 minutes
BLACK BEAN PATTIES
Preheat the oven to 180 degrees.
Drain the black beans in a colander until almost all the fluid is gone. Place all ingredients – except the spices – into the food processor and blend until firm. Make sure the mixture isn't too smooth, because we like a little bulky texture for the patty! Larger chunks of beans are the best part.
Work the herbs into the burger mix using your hands, then knead the black bean mixture into patties with damp hands. Place your 6 patties in a greased oven tray and bake them for about 12 minutes. Don't forget to flip them over in those 12 minutes.
BUNS
Bake the buns briefly in a hot frying pan or in the oven, to make them a little crispy.
Spread a little (vegan) mayonnaise onto your buns and layer it with lettuce leaves, tomato, red onion rings and your burger. If you can handle it, add some of the spicy piri piri sauce to your finished masterpiece.
PIRI PIRI SAUCE
Mix all the ingredients in your food processor or blender – et voila!