At Rituals, we pride ourselves on helping you to transform your house into a home. A place that reflects your personality and brings you joy. The Sofacompany shares a similar ethos and, in this conversation between our Director Innovations & Sustainability Niki Schilling and the SOFACOMPANY'S Line Nevers Krabbenhøft, they discuss how to create a homely ambiance, the importance of texture and colour in a home and how to choose pieces you'll treasure.
Niki Schilling: Our ethos at Rituals is that our products – the beautiful candles, aromatic fragrance sticks and more - help our customers transform their house into a home. Is that true for SOFACOMPANY too?
Line Nevers Krabbenhøft: Yes, just like fragrances, our sofas can help transform a house into a home. And at SOFACOMPANY, we actually go as far as honoring the sofa as the heart of the home!
Niki Schilling: Each of our collections has a different scent and colour. For example, our new line The Ritual of Mehr is energising like the sun and therefore designed in the colour yellow. A beautiful scent can be used to transform your surroundings into a welcoming retreat, set a particular mood or ambiance and conjure wonderful memories. That's why some fragrances can be experienced as calming or energising, even radiating positivity. Not only scents, but also a particular colours can have an impact on our mood or the ambiance of a space.
Take our Ritual of Jing Collection, for example, that is infused with sleep-inducing ingredients and fragrances, like jujube and lavender. It's scientifically proven that the fragrance of lavender is calming and therefore improves your quality of sleep. The soft color of green represents tranquility and is therefore the perfect colour for a collaction that is all about finding your path to inner piece.
How is colour important when choosing a sofa? How would someone decide to go for a neutral sofa or something that is more of a standout piece colour-wise?
Line Nevers Krabbenhøft: Colour is definitely a matter of personality. For some people, neutrals make them calm and happy – for others bright yellow or pink do the same. At SOFACOMPANY there's no right or wrong – for us it's important to help customers create the home that makes them happy! And for those customers who like change we recommend a sofa with loose cover, allowing an easy change of colour.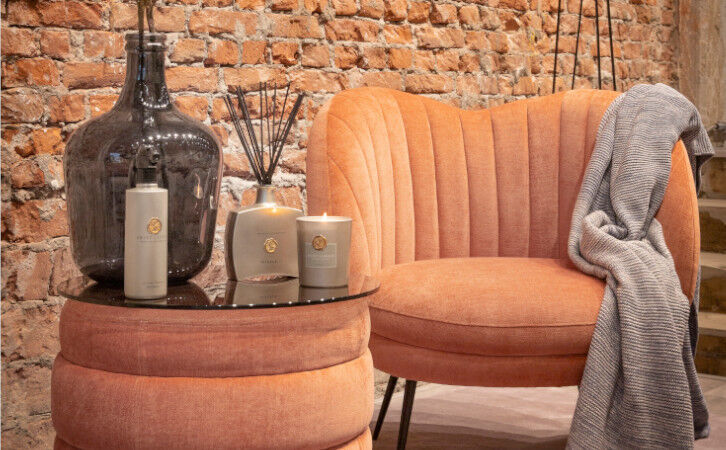 And for those customers who like change we recommend a sofa with loose cover, allowing an easy change of colour.
Niki Schilling: And it's not just colour that's an important design factor in the home, texture is key too. Have you found a demand from customers for different and interesting textures?
Line Nevers Krabbenhøft: Yes. These days, we're seeing a huge need for home textiles and textures that make our fingers happy. Our upholstered furniture, throws and pillows are awakening our senses and making us feel safe, cosy and warm.
Niki Schilling: How can someone use different textures to change the ambiance or feel in a room?
Line Nevers Krabbenhøft: In general, structured textiles always add a cosy, soft and appealing ambiance making everyday life more joyful. It can be a fully upholstered sofa, a rug, pillows or throws. We desire softness and comfort as the home is a wellness zone where we retreat.
Niki Schilling: I completely agree. Texture is key for Rituals too, from the beautiful cut glass on our Mansion House fragrance sticks to the new innovative wave glass design for the candles in our Classic Home collections.
As a brand we try to create timeless products that bring happiness and meaning to everyday life. Scent is incredibly important for us in helping to create an ambiance and to transform a house into a home. For example, The Ritual of Ayurveda with Indian rose and sweet almond oil is incredibly balancing whereas The Ritual of Sakura Sakura, one of our most popular collections, with cherry blossom and rice milk inspires the feeling of a new beginning every day. How do you think the Rituals fragrances can complement the SOFACOMPANY's beautiful furniture?
Line Nevers Krabbenhøft: Everything we surround ourselves with has a meaning and together it all creates an atmosphere. Rituals' fragrances are awaken the senses and so does structured textiles in, for example, a soft sofa. We all know the feeling of sitting down in our sofa at the end of a long day with a loud ahhhhhhh! Time to relax…. time for some me-time! To spoil our senses is one way of making an effort to improve our everyday life.
Niki Schilling: Our customers often make emotion-led choices when shopping our products, they're either drawn to the incredible scent, luxurious texture or colours of our products. What advice do you have for people shopping for a sofa? It's a much larger purchase and one you want to get right!
Line Nevers Krabbenhøft: ­­­­­­Yes, people, including myself, generally do a lot of research before buying a new sofa as it is a larger purchase. In my opinion, there are four things that are important to consider before buying a sofa:
Aesthetics
What do you like and what fits into your home-personality?
The room where the sofa is going to be placed
How big or small can the sofa be and how is it going to be positioned?
Your sofa habits and whether your current sofa fulfils your needs
How many people are normally using the sofa? And are you sitters, floaters or maybe total horizontals?
Flexibility
For many customers flexibility is incredibly important.
By choosing a modular sofa, it's easy to re-style a room or to adapt to life changing circumstance like moving. Also, getting a 3- or 4-seater with a matching footrest is a flexible solution. The footrest can be used both as a chaiselong, as extra seats or as a table – depending on where you wish to put it. Or a sofa with loose cover – that's both practical in terms of cleaning, and fun as you can buy a separate loose cover in a new fabric/colour!
Sofa shopping is a very personal thing, and the decision is based on many factors, but oohhh what a difference the right sofa can make!