From plants that flood the air with fresh oxygen, to a secret spot to grow your own veggies or take a few deep, calming breaths, green spaces are climbing to new heights in cities and built-up areas thanks to a new appreciation of rooftop gardens.
For those living in cities the importance of having a nearby green space has been pulled into sharp focus, thanks to the various lockdowns of the past eighteen months. From London to New York, public parks and gardens have long offered a precious slice of respite from the concrete jungle of roads, shops and office-blocks that form the typical city scene. But while built-up areas like these may have few spots left for nurturing green shoots, there's growing enthusiasm in looking upwards for a place to plant.
Hotels and bars may be ahead of the game when it comes to rooftop gardens, but high-rise offices and apartment complexes are now cottoning on to the wide-ranging benefits of greening their roof space too. In Singapore, where agricultural land is scarce, rooftop gardening has even now branched into sustainable rooftop farming, with herbs and vegetables being grown at sky level for surrounding communities.
From improving mental health to bringing communities together and helping to fight pollution, there's plenty to be reaped from creating gardens up high. Ready to flex your green fingers? Keep reading for the powerful benefits of rooftop gardens
They help purify the air
Cities around the world all face the same challenge; maintaining good levels of air quality despite high pollution rates and rising CO2 levels. This is where planting more trees and shrubs on rooftops can help, as they'll happily trade some of that CO2 for fresh oxygen. Rooftop gardens can also help with insulation, meaning less heat will escape through the top of the building allowing residents to cut both their heating bills and energy use.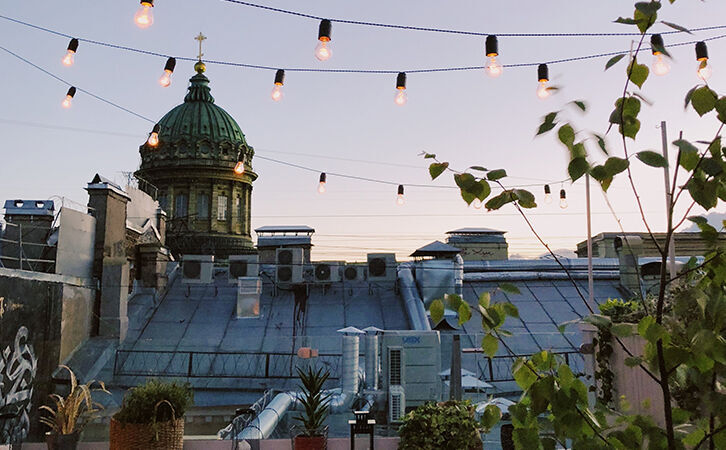 Wildlife can thrive
A carefully planned garden can quickly become a haven for bees, butterflies and birds, all of which help to keep that crucial cycle of pollination going - essential for around a third of the food we eat worldwide. Loss of natural habitat is a key threat for wildlife, so building a blossoming garden where they can rest, nest and feed will help these creatures thrive. Fancy trying your hand at beekeeping? Read our beginner's guide.
You can grow your own food
Organic tomatoes, peas, cucumbers, strawberries; take a tip from guerrilla gardener Ron Finley and create your own 'food forest' in the space you have available. Not only is sowing and growing your own food an incredibly therapeutic hobby, it'll also save you money on groceries in the long-run, give you easy access to healthy food whenever you want it, and leave you with the sweet satisfaction of living more sustainably and independently.
Inspire community action
Finley started off by planting one community garden in South Central L.A with a group of volunteers (L.A Green Grounds) and has now gone on to create dozens more in and around Los Angeles, while also inspiring and educating millions of guerrilla gardeners the world over. In his TED Talk, the gardener describes the magical way a gardening project can bring people together. "I have witnessed my garden become a tool for the education and transformation of my neighborhood," he says. "To change the community, you have to change the composition of the soil. We are the soil. You'd be surprised how kids are affected by this. Gardening is the most therapeutic and defiant act you can do, especially in the inner city." Whether you're planning to start growing atop your apartment roof or office block, turn it into a social event by inviting others to join you for a nourishing community experience.
Improve your mental health
It's no secret that taking a few moments each day to enjoy the beauty of nature can be a tonic for the body, mind and soul. It's the basis of Japan's shinrin-yoku practice, aka forest bathing, and is backed by a wealth of scientific research too. In 2019 a study found that spending at least 120 minutes per week (or just 17 minutes a day) can have a significantly positive impact on our general health and wellbeing, while other researchers have linked regular exposure to nature with improved sleep and reduced stress, plus a reduction in negative feelings and emotions. Team that with the mindful benefits of gardening, and you there have just a few extra reasons to get planning that rooftop haven.
Looking for more tips? Read our guide to creating a soulful garden (even if it's tiny).