When I first decided to make this dish, I had to think back to the good old days when we lived in Amsterdam and there was a Bao Bun stand on every corner. Because I haven't eaten meat in a long time, I thought it would be a challenge to make a vegetarian version of these delicious, spongy sandwiches. What follows is the result, and believe me, it's not difficult. But it is yummy!
Recipe for +/- 10 bao buns
Preparation time: 45 minutes, rising time 1 hour
Ingredients for bread
500 g patent flour
300 ml water
7 g dried yeast (1 packet)
1 tsp sugar
Ingredients for the filling
1 head of broccoli, in florets
½ red onion, chopped
4 tbs mild olive oil
3 tbs soy sauce
1-2 large tbs Chinese black bean sauce
1-2 tsp sambal (or to taste)
freshly ground black pepper
sweet chili sauce to serve on the side
Please note: you'll need a steam basket or strainer with a lid and baking paper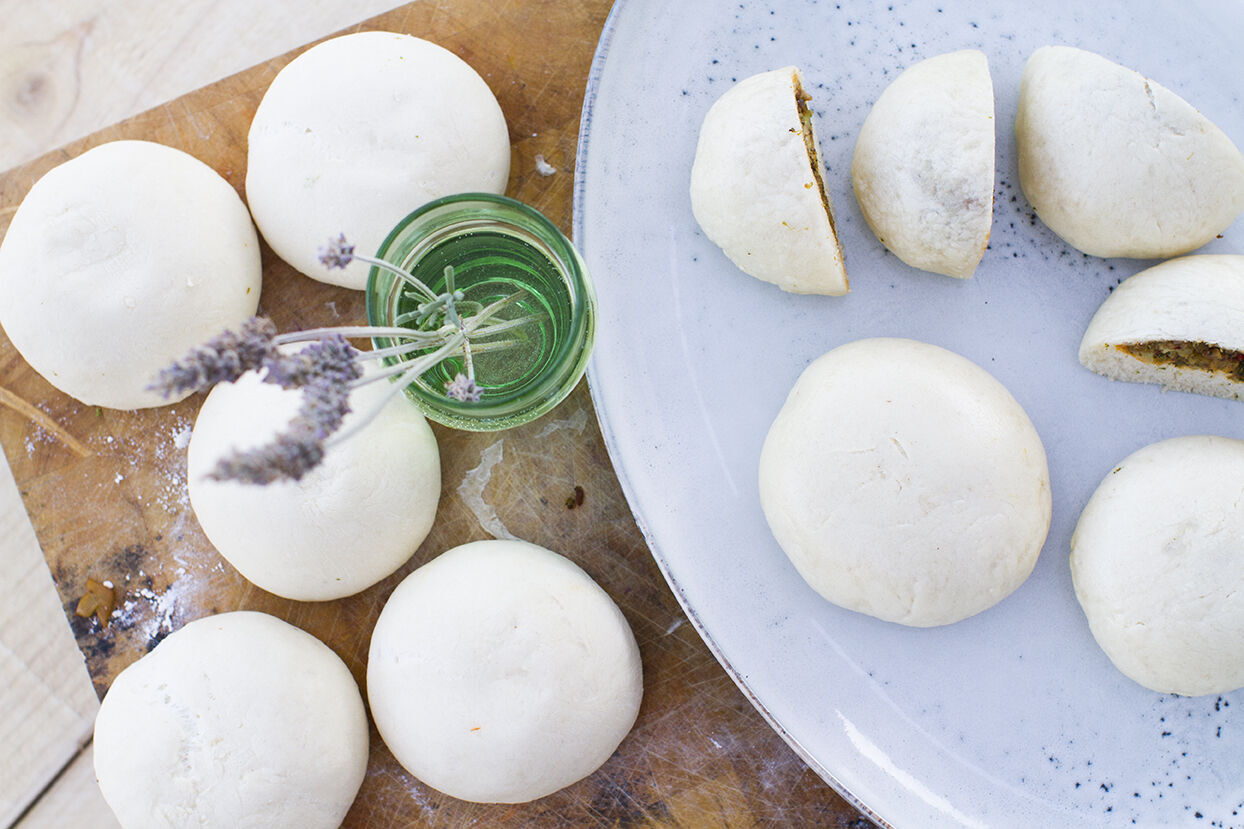 Preparation
1. Mix the flour, yeast, sugar and water in a large bowl until it because a supple dough. If it gets too dry, add a little bit of water and if it gets too sticky, add a bit more flour. Make a large, round ball from it and lay it back in the bowl, covering it with a tea towel. Let this rise for an hour while you prepare the filling.
2. Steam the broccoli florets in a steam basket or a strainer that you can seal with a lid for about 5 to 7 minutes, until it is al dente. They don't need to get soft! Let them cool down and then cut the florets as finely as possible. Don't use the bigger pieces or the stems.
3. Meanwhile, heat the olive oil and stir the onions in on a medium flame for a couple of minutes. Add the garlic and stir this until the onion starts to colour.
4. Add the broccoli, soy sauce, bean paste, sambal and pepper to taste. Stir everything thoroughly and cook for 1-2 minutes. Then turn the heat off.
5. Boil a pan of water and cover the steam basket with baking paper.
6. Smear your hands with olive oil and divide the dough into little balls of around 70 g. This will make about 10 buns.
7. With your thumb, make a small indentation into each ball and fill it with a large tablespoon of filling. Fold the ball closed, roll it in the palms of your hands and then place it in the basket. Pay attention: they will get bigger as they're steaming so don't try to do too many at one time.
In 10 to 15 minutes, the bao buns will be steamed to perfection.
8. Serve with sweet chili sauce. Enjoy!