According to Los Angeles-based energy healer and breathing expert Millana Snow, your energy and attention are your biggest assets so it's incredibly important to be mindful of how you spend them. Millana believes that we all have the power to energise ourselves, so we spoke with Millana, founder of @wellnessofficial about the quick and easy ways we can feel better on down days. Below she shares 5 tips for keeping your energy high and your attention focused on what matters most.
Dance it off
"Dancing has this unseen power to help you let it go, if you'll just allow it," says Millana. "Let what go, you might ask. If you let yourself really dance like no one is watching you will let go of stress, anxiety, worry and fear, because all of that will be replaced by being fully in a moment where all is well."
The power of your imagination on paper
Scripting is a form of journaling that has become really popular in the past year or so. All you need to do is sit down to your journal with a pen or pencil, and write out a journal entry as though you are experiencing all the wonderful things that you hope for. So, instead of writing 'I hope I can get my house soon', you would write, 'I am so grateful that I live in my beautiful dream house'. The more detail and focus the better, as this helps you get into the feeling of what you desire, helping you open yourself up to the possibility of it.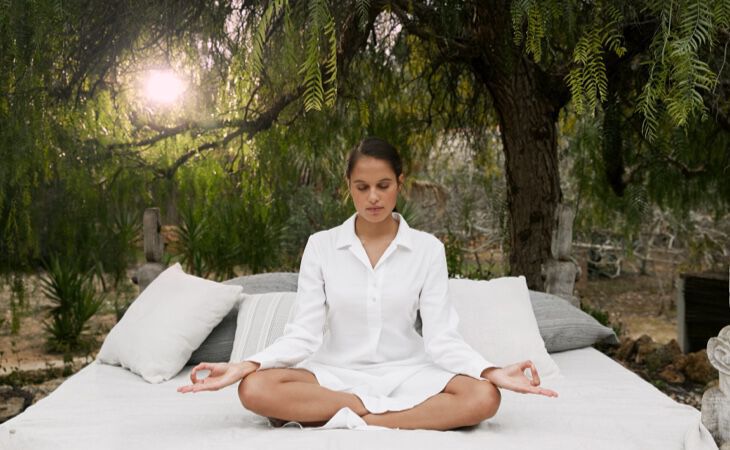 Meditate your way to inner peace
I'm sure we have all heard that meditation is the skeleton key for a more peaceful life. I can't overstate enough how important even just five minutes a day can impact your life and increase your energy and mindset. I have a few ways to meditate here on the daily practice where you try different mindfulness and self-care practices every day.
Place your world in a different perspective
This one will sound funny but yogis have long said that getting upside down will change your perspective, literally and figuratively. Doing handstands or laying on your bed and letting your body hang from the edge, upside down, will help re-orient the way that you look at your environment and help you mix up your daily patterns. I have found that if I go into this practice with a particular intention, to change my perspective or shift my energy, it helps. This is a fun and sometimes weird one to try!
Discover the liberation of screaming
Lastly, scream and stomp it out. I can't tell you how many of my clients come to me with suppressed anger and have no idea that if they just screamed and let it move through them, that would solve half of their anxiety and frustration. Feeling the emotions that we feel and helping those emotions move through and out of us, so that we don't hold onto them is important. Especially when these emotions are meant to be transient and inform us of our relationship to ourselves, our actions, thoughts people, and the world around us.
Whether you "feel" angry or not (and most people don't feel their anger, by the way) I highly recommend screaming into a pillow like a two-year-old - add stomping and thrashing and you've got a cathartic formula for release that you didn't even know you needed.
For more practices for release, more joy, peace and healing join Millana Snow's The Daily Practice, a daily mindfulness and self-care practice in 15 min or less.