Awareness is one of the points on The Art of Soulful Living compass. And yet, making space for moments of awareness in your day can seem like another thing to check off your to-do list. That is why we have broken awareness down into handy bitesize moments you can try anytime, anywhere
Nailing the art of true awareness feels increasingly difficult when our modern world is brimming with never-ending to-do lists, busy schedules and bustling thoughts. But making time for awareness is essential when it comes to improving your wellbeing. Moments of stillness allow you the time to see yourself, your needs and your wants more clearly. These quiet moments can also help to ignite gratitude and, in turn, create a more positive outlook. But awareness must be a practiced.
Over the next few months, Rituals will be focusing on Awareness, taken from The Art of Soulful Living compass themes, that guide you on a path to personal wellbeing. Achieving more awareness is easier than you think, you simply need to take a moment to open your eyes to the beauty of even the smallest things.
So, what are you waiting for? Start now with our simple tips and tricks for strengthening your awareness muscle.
Your moment of Awareness… Write a note to yourself
Ask yourself: what makes me happy at this moment? Note down whatever it is in an email and schedule the message to land in your inbox in a couple of weeks' time. In that future moment, when you open the email, you will be reminded of the importance of being aware of what's good in your life and embracing the present.
Your moment of Awareness… Activate your listening skills
The next time you have a conversation with someone, take the time to actively listen. Over time, this focus on awareness can lead to stronger connections. Try to remember one or two things they mention in this conversation, it could be that they are moving house or taking their pet to the vet, whatever it is, remember it.
Now, next time you see this person, be sure to follow up and ask them about the things you remembered from your previous conversation, with time you'll notice that you can cultivate closer connections with a little awareness and listening.
Your moment of Awareness… Eye-spy, what do you see?
Whether you're driving to work or walking the dog, challenge yourself to look for something specific. Perhaps it's something orange or stripey. Each day for a week, try to spot something that meets your personal challenge. This simple task can inspire you to stay mindful throughout your day-to-day life.
Another way to strengthen your awareness muscle and to help you stay in the moment, is to get into the habit of looking up when you're on-the-go. What do you see in the surroundings above you? Maybe some interesting historical architecture, a meaningful moment in a window or a shooting star, if you're lucky.
Your moment of Awareness… Use your hands as a mindful tool
Feeling overwhelmed or stressed? Take a minute out of your day to practice this simple yet effective breathing exercise that helps you calm down by being in the moment.
1) Spread one hand out like a star.
2) Using your index finger on your other hand, slowly trace the outline of your star hand, starting at your wrist below your thumb.
3) Take a deep breath in as you move to the top of your thumb.
4) Breathe out as you move down between your thumb and first finger.
5) Take another breath in as you move to the top of your first finger.
6) Breathe out as you move down between your first and second fingers.
7) Keep going until you have traced your hand and taken five, slow, deep breaths.
8) Repeat on the other hand.
Your moment of Awareness… Remember the numbers 4-7-8
The next time you're feeling a little anxious, your brain won't stop going to the future or ruminating on the past, try this quick breathing exercise. All you have to do is breathe in for 4 seconds, hold for 7 seconds and breathe out for 8 seconds. Start by doing three to four cycles and building up to seven or eight. You may be surprised at how effective this technique is at bringing your awareness into the here and now. Remembering 4-7-8 is always a good idea!
Your moment of Awareness… Call on your friends
According to clinical psychologist, Dr Tasha Eurich, "a great way to build self-awareness, especially around our patterns of behaviour and how we react to others, is to ask questions about ourselves to the people we are close to in life. This can feel difficult at first, but our friends can offer us great insights into who we are and shine a light on things we might want to change or improve."
Dr Tasha Eurich has a free online quiz consisting of 14 questions in total, take your time and answer the questions mindfully, you should also take this quiz with one of your friends or family members to give insight into yourself. Once you complete the quiz you will receive a summary of how self-aware you are.
Your moment of Awareness… What's gone well?
Keep a 'what's gone well' journal. Certified life coach and ​​CEO of the Ultimate Results Group Ani Naqvi says it could be small things like your partner making you a cup of tea to the big things like getting a promotion. When you focus on what's gone well, you begin to move your awareness away from a negativity bias to appreciating where the daily moments of happiness are in your life. In turn, you will feel more joyful and content."
Your moment of Awareness… Capture beautiful memories
Certified life coach Ani Naqvi wants to challenge you to take pictures of three things that inspire you. Try to get into the habit of doing this every day to exercise your awareness muscle. By doing this you will encourage more curiosity and playfulness in your life. It's also a great way to capture beautiful memories and experiences.
Why not post a round-up gallery on Instagram of the 10 moments you captured and loved most at the end of each month? You can then look back on these monthly photo diaries whenever you need a pick-me-up or you just want to take a trip down memory lane.
Your moment of Awareness… Smile like you mean it
Dr Tasha Eurich challenges you to smile at two people today. Why? To boost your connectivity with those around you and to spread a little joy. According to science, when we smile our brains release happy hormones like dopamine, serotonin and endorphins that leave you feeling less anxious and with a happy spring in your step. And, just like a yawn, smiling is contagious so you can also boost someone else's mood by sending a smile their way.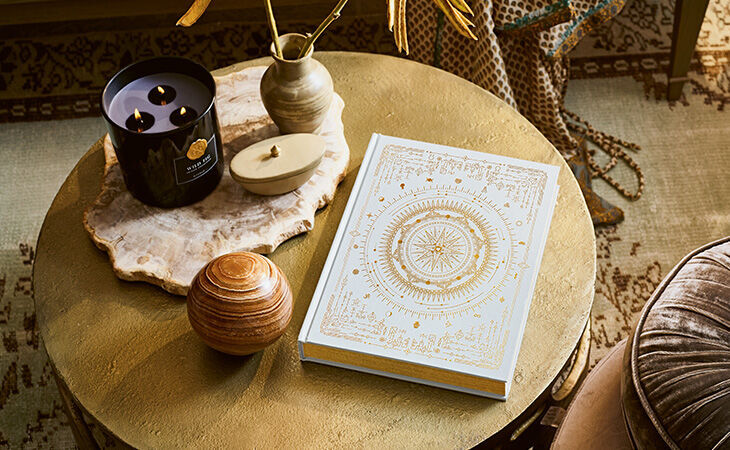 Want to know more about awareness? Our first ever book, The Book of Rituals, delves deep into this topic and so much more. Featuring inspirational articles, unique art work and wellbeing wisdom, this luxurious coffee table book is the ultimate guide to soulful living. Click here to shop The Book of Rituals.