Treat your mum, or the mother figure in your life, with our expertly curated edit of gifts for every budget
Mother's Day is a wonderful moment each year to shower you mum, grandmother or the mother figure in your life, with love and gratitude. Whether you're near or far, a thoughtful gift is sure to put a smile on their face and is a wonderful way to celebrate them. But shopping for gifts can sometimes be tricky, we know.
At Rituals, we have a huge selection of gifts that the special person in your life will love so to help narrow it down, we have pulled together the 10 gift ideas we're sure any mother will want to receive. From a chic, soft and stylish kimono dressing gown to a personalised perfume, these are Mother's Day gifts to suit every budget.
1) THE BOOK OF RITUALS
The perfect gift for mums who like to read
This beautiful book is so much more than a coffee table tome. Something she will keep forever and cherish, the book is filled with inspiring articles, wellbeing tips and breathtaking imagery.
Shop The Book of Rituals here.
2) M'GOUNA PERFUME & FRAGRANCE STICKS
Scent her world
You could treat your mum to a bunch of flowers but our new limited edition collection, M'Gouna, is a stunning tribute to the Moroccan Valley of Roses. The collection features beautifully fragrant ingredients like rose Damascena, prickly pear and argan oil - treat your mum to the perfume or fragrance sticks and the scent will fill her world longer than any floral stems.
3) THE RITUAL OF SAKURA RENEWING TREAT
Want a quick and easy, yet thoughtful Mother's Day gift?
Look no further than our sets that come in a gift box, so there is no need to wrap. You can order online and have it delivered direct in time for Mother's Day. Whether you're gifting your mum, wife, grandma or someone else special in your life, there is a gift set they will love.
Not sure which to choose? The Ritual of Sakura is our bestselling collection and the Renewing Treat gift set is an affordable option and is a gift she'll love.
4) LOVE YOU, HONEY BODY SCRUB
The perfect small gift that's a luxury daily essential
Our body scrubs bring a spa experience into the bathroom. With skin softening ingredients, they are a little indulgence your mum will enjoy. The Scrub Therapy Collection Love You, Honey Body Scrub is sure to be a winner on Mother's Day.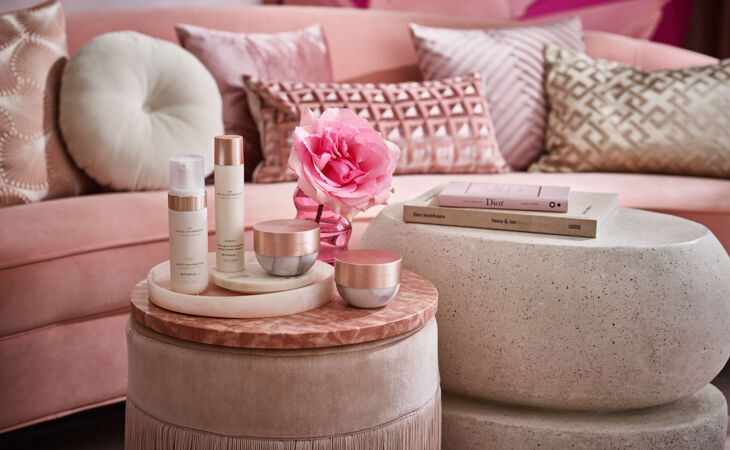 5) SIGNATURE CANDLE
Most mums would love a candle on Mother's Day
If you're not sure what to buy look no further than The Signature Collection candles. Choose your mum's most-loved fragrance and a designer porcelain candleholder to create a customised scented candle she'll adore.
Explore The Signature Collection here.
6) HOUSE OF RITUALS TALISMAN PERFUMES
When it comes to Mother's Day gifts, a perfume is a great choice
With our House of Rituals Talisman Collection you can create a personalised perfume, especially for your mum.
Not sure how to shop perfume as a gift, check out our guide here. Then shop the House of Rituals Talisman Collection here.
7) LUXURY KIMONO
For the mum who has everything
Why not treat her to one of our beautiful kimonos to wear around the home?
Choose from our lighter weight Jaypur Collection kimonos with a stunning print design or opt for the weightier silk velvet Saigon Collection in beautiful gemstone hues. The price is on the higher side for the Saigon Collection making it a good gift to buy with siblings.
8) HAND WASH & BALM
A winning gift idea
If your mum is the cook in the home, then treat her to our stylish hand wash and balm. Perfect daily essentials for placing near the kitchen sink, the beautiful scents turn the daily chore of cooking into a more meaningful mument.
9) CUSHIONS & THROWS
Did you know Rituals has home decoration?
For mums who love to make their interiors special, we have a selection of luxurious throws, cushions, treasure boxes and more. Whether you want to treat your mum to a comfy throw for when she wants to sit and take the weight off, or a cushion to make her bedroom a cosy place for sleeping, look no further than our gorgeous accessories.
Browse our Home Decorations here.
10) THE RITUAL OF JING
The gift of good sleep
Sleeping is something a lot of mums miss out on in life, so Mother's Day gifts that will help her relax are sure to be welcomed. The Ritual of Jing is our collection dedicated to sleep and relaxation and is packed with calming jujube and lotus flower.
The magnesium-packed bath salts make for a wonderful self-care mument, you could also treat her to the body cream and pillow mist to create a little sleep package she won't be able to wait to use.