Ahead of our new Mindfulness for Modern Life Masterclass, meet our expert Ruby Wax. With a master's degree in Mindfulness-Based Cognitive Therapy she can help you feel less stressed.
The interest and enthusiasm around mindfulness have exploded over the last two decades. Although it has been studied and learnt for thousands of years, with its roots firmly grounded in Buddhism, increasing awareness of its benefits amongst the medical industry means that even if you're not sure how to practise it, you're probably aware that you should. Especially for the very real wellbeing benefits it delivers. In 2016 a two-year study measured the effect mindfulness could have on people with Alzheimer's. At the end of the trial, patients who had practised mindfulness boosted their ability to remember significantly more than those who hadn't,whilst hundreds of scientific research papers have proven that mindfulness is a powerful tool to lower stress levels. So, it's no surprise that today, mindfulness is frequently taught in schools and workplaces, and regarded as one of the most effective ways to calm minds and improve overall wellbeing.
This is why we are delighted to announce our new mindfulness expert, Ruby Wax. Comedian, TV writer and author, Ruby holds a master's degree in Mindfulness-Based Cognitive Therapy (MBCT) from the prestigious Oxford University, and was awarded an OBE (an award of honour given by Queen Elizabeth of England, to people who excel in a specific field) for her services to mental health.
Now, in collaboration with Rituals, Ruby has created an exclusive 5-day masterclass, Mindfulness for Modern Life, available on our app and website. Completely free and simple to do, it includes daily videos, practical exercises and tips that you can revisit time and again.
And because mindfulness is an ongoing practice, Ruby will also give live tips on our social channels, on how to practise mindfulness, and the benefits it has for both your mental wellbeing and physical health, plus how to incorporate it into everyday life.
"I would love for everyone who takes part in this 5-day mindfulness masterclass to get a real understanding of what mindfulness is," says Ruby. "And how by practising it daily, you will train your brain to stay calm in stressful situations and learn how to rein in negative thoughts when they start to take over,".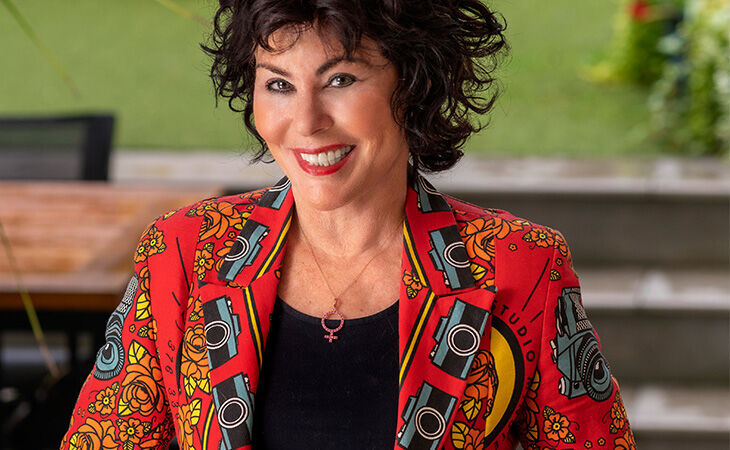 Ruby and mindfulness
Ruby holds a Master's degree in Psychotherapy from Regent's College, London as well as a Master's degree in Mindfulness-based Cognitive Therapy from the University of Oxford. She is also the author of six books focusing on the science behind mindfulness. Plus, she regularly advises businesses on how to incorporate mindfulness into the workspace, has collaborated with mental health charities on mindfulness initiatives, and has even written and performed a one-woman show, 'How to be Human' that looks at how the brain behaves.
Her professional qualifications are further underpinned by deep personal experience of its benefits. Born to Jewish immigrant parents, Ruby hails originally from Chicago, US. After moving to London to pursue her dream of becoming a classical actress, she was accepted into the Royal Shakespeare Company, but it was TV that made her a household name, especially her 90s documentary series 'When Ruby Wax Met…'in which she interviewed some of the world's most famous and colourful personalities of the time such as Donald Trump, Goldie Hawn and Pamela Anderson. Having suffered from depression all her life, in 2011 she had a breakdown. "I drove myself so hard that I crashed, burned and drove off the cliffs of sanity," says Ruby. "I was institutionalised and sat on a chair for months, too terrified to get up. I thought it would be a good time to reinvent myself and, while I was at it, find out who, exactly, had been inhabiting my brain all those years."
"The reason I studied Mindfulness-based Cognitive Therapy is because of the impressive scientific evidence. It's proven to have the highest success rate in treating a whole potpourri of physical and mental disorders. Mindfulness is an exercise that affects the neurons in your brain and increases your ability to pay attention, but not attention to something <outside> but the ability to focus <inside>. It sounds easy, but it's not; your mind is desperate to snatch you back. But with consistent practice and repetition, you will be able to use mindfulness whenever you need it."
So, to kickstart Mindfulness for Modern Life, here are three simple moments when Ruby recommends introducing some mindfulness into your day.
Showering. "Notice what the water feels like. How does 'wet' feel? Experience the movements you make while soaping up and washing the bubbles off, observing it as if you've never done this before in your life. Notice when the mind takes over, then bring your focus back to the feel of showering."

Making tea. "Slowly, try to experience the detailed sensations of pouring, stirring, smelling, tasting, and hopefully, not burning your lips off. But if you do…explore that sense too."

Typing. "Tune in to what the sensations are of tapping your fingers on the keys. Come off autopilot and notice when your mind begs you to type something and, when you do, come back to the feeling in your fingertips."