Today, Dr. Harris shares her plan for the morning after a bad night's sleep, plus you'll try a comforting bedtime drink and soothing self-massage techniques to calm your body and mind before bed.
Article: Enjoy a mellow moment with these soothing bedtime drinks
Preparing and sipping a soothing drink before bed is in itself an act of relaxation. Why not make one of these dreamy drinks part of your wind-down routine, and create a moment of calm for yourself at the end of the day?
Ayurvedic MOON MILK
According to Ayurvedic tradition, moon milk is a glass of warm milk that's taken just before bed – when the moon's out – to encourage a restful night. It commonly contains milk and honey or syrup, but it's often elevated with additional herbs and spices.
Ingredients
For 1 cup:
350 ml unsweetened oat milk
1 cinnamon stick
1/2 tsp cinnamon powder
2 pieces of star anise
Pinch of nutmeg
1/2 tsp vanilla powder
1 tbsp maple syrup
1 tsp acai powder
To garnish:
Cinnamon powder
Star anise
PREPARATION
Heat the oat milk in a saucepan and add the cinnamon stick, cinnamon powder, 2 pieces of star anise, nutmeg and vanilla powder
Bring to a boil and let it simmer for 5 minutes
Remove the cinnamon stick and star anise
Add the acai powder and maple syrup before whisking thoroughly
Pour into a mug and sprinkle a little more cinnamon powder on top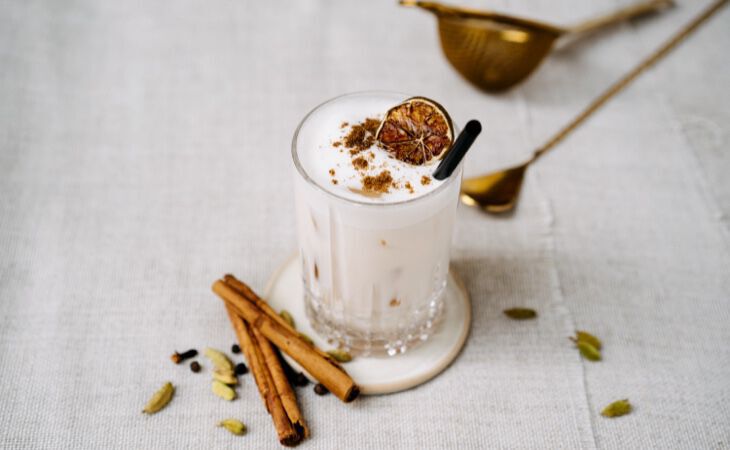 SOOTHING MASALA CHAI ICE LATTE
Masala Chai is more than just a tea. It's an Ayurvedic-rooted tradition and a spice-enriched drink made to bring you joy. This version is served cold, and is both flavourful and soothing, but you can also drink it hot by warming up the milk.


INGREDIENTS
For two drinks:
1 clove
2-3 slices of fresh ginger (or 1 tsp of ginger powder)
2 black pepper seeds
1 cinnamon stick
½ tsp cardamom
2 tbsp of black tea
40 cl of water
20 cl of milk
2-3 tsp of brown sugar

PREPARATIONS
Muddle all spices (ginger, black pepper, cinnamon, cardamom) together and infuse them in hot water for 10 minutes
Add the black tea and infuse for 5 more minutes.
Strain it all and let the liquid cool down.
Add your liquid, cold milk and sugar to a blender and mix it all together.
Serve with some cinnamon powder on top.
Exercise: Try this soothing self-massage routine
Self-massage is a moment of true self-love, and may be the only time in the day where you physically connect with your body. And the benefits are vast. By massaging key points you increase lymphatic drainage, which aids the body in detoxifying, soothe tired limbs, helping recovery and repair. It has also been proven to lower stress levels. "I recommend spending up to an hour every night winding down with an activity that calms, soothes and sets the stage for sleep," says Dr Shelby Harris. "Self-massage is a fantastic option because it does all those things."
Your ultimate self-massage routine:
Have everything you need to hand - warm oil, a towel, candles and some relaxing music.
Make your room dark and warm and you can either sit or stand.
If you don't mind oil in your hair, apply a few drops on the centre of your head and massage your entire scalp. Spread your fingers as you rub in circular motions so they touch every part.
Move down to your face and massage in an upward motion, using the pads of your fingers and knuckles. Pay particular attention to the point in-between the bridge of your nose as it holds lots of tension. Place your two index fingers at the end your eyebrows and press gently, taking deep breaths.
Next, neck, chest and abdomen. Take the time to press and massage the oil in and direct all your movements towards your heart. This helps increase circulation and lymphatic drainage. (If you added The Ritual of Jing Massage candle to your sleep kit, you can even use the oil from that to massage on your skin).
For arms and legs do slow, long massaging strokes along the limbs in the direction of the heart and gentle, circular motions around the knees and elbows.
Finish your massage by paying attention to your feet and toes. Use your thumb to rub each of your toes and soles of your feet in circular motions.
Once you're done, take some deep breaths allowing the oil to fully sink in before putting on your clothes and climbing into bed.
Ready to start the next day's class? Click here!