If you're headed to Amsterdam for the weekend, with so many things to see and do, it can be daunting pulling together a 48-hour itinerary. So, we've created one for you that's filled with insider knowledge and advice. Yes, Amsterdam is known for its canals, bicycles, and tulips, but beyond these there is a rich tapestry of nature, wellness, and feel-good activities to explore. With this expert guide you'll really get to know the city, but you'll feel rested and rejuvenated on your return home.
Rituals was founded in this beautiful European city, so we know it inside and out. Below we reveal all the best bits in a two-day itinerary of exploration, so you can truly immerse yourself in the wonder of the city and experience it like a local.
Day 1: Time to Explore
Morning
You're on holiday, so start your day slow with a walk along the Amstel river admiring the traditional Dutch architecture and the house boats as you go. Nestled in the grounds of the Hermitage Amsterdam Museum is the brunch spot, Dignita. The menu offers classics with a twist like poached eggs and hollandaise on potato hash or zucchini and chickpea fritters, whilst using free range and locally sourced ingredients where possible. Part of the We Are Not For Sale social enterprise, it helps provides victims of human trafficking with education and training support.
A short walk over the Magere Brug and you'll reach the Utrechtsestraat, a street lined with chic boutiques including the Rituals Urban Spa. With a full menu on offer, you can book more functional treatments like a wax or gel manicure or something altogether more indulgent like a collagen-boosting facial or hot shell massage. The modern yet cosy décor makes this a calming space set away from the bustle of the city. You'll be welcomed with a cup of herbal tea, and be sure to take the time to relax and explore the store before you head back outside.
Find your nearest Rituals store here.
Afternoon
Amsterdam weather is, how should we put it? Changeable. It could be sunny one minute and pouring the next. So, be sure to pack a raincoat or umbrella whatever the season. If it's sunny, or you don't mind the odd refreshing shower, hire a boat. Head to Sloep Delen (sloepdelen.nl) on the Naussaukade to pick one up (you can book online in advance), the boats are easy to work, and don't go fast so you spend some time taking in the views of this beautiful city. If you navigate the boat down the Prinsengracht, you'll pass the Anne Frank House. When you reach the Amstel river cross straight over to Nieuwe Prinsengracht and pass by Artis Zoo, where you should be able to spot the giraffes, if you're lucky. You can then sail back around to where you started. The boats are big enough for 12 people and you can take your own drinks and snacks on board.
Evening
Head to the glorious De Kas restaurant, in an eight-metre-tall airy conservatory, where the ever-changing menu is seasonal and lovingly crafted, farm-to-table, fare. De Kas is surrounded by a small garden growing leafy greens, but twenty minutes outside the city, at the Unesco world heritage area of De Beemster, 200 different types of fruits, vegetables, and herbs are grown year-round. The food is harvested in the morning and served in the restaurant in the afternoon, so you know it's as fresh as can be. Anything not grown by De Kas is sourced from local organic and sustainable farmers. If cooking is a way for you to unwind, you can take a piece of your holiday home with a copy of the Restaurant De Kas Amsterdam Plant to Plate cookbook.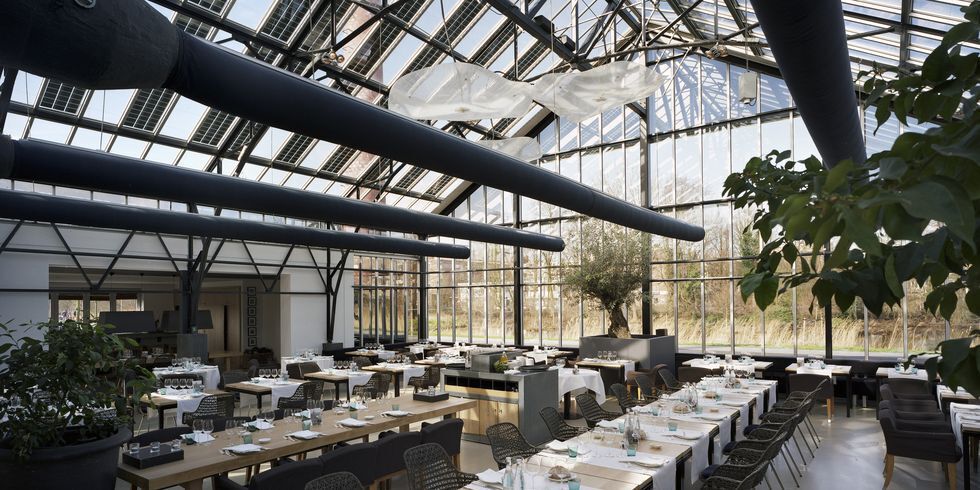 Day 2: Treat Yourself
Morning
Start today in De Pijp, situated south of the centre, this is a buzzy neighbourhood and home to the biggest street market in Europe on the Albert Cuypstraat. But we suggest you head to the next road along, the Gerard Dousstraat is a tree-lined street dotted with small boutiques that are fun to explore and a great place to treat yourself. If homeware is your soft spot, head to Groen + Akker, a small boutique with an expert edit of chic interior accessories. The Lex Pott twisted candles are an absolute joy and would make for a lovely souvenir.
Just around the corner is brunch spot, Factory Girl (factorygirl.net), offering mouth-wateringly good healthy food. The savoury dishes are all incredible but be sure to chase it down with their yummy vegan breakfast dessert. It's a dreamy coconut cream base muddled with a choice of 5 different varieties of toppings including dark chocolate, berries, and banana.
Afternoon
We all find different things that enrich our soul and make a holiday memorable, so this afternoon – choose your own adventure. Either head to the bakery Levain et Le Vin, taking in the aromas of the freshly baked pastries and loading a bike basket with fresh treats. You can hire bikes all over the city, and many hotels provide a bike hire service, too. Then, head south out of the city to Amsterdam Bos, it's three times larger than Central Park in New York and a beautiful place to take in some nature. Explore the flora, fauna, and wildlife, the rugged terrain, pretty landscaped gardens, and the sweeping Nieuwe Meer lake, stopping for a picnic on your travels.
Alternatively, head to Museumplein, a cultural district in Amsterdam where you will find art to suit your tastes. There is the beautiful Rijksmuseum, with art and artefacts from the middle ages to the present day; the Van Gogh Museum; the Stedelijk Museum, home to modern and contemporary art; and the Moco Museum, with more experimental modern art like Banksy. Looking at art has been found to give the same feelings of pleasure as when we are in love, and also a reduction in the stress hormone, cortisol.
In fact, Rituals has a special affinity with the Rijksmusem. Our bespoke Limited Edition Amsterdam Collection was created in collaboration with the iconic museum. The beautiful designs are inspired by a Delft Blue Ming vase and the influence Asia had on Amsterdam, while the glorious scent is a heavenly blend of sweet-smelling Dutch tulips and zesty Japanese yuzu.
Evening
Entrepot serves a new menu every day (besides Tuesdays when it is closed), with dishes crafted from local and seasonal fare that are as visually beautiful as they are tasty. To go with your meal, there is an extensive and expertly curated list of wines from nearby France, Italy, Germany, and Austria. The warehouse building is bright and airy, and there is now the Entrepot store where you can pick up a selection of handmade bread, wines, and takeaway coffee.
If you visit Amsterdam after (21 October) then be sure to head to the new House of Rituals (Spui 10), which is close to the first ever Rituals store that still resides on the Kalverstraat. The innovative new space sprawling over (2 floors) has immersive experiences and exclusive products not available anywhere else. We look forward to welcoming you into our new home.