The summer holiday is just around the corner: your chance to pack your bags is finally here. But before you board the plane, check out our advice on how to stay fresh and relaxed during your flight. That way, you'll be recharged and relaxed as soon as you land at your destination.

1. Try to make it as comfortable and relaxed as possible
You'll get through the flight easier if you're relaxed before boarding. This begins with the outfit you decide to wear, so make sure that you've chosen something that's comfortable and made from breathable fabrics, like cotton. Also, make sure your outfit consists of a few layers, so you can adjust your outfit to the temperature on board. This way, you're prepared for the different temperatures at the terminal, on the plane and at your destination.
Once you're settled, your holiday can truly begin. Give yourself some time to get used to your surroundings and grab your book or e-reader. Perhaps you'd like some extra relaxation? In that case, The Ritual of Dao Relaxing Serum is perfect. A must-have for when you're on the go and very helpful if you're feeling stressed or tired.
Does listening to music relax you? Make sure you've downloaded our Spotify playlist.
2. Freshen yourself up
We're all familiar with this: after an hour or two on the plane, you wake up all disheveled. That's why it's always a good idea to freshen up with a damp cloth. The Miracle Wipes are not just for removing make-up—they're also perfect for freshening yourself up without any water or alcohol. Want to wake your skin up and protect it from the dry air on the plane? Spray some Urban Hydrating Mist and you're good to go.
Also make sure to take a small bottle of disinfecting gel with you. The Ritual of Samurai Hands Free cleans your hands without water or soap. Another indispensable article is, of course, deodorant.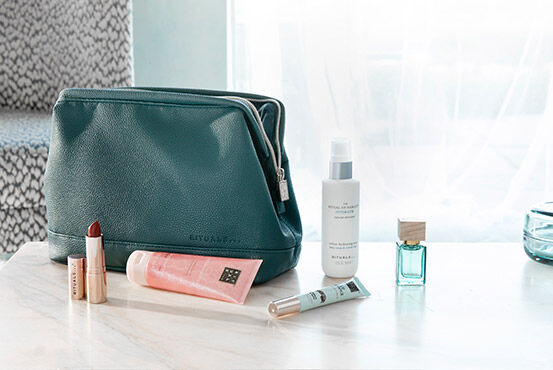 3. Keep yourself hydrated
When you're in the same space for a long time with a lot of people, the air in the cabin gets very dry. This can lead to itchy eyes as well as complications for your skin. That's why it's important to make sure that your skin is hydrated properly and does not dry out. Take your favourite day cream with you and don't forget to also stay hydrated on the inside. In other words: drink enough water.
According to the Aerospace Medical Association, you should drink 0,25 cl water per hour when you're on a plane. And of course: the longer the flight, the more important it is to stay hydrated. If you don't want to drink too much because you're afraid of having to go to the bathroom too often – just look at it as a good reason to keep your body moving a bit.
4. Keep your limbs and muscles supple
Being on a plane for an extended period of time results in stiff muscles and legs that fall asleep. You can prevent this by walking around the plane or doing some yoga exercises. You might attract a few stares from your fellow passengers, but you'll notice that you feel fitter when leaving the plane.
Also, make sure to pay attention to how you're seated, as bad posture might result in muscle pain.
5. Grab a healthy snack
Another way to take care of your body during the flight is to make sure you're eating well. The food on board isn't always healthy, which is why it might be a good idea to bring your own snacks. For example, nuts, fruits and granola bars can give you that energy boost without the processed sugar that often comes with in-flight snacks.
Drink lots of fluids, but avoid alcohol. Because of the lower barometric pressure at high altitudes, your lungs get less oxygen than usual, making it more difficult to break down alcohol-- which can result in dizziness. The same goes for carbonated drinks: they can cause you to feel bloated. Drink water instead.
6. Restore your balance
Last but not least: make sure that you're as comfortable as possible once you've reached your destination. Longer flights in particular can cause you to feel unbalanced. Your body needs time to get used to new surroundings and a different time zone, but there are some ways you can speed up this process. For example, make sure that you get a good night's sleep or treat yourself to a nice massage. Another way to ground yourself is by doing some yoga.
By turning your travel routines into meaningful moments, you'll find out that you can unwind whenever, wherever. Do you want to know if Rituals can be found at your destination as well? Go here.