On days when our hair looks good, we tend to feel good too. A great hair day gives us greater confidence and yet - until recently - hair has taken a backseat in the beauty world, with skincare in the spotlight. But now the skinification of hair is taking off, that's all set to change. Not sure what that means? Well, our approach to haircare is changing. Just as our skincare routines have become more focused on specific complexion needs, now we are able to give our hair the same tailored attention. But don't worry, this doesn't mean a huge routine overhaul. Just a little more effort can reap huge hair rewards.
Get the foundation right
The heart of any great hair routine is shampoo and conditioner and, in recent years, these two go-tos have come on leaps and bounds. For years, it was just about cleansing and moisturising but now we know that using a tailored shampoo and conditioner can enhance your styling results too. The secret to the perfect shampoo and conditioner for you? Personalisation. At The Hair Temple, Rituals offers customisable shampoos and conditioners in your favourite fragrances from The Ritual of Sakura to The Ritual of Mehr. You choose your shampoo and conditioner, then add two shots of elixir to match your hair needs - whether that's an anti-dandruff formula, an extra dose of gloss or a damage-fixing nutrition. But with 715 different combinations to choose from, the easiest way to find your perfect personalised shampoo and conditioner is to take our test.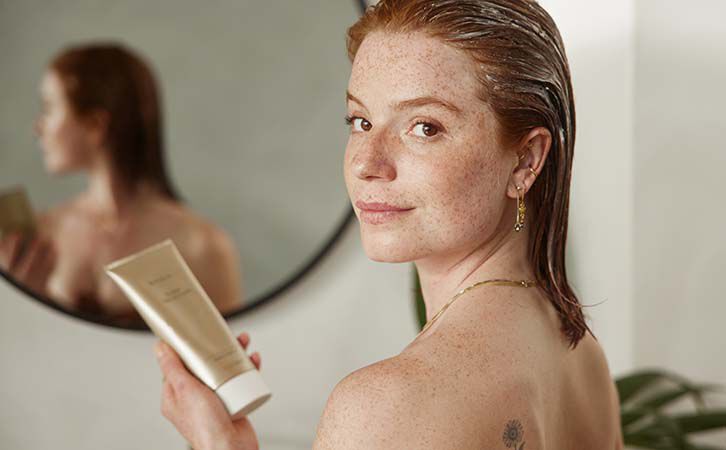 Treat your scalp
Just like a facial massage, using your fingertips to massage your scalp boosts circulation, bringing oxygenated nutrient-rich blood to the fore and ensuring new growth has the best start. If you have fine hair, massage during your shampoo. But if you have thick, coarse or dry hair, use a hair oil to massage your scalp as a pre-shampoo treatment – it will further nourish the roots.
To give your scalp massage an extra boost, use a scalp scrub once a week. Our Purifying Scalp Scrub combines fine grain sugar crystals with argan oil to slough away dead skin, excess sebum and product residue. It leaves the scalp clean and the hair looking incredibly healthy and full of volume at the roots.
Give your hair a 'facial'
No facial is complete without a mask, so be sure to nurture your strands with a weekly at-home treatment. For weak hair, prone to split ends try our Miracle Keratin Recovery Hair Mask with keratin, a protein found naturally in our hair, to strengthen and argan oil that is rich in Vitamin E to leave hair soft. Alternatively, if your hair is drier than the Sahara look to our Intense Nutriition Hair Mask, it contains rice milk and macadamia nut oil to leave the cuticles smooth and the strands shiny and hydrated.
Moisturise your ends
Just as we moisturise our skin, we should treat our strands too. Prevent split ends and keep hair looking its shiny, healthy, best with a little oil or serum. On fine hair, it's best to use a serum before shampooing to protect the ends in the shower, and follow with a little on towel-dried hair before styling. For thick or curly hair, you can add a little oil or serum to mid-lengths and ends to tame frizz and boost shine and hydration between washes.